2010 Reserve Old Boardhead Barley Wine Ale
| Full Sail Brewery & Tasting Room & Pub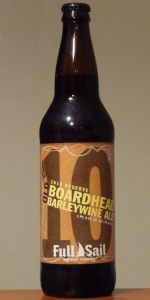 BEER INFO
Brewed by:
Full Sail Brewery & Tasting Room & Pub
Oregon
,
United States
fullsailbrewing.com
Style:
American Barleywine
Alcohol by volume (ABV):
9.00%
Availability:
Limited (brewed once)
Notes / Commercial Description:
No notes at this time.
Added by cdkrenz on 04-24-2011
This beer is retired; no longer brewed.
Reviews: 15 | Ratings: 29

3.23
/5
rDev
-14.8%
look: 4 | smell: 3.5 | taste: 3 | feel: 3.5 | overall: 3
From 07/23/11 notes. Poured from a 22 oz. bottle into my Duvel tulip. Assuming this is the same as the other Old Boardhead listing, but my bottle says 2010 Reserve, so throwing it here.
a - Pours a deep amber brown color with one inch of white head and moderate carbonation evident.
s - Smells of sweet fruits, citrus, hops, and light floral notes. Nice, but not what I think of when I think of a barleywine at all.
t - Tastes of citrus hops, fruity malts, alcohol, and light floral hops. Taste is very slightly bitter, and again, not what I think of from a barleywine.
m - Medium body and moderate carbonation. Light alcohol head.
o - Overall an interesting and decent beer, but not what I consider a barleywine and something I wouldn't pick up again. A lot of hops and not much of the normal caramel/malts.
813 characters
3.89
/5
rDev
+2.6%
look: 3.5 | smell: 4.5 | taste: 3.5 | feel: 4 | overall: 4
Appearance. Pours a deep and hazy amber with half a finger of off white head.
Smell. Nice sweet caramel and toasty malts. Some lemons and grapefruit. Smells good.
Taste. Sweet caramel with some soft citrus flavours. A bit of booze and bitterness in the finish.
Mouthfeel. Full body, low carbonation.
Overall. Not bad. Still lots of hops coming through in this one.
369 characters
4
/5
rDev
+5.5%
look: 4 | smell: 4 | taste: 4 | feel: 4 | overall: 4
ANother gem I was pleased to share with my fellow BA joemcgrath27.
A - Pours a nice dark ruby red, finger of off-white head with solid retention and lacing.
S - Some sweet citrus hops, dark caramel, cracked pepper and spices.
T - Hops hit you off the top, but a quickly followed by a solid dose of caramel. Some cloves and bananas also come through alongside a tart alcohol presence. A tasty take on the style indeed.
M - Medium bodied with smooth carbonation levels and a bitter dryness on the finish.
O - Overall a very solid example of the style and highly recommended to any fan of barley wines. I wish I had procured a few more bottles of this stuff. Full Sail has returned to my good books after this one. Delicious.
727 characters
3.79
/5
rDev 0%
look: 4 | smell: 3.75 | taste: 3.75 | feel: 4 | overall: 3.75
1 PT. 6 FL. OZ bottle
Served in a snifter
This beer pours copper in color with orange highlights. It has a slight haze and is topped with an inch of tan head that leaves very little lacing.
It smells malty but not too sweet. It has remnants of hops to keep the sweetness in check. It kind of has a tea aroma.
It has a woody taste to it. It is dry. I taste faded hops that still maintain some bitterness. The is some malt that tries to break through but just can't quite do it.
Medium mouthfeel
Dry and woody are the two terms that keep coming to my mind as I consume this beer. It would probably be better to have fresh to let the hops shine more, but the bottle said it is a cellar prospect. I got it for free from a friend who doesn't like barleywines, so the price was right.
783 characters

3.54
/5
rDev
-6.6%
look: 3.75 | smell: 3.5 | taste: 3.5 | feel: 3.75 | overall: 3.5
Bottle to tulip glass. This is a review in tribute to the reviewing genius that is UCLABrewN84 :)
Look. Pours a ruby red with brownish highlights and a tan head that's about 1/4 inch high off the liquid that is known as beer
Smell. The beer smell like malt and hops with a bit if yeast.
Taste. Pretty much the same as the nose. Reminds me of beer
Mouthfeel. The body is medium and the carb is low. Just like a barley wine beer.
Overall. This beer is a solid beer. Definitely has beer characters.
501 characters

3.45
/5
rDev
-9%
look: 3.5 | smell: 3.5 | taste: 3.5 | feel: 3 | overall: 3.5
22oz bottle into a snifter. First thing I'm surprised by before I even pour is all the floaties visible in the bottle. This has been sitting in the beer fridge for months.
Pours a perfect amber color w/ a 1/2 finger head that settles to a thin film. Plenty of suspended pariculates.
Aroma is dank and hoppy. Lacks the sweetness I was expecting. Herbal/floral, boozy as it warms.
Taste has the same bitter herbal hoppiness. Caramel malt, hops, a little one-dimensional. This could almost pass for an old East Coast DIPA.
Mouthfeel seems a little flat, watery, thin. Bitter on the finish.
Overall a very hop-forward barleywine, not sure it works.
649 characters

3.8
/5
rDev
+0.3%
look: 4 | smell: 4 | taste: 3.5 | feel: 4 | overall: 4
Received in a trade sometime in 2011, bottle is from 2010. Review is from notes taken on 8/13/2012 and poured from the bottle to a snifter.
Appearance: Looks nice coming out of the bottle -- warm golden and coppery hues; body is definitely murky and difficult to see through, but light definitely penetrates; carbonation is plentiful and it looks smooth and foamy; short creamy off-white/near-tan head fades quickly to a thin and uneven skim on the surface; a few strands and washes of laces stick around on the sides of the glass.
Smell: Smell is very sweet -- and I'm reminded of a candied apple; warm and still very sweet caramel malts; touch of bitter hops fight their way through and a whiff of alcohol to boot. I think the nose is quite decent and inviting - smells more like a English BW, but the hops lingering in the back lead me to believe there'll be some American in it as well...
Taste: The hops are definitely in this one, but they're just hiding out waiting to hit your tongue -- a bitter and piny aspect with a touch of metal to it; the malts a huge as well, providing a nice balance; touch of spiciness to it and the alcohol lingers on the breath. Taste is good, but not as big and robust as I was hoping for, especially since I probably traded something decent for it... hopefully not too decent, but decent enough.
Mouthfeel: Body is solid -- medium/heavy in terms of weight and it's pretty smooth and creamy; carbonation is present, and when combined with the alcoholic vapor, it has plenty of life to keep it busy; a thin, kind of dry coating is left on the roof of the mouth -- not necessarily unpleasant, but I've definitely had better.
Overall: Definitely a good beer and worth buying if it comes a reasonable price, but I wouldn't go out of my way to get it. A lot of annual offerings from other breweries are better suited to my palate (a la Bigfoot). Sipper due to the weight and ABV.
1,916 characters

3.88
/5
rDev
+2.4%
look: 4 | smell: 3.5 | taste: 4 | feel: 4 | overall: 4
A - Transparent copper body with a moderate amount of rising carbonation. The head starts out about half in tall and fades to an eightj of an inch but then main tains itself well in a cloak of light tan.
S - Mild hoppy aroma consisting of the grapefruit family.
T - The flavor is nice with a citrus hoppiness and a mild sweet candy taste. Mainly hops though. The flavors are mild enough for a barleywine that it doesn't cause for an overwhelming hop flavor.
M - The body is thicker than medium but lighter than heavy. This brew goes down well.
~ This is a tasty beverage and one that I'm glad to have a bottle cellared for a later date. We'll see how it ages considering the beer is good as of today. Thanks to my Oregon connection, theskinny. Cheers.
764 characters
3.06
/5
rDev
-19.3%
look: 4 | smell: 3 | taste: 3 | feel: 3 | overall: 3
Appearance is a hazy orange amber leaving a healthy head and spotty lace. Smell of dark rich caramel, heavy malt with mild hops coming through. Taste of rich citric grapefruit and a heavy malt backbone with a salinic background with the hops coming through in the end. Mouthfeel is a bit light and carbonation a bit high for the style. A heavier bitter bite in the end and not having the mellow sip (considering) as found in other barleywines.
443 characters

4.18
/5
rDev
+10.3%
look: 4 | smell: 3.5 | taste: 4.5 | feel: 4 | overall: 4.5
Poured from a bottle into a snifter glass.
Look - medium brown in color, hazy, with about a finger's worth of off-white and still frothy foam that dissipates pretty quickly.
Smell - sweet smelling, seemingly with a fruit base. Can't quite pick out the hops in the aroma. Smells more like a fruit juice like pomegranate juice or something similar.
Taste - the feeling of the hops...more the presence than the feeling or taste, is fell right off. But that may also be the general sense of the abv. But then the second thing is the actual bitterness of the hops felt strongly at the back of the palate. Then there's a smorgasbord of complexity in the middle, fading back into a bitter finish and subtly bitter aftertaste.
Mouthfeel - surprisingly well-balanced, not leaning more toward the watery or creamy sides.
Overall - as always, barleywines are wonderful and intriguing to sample, and this one makes no deviation from that expectation. Very interesting and wonderfully complex.
985 characters

4.41
/5
rDev
+16.4%
look: 2.75 | smell: 4.25 | taste: 4.75 | feel: 4.25 | overall: 4.5
This bottle has been starring at me at Total Wine & More for months… and I never pulled the trigger. I have never been impressed with beers from Full Sail. Then I saw a couple of barrel aged beers come in, and decided to give this one a shot. It was only $4.49 a bottle, so I grabbed a bomber. I have since found out this is on the 1001 Bottles list, and might possible be retired. I am still looking into this, but I am seeing conflicting reports online. Regardless, this is the 2011 barleywine, which makes me think there is already two years of age on it. The label is also old, and a beer like this should get better with age. The tasting notes said this beer should be enjoyed fresh… but I have never had a good barleywine that was good fresh. Hoping the age has mellowed this beer out a little.
I did drink a bottle of their doppelbock a few weeks ago. It was nice. Let's hope this one is as good as I want it to be. Remember, I am picky when it comes to barleywines. My fingers are crossed!
In the Glass: This has a nice rich brown, almost red color to it. My expectation for a barleywine is dark brown, but I am not turned off by this. The head is white and fluffy, and has a nice lingering lace. Barleywines also have a nice sweetness on the nose and on the palate, and that is what I am expecting here. A beer like this will also get better as it heats up.
Nose: This smells like a barleywine should smell. There is a nice sweetness there, and is loaded with malty goodness. At 9% ABV, you would never know that from smelling this. I still don't know why they say enjoy this fresh. It even says on the bottle that this beer ages well. I might grab another bottle depending on what it tastes like. I am hooked on aging beers! OK… here we go. Let's see what this brew tastes like.
Flavor: Oh yeah, THAT is what a barleywine is supposed to taste like. I knew it would taste good, but man… this tastes GREAT! Holy cow, this is delicious!!! The flavor is sweet, then the malts really kick in, and the finish and aftertaste are while sweet, drying. This is also ice cold, and I bet this would get better (and thicker) as it heats up. Man, Full Sail… I am impressed!
Mouthfeel: The mouthfeel is not as thick as I wanted, but slides across the palate with an aggressive sweetness. On my last drink, I swished it around my mouth a little, and the flavor really explodes. There are a few bubbles on the outside of my tongue, but not enough to discuss much about. I am just so excited that this is good! No no… GREAT! So happy right now. I'm telling you, I am fickle when it comes to barleywines.
Aftertaste: This might be my favorite part of the beer. I have been saying that for a few beers, but the aftertaste here is really sweet, dry, and I just keep swallowing to taste this beer. Full Sail, I am impressed. I did NOT expect this to be this good. I did enjoy the dopplebock, but didn't think they would throw such a good offering with their barleywine. I am clapping my hands for you Full Sail.
Like I said, I expect a barleywine to be thick, sweet, and high in alcohol. We have a winner! Plus, we get almost two pints out of a bottle! If there are still bottles of this on the shelf, I am going to grab another one to age. At 9%, this will age for at least 3-5 years. If the beer is this good "fresh", imagine what a few years will do to it! Yummy!
Beer Name - The bottle says: "A deliciously rich barleywine ale with spectacular depth & delay of flavor that is deep & robust. Its full, sweet body is balanced with centennial & crystal hops for a pleasant hoppiness & Finish. Makes great cellar brew."
3,634 characters
3.84
/5
rDev
+1.3%
look: 3.5 | smell: 4.5 | taste: 3.5 | feel: 3.5 | overall: 4
Poured from a 22 oz. brown bottle to a Leffe Chalice. 2010 reserve. $3.49 a bottle.
Appearance: Pours a dark orange almost brown with a 1-finger creamy tan head. Moderate retention, lacing is moderate. Murky as hell. Lots of carbonation.
Smell: Dark fruits mostly with a hint of earthy hops. Reminds me a little of sweet and mild cigarillos. Grapefruit citrus. Butterscotch.
Taste: Very sweet up front. The fruit is not as present as the nose would indicate. Mostly I get a bitter hop profile after the initial sweetness dies down. The hops are dominating in the aftertaste, not much else can be detected besides a faint caramel malt. Alcohol is noticeable but not cloying.
Mouthfeel: Full bodied with a medium/high carbonation. Not very smooth due to the higher carbonation.
Drinkability: High
It's good. I probably won't seek it out again but I'm glad I gave it a try. Wasn't very hard considering the great price.
923 characters

3.68
/5
rDev
-2.9%
look: 4 | smell: 3.5 | taste: 3.5 | feel: 4 | overall: 4
Had this as part of a barley wine tasting with a good buddy of mine. Served from a bomber, it was a bright, clear copper penny color with a nice initial head. Nice lacing too, but the smell of alcohol was too strong- even though I could smell some toffee. It had a nice mouthfeel but was thinner than I expected. Very typical American barley wine from the NW with heavy duty hops- a bit much for my tastes.
406 characters
3.32
/5
rDev
-12.4%
look: 5 | smell: 3 | taste: 3 | feel: 3 | overall: 4
The beer pours a dark clear amber with a 2 finger off white foam that dicipates quickly but leaves great lacing.
The smell is faint and weak, I pick up roasted malts and caramel maybe some char
The taste is of copper, vanilla, and oak not too sold on this one.
the mouthfeel is light not carbonated enough kind of like watery syrup.
overall i have had better
362 characters
4.23
/5
rDev
+11.6%
look: 4 | smell: 3.5 | taste: 4.5 | feel: 4.5 | overall: 4.5
Like drinking a creamsicle in the dark. A dark ochre color with thick substantial foam. Hangs on the side of the glass and builds like pancake patter poured on a hot griddle. A whiff tells you it is sweet and good. Fruity like a cherimoya. Smooth and lingering mouthfeel. Warm and satisfying as it lands in my belly. Tasty. This is a rare bargain at only $4.29/bottle.
368 characters
2010 Reserve Old Boardhead Barley Wine Ale from Full Sail Brewery & Tasting Room & Pub
3.79
out of
5
based on
29
ratings.