Old Boardhead Barleywine Ale (Brewmaster Reserve 2011)
| Full Sail Brewery & Tasting Room & Pub
BA SCORE
82
good
15
Reviews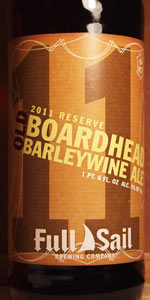 BEER INFO
Brewed by:
Full Sail Brewery & Tasting Room & Pub
Oregon
,
United States
fullsailbrewing.com
Style:
American Barleywine
Alcohol by volume (ABV):
9.00%
Availability:
Limited (brewed once)
Notes / Commercial Description:
No notes at this time.
Added by mactrail on 06-01-2011
This beer is retired; no longer brewed.
Reviews: 15 | Ratings: 43

3.85
/5
rDev
+8.1%
look: 3 | smell: 4.25 | taste: 4 | feel: 3 | overall: 3.75
22 oz bottle of 2011 Reserve served in a Belgian snifter after some warming in the sealed bottle.
The hazy brown body is topped by a thin weak head that leaves minimal lacing.
Fruity appealing aroma with some biscuit and remarkably little evidence of alcohol. There's little sign of the alcohol upon tasting either ... at first; but eventually the alcohol builds and the finish and aftertaste are actually rather boozy. While the boozy finish detracts from the flavor it is overall good enough, and complex enough, to deserve a 4. More hops than expected for this style and vintage combination.
Feel: light carbonation in a medium-light body with obvious alcohol warming.
679 characters
3.89
/5
rDev
+9.3%
look: 3.5 | smell: 3.75 | taste: 4 | feel: 3.75 | overall: 4
Had this one set aside for about two years...
Tawny, copper-colored body with a decent, creamy head. Rich caramel and toffee malt nose with a pinch of booze in the background; dried apricot and peach. Deep, rich malt feel and flavor with strong hop bitterness and alcohol heat at the finish; thick and vinous.
This has been a welcome surprise after letting it sit around for a while. Seems to be a fine complement to a cold, snowy winter afternoon while cooking up a BeerAdvocate potato, veggie, and sausage recipe (ref. issue #84). Yep, it has the deep appeal for a day like today and completely hits the mark for winter enjoyment. Complexity and depth to the nines...
671 characters
3.71
/5
rDev
+4.2%
look: 3.5 | smell: 3.75 | taste: 3.75 | feel: 3.5 | overall: 3.75
this has been in the cellar for some time, dusty old bottle finally resurrected. rusty colored hazy liquid, not much head at all just come white to the swirl. nose of intense centennial hops, this must have been a bomb when it was fresh. lots of malt to the nose from red to pale to crystal to caramel, all heavy and strong. the booze surely has mellowed, hardly hot at all. I love the interaction between all those grains and the heavy hopping. its sort of a kitchen sink vibe, and it comes across intentional and delicious. I would like more bubbles though, as this gets a bit filling without them. I get some bourbon type of sweetness on the finish, even though this wasn't aged in one, as far as I know, it has that feeling to it for sure. a good barleywine overall, nothing world class, but a nice winter drink on a cold night. the first big beer ive had from full sail.
875 characters

3.6
/5
rDev
+1.1%
look: 3.5 | smell: 3.5 | taste: 3.75 | feel: 3.5 | overall: 3.5
2011 1 pt 6 fl oz bought from CM yesterday.
A - pours a murky borwnish head with a strange green hue
S - booze, grapes, bread and yeast
T - is this what diacetyl tastes like? I always see people saying that, but never fully understood it. Faint, if any, hop presence. Breadlike malts at the forefront. Very tart finish.
M-mild amounts of carbonation, very slick and slightly sticky mouthfeel.
O - not sure what to make of it. Was it aged properly? Seems some oxidization is present, but not to point of turning.
516 characters

4.2
/5
rDev
+18%
look: 4.5 | smell: 4.5 | taste: 4 | feel: 4.5 | overall: 4
Found this one on the shelf at Sprouts on 1st & Wetmore. They had 2012 too but there was this one 2011 left. Pours deep copper with a white head that fades down to basically nothing. The nose is boozey with grapes, some citrus notes (grapefruit, lemon, maybe a hint of lime), caramel and maybe a bit of spice like clove. The taste is one where it seems like this used to be very hoppy. I had the 2010 but I don't remember it. Its piney, bitter, slightly citrus and caramel. Mouthfeel is medium with pretty strong carbonation. Pretty good. Thanks for the shelf aging Sprouts :-)
577 characters

3.38
/5
rDev
-5.1%
look: 3.5 | smell: 3 | taste: 3.5 | feel: 3.5 | overall: 3.5
2011 bottle that pours a cloudy amber body with less than one finger creamy tan head. Very little lacing.
The aroma is predominantly roasted malt. Almost smells like a brown ale. Not much in the hops department, as I expected at least some sweet faded hop aroma.
The flavor does bring in a bit of sweetness, but overall this is more bitter than I would expect from a barleywine. The malt has a more bitter, roasted flavor, and the hop flavor is, as expected, faded. But, the flavor is not unpleasant.
Medium texture in the mouthfeel and no real notice of the alcohol. Overall, not what I normally expect from a barleywine, but a decent brew overall.
652 characters

3
/5
rDev
-15.7%
look: 3.5 | smell: 3.5 | taste: 2.5 | feel: 3.5 | overall: 3
Aroma: Dark malt. Some bitterness. Moderate dark fruity esters. Mild chocolate and brown malt. The hops add some mild orange citrus. Caramel and bready.
Appearance: Light brown with orange highlights. Very hazy. No individual particles visible. Head is small, off-white color. Little retention, some lacing.
Taste: A bit thin but quite a lot of bite. Slightly sweet, followed by bold bitter malt and hops. Odd to have so much bitterness from malt. Hops are some pine and mild floral notes. Alcohol at the aftertaste.
Mouthfeel: Light to medium body. Watery. Finishes barely dry. Low carbonation.
Overall: I knew right away this was going to be a less than stellar brew. Almost upset that I had to drink 22 ounces of this brew. Doesn't go down easy due to the intense unpleasant bitterness. Could use lots more sweet dark malt character.
840 characters
3.58
/5
rDev
+0.6%
look: 4 | smell: 3.5 | taste: 3.5 | feel: 4 | overall: 3.5
Bomber from Premier Gourmet of Buffalo. Poured into a Duvel goblet.
Dark caramel amber, with chestnut notes out of the light. Good head on this, settles into a thick ring with lots of lacing.
Nose is tart western hops, smoke, mild candied hops.
Hops take the forefront here, with backup accompaniment from a burnt sugar and smoke. It didn't have the malty flavor I was hoping for, nay - expecting in a barleywine. Still, a good brew.
Carbonation keeps things rolling, and the body coats the tongue well. Lingering bitterness.
A bit off for the style, but the mix of smoke and high hops was not unpleasant by any stretch.
629 characters
4.15
/5
rDev
+16.6%
look: 4.5 | smell: 4.5 | taste: 4 | feel: 4 | overall: 4
22-oz bottle into Samuel Smith "Tulip" pint glass
A - bubbles cascade beautifully into 3 fingers of cream-colored head atop a cloudy body of orange amber, beautiful lace
S - quite malty, dark fruits (raisins and figs), alcohol, pleasantly complex
T - sweet malts up front, dark fruits, oily hops get the last word with a dry finish
M - slick medium/full body, fairly high carbonation
O - I have not had many barleywines, but this is a pretty decent beer.
459 characters

3.95
/5
rDev
+11%
look: 4 | smell: 4 | taste: 4 | feel: 3.5 | overall: 4
Full Sail is one of those breweries that has a good reputation in my head, but doesn't always deliver the goods when I pick up a bottle. Like Boulevard, this is a brewery to drink the specials but I ignore their regular line up. So, when I see "reserve" and "barleywine," I figure it's time to give them a chance once again.
Popping the top, the smell of caramel, fig and alcohol wafts up immediately. Thin light tan head dissipates quickly. Apparent alcohol and hop spice over the malty backbone of this beer. Very sweet malt, sharp hop bit and dark fruit that slightly overpowers a thin mouthfeel.
This beer is good but not mind blowing. I won't get it again, but don't regret the purchase. It's a perfectly brewed beer, but lacks a subtly and balance to make it great; I'd be happy if this was my own homebrew for half the cost. Taking a look at BA, I'm being a bit generous compared to other reviewers, but I'm a sucker for big hop so guessing that would explain the discrepancy.
985 characters

3.04
/5
rDev
-14.6%
look: 4 | smell: 2.5 | taste: 3 | feel: 4 | overall: 3
Received this new-to-me beer from a new-to-me brewery as an extra from Johngalt1. Thanks for allowing me the opportunity to try this!
Old Boardhead pours copper with an eggshell white head; Plenty of lingering power and decent looking legs that spiderweb around my glass through my sipping.
The first aroma is unfortunate enough with wafts reminiscent of green apples and overly carbonated homebrew. This beer most certainly is not overcarbonated so I'm curious as to where that smell comes from and why it's so overpowering. The rest of the bouquet is a bit subdued and simple with a sweet (albeit muddled) maltiness. If I try hard enough, I can almost imagine caramel malts and a bit of roast in there.
Flavor comes off quite differently entirely. I think that this barleywine could really come into its own (flavor wise) with a few years on it. Fresh, however, the hops are a bit over-the-top. Earthy, yes... Mostly piney. Anything above room temperature really brought out the piney and sappy nature of the hops and they overshadowed some of the malt profile. Underneath these thick and oily hops, however, was a bit of charred leather, burnt figs and plums and burnt candied sugar. A bit of rich tobacco for good measure and there you have it. I really wish, looking back now, that I would have sat on this for a bit as the overwhelming piney bitterness really could have been dismissed with a bit of time on this bottle.
Overall, I can't say this is a bad beer but I can't say it was impressive either. A smooth enough mouthfeel and hidden alcohol make Old Boardhead easy enough to drink. My biggest issues with this barleywine is a bit too much of the playing on the burnt/char aspect on the fruitiness that manages to struggle its way through the hops and, quite honestly, the overly bitter nature that seems to detract from the star of the show.
1,859 characters
3.34
/5
rDev
-6.2%
look: 3 | smell: 4 | taste: 3 | feel: 3 | overall: 3.5
Appearance: Dark Amber in colour, very little head, and some no lacing on the glass.
Smell: Rich malt smell with a faint bit of hop/floral note.
Taste: Strong hop bite that fades to a rich malt. Has a slight hint of alcohol on the palate and a return hoppy bitter in the aftertaste
Mouthfeel: medium and slightly dry
Overall:This is a decent Barley wine. It is on the lighter side for a Barley wine, nice for a relaxing evening especially for a 5er.
Serving type: bottle
478 characters
3.67
/5
rDev
+3.1%
look: 3 | smell: 3.5 | taste: 4 | feel: 3.5 | overall: 3.5
Acquired in a recent trade with Exiled.
A: A deep maple color, very clear. Not much head, but what's there does leave some lacing on the glass.
S: Spicy floral hops with some citrus, and big rich malts. Some dark fruit and slight boozy alcohol.
T: Spicy hops with some citrus, and big smooth malts accented by dark fruits. Well balance with some bitterness that lingers into the some what dry finish.
M: On the full side of medium, fairly dry with nice carbonation.
O: A fair barley wine, and an easy drinker. I could put down a couple of bottles of this and have a very enjoyable, relaxing evening.
604 characters
3.03
/5
rDev
-14.9%
look: 4 | smell: 3.5 | taste: 2.5 | feel: 3.5 | overall: 3
*thanks to JohnGalt1 for the extra!*
22oz. bomber served into a snifter
Pours a shade of orange-brown that is pretty much a dead ringer for a penny. It's coppery and somewhere in between opaque and translucent. I mean, it seems opaque enough, but if you hold the glass to direct light you can see your fingers through the body. 3/4 of a finger of head dissipates pretty quickly. What head is left is buttermilk in color with spotty lacing. Seems pretty good looking for the style.
This beer has a very hoppy aroma, and the hops contribute the most complexity here. Pinecone and a quick flash of red fruits characterize the hops here. These aromas help to brighten a malt-bill that strays too close to one-note sweetness. Some snickerdoodle cookie and some caramel malts and that's about it. It works, certainly, but a more complex malt profile would elevate this beer.
The aspects of the aroma that hold it back become definite flaws on the palate. The lack of a malt complexity, dominated by caramel malts, leads this beer to tasting more like an East Coast double IPA than a barleywine. The hops are juicy and bitter, but not complex like they'd be in a proper IIPA either. So, basically, this beer tastes way too straightforward (and yet, simultaneously, it tastes awkwardly) to amount to anything good. Plus, the whole combination has something of a plasticity & medicinal tone to it on the finish.
This is medium-bodied for a barleywine. It isn't all that thick, but it is somewhat luxurious feeling. It's definitely not dry, that's for sure. Overall, this is an average barleywine at best. It has some things going for it, and it is far, far from undrinkable, but it just doesn't achieve what it wants to achieve.
1,723 characters

3.33
/5
rDev
-6.5%
look: 4 | smell: 3.5 | taste: 3 | feel: 3.5 | overall: 3.5
Poured from the 22 oz bottle into a Scotch Ale glass at cellar temperature. $3.99 at Grapevine Liquor in Denver.
Attractive amber color, head is adequate. Pleasantly carbonated. Label notes Centennial and Crystal hops. Seems very bitter to me. Definitely not the malty and rich style of Barleywine. Sharp in general profile with hardly a note of sweetness. Thin in body. Long fragrant and bitter aftertaste. Nose is just beery with a touch of pine.
Well, it's a bargain for a big ale, but it's kind of hot and prissy. Not rich enough for sipping. More on the medicinal side.
580 characters
Old Boardhead Barleywine Ale (Brewmaster Reserve 2011) from Full Sail Brewery & Tasting Room & Pub
3.56
out of
5
based on
43
ratings.