Berliner Weiss (Brewer's Share)
| Full Sail Brewery & Tasting Room & Pub
BA SCORE
79
okay
64
Reviews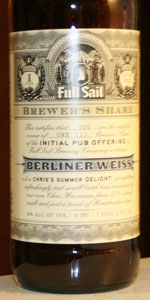 BEER INFO
Brewed by:
Full Sail Brewery & Tasting Room & Pub
Oregon
,
United States
fullsailbrewing.com
Style:
Berliner Weissbier
Alcohol by volume (ABV):
4.00%
Availability:
Summer
Notes / Commercial Description:
9 IBU
First released in June 2012
Added by Halcyondays on 06-17-2012
This beer is retired; no longer brewed.
Reviews: 64 | Ratings: 161
3.16
/5
rDev
-7.9%
look: 4 | smell: 3 | taste: 3 | feel: 4 | overall: 3
22oz bottle $4.49. Bright yellow with a couple bubbles. Smell is a mix of cardboard and wheat. Flavor is the most subtle tarness, wheat, hint of lacto? Surely not. Extremely easy to drink but as far as the style this is disappointing overall. Oh well, at least it was cheap.
274 characters

3.13
/5
rDev
-8.7%
look: 2.5 | smell: 2 | taste: 3.5 | feel: 4 | overall: 3.5
Poured out of the very-affordable 22oz bomber into a dogfish head pint glass.
After pouring, I get a single finger head that lingers all of about a minute or two. Color is an odd yellowish brown. Definitely darker than usual for Berliner Weisses.
Smell reminds me a lot of Budweiser. Very wheaty/malty smell. A tiny bit of a lemonish scent as well.
Tastes pretty solid actually. I'm digging the tartness on this. It's not very tart, but just enough to be refreshing. Even though the body itself isn't exactly balanced, I still like it. So there. My house, my rules.
Mouthfeel is OK. The carbonation isn't excessive, and it goes down smooth.
Overall, I like this. It's not as good as other berliner weisses out there, but at least it's a good prologue to the Anchorage Galaxy White IPA I'm about to indulge in. This is quite sessionable, and it's the only Full Sail I find myself liking. Cheers!
900 characters
2.43
/5
rDev
-29.2%
look: 3.5 | smell: 3 | taste: 2 | feel: 2 | overall: 2.5
Wow, what a dud of a beer from Full Sail. On tap at beermongers last night.
The beer pours a bright gold color with decent head retention and light lacing. Alas, this was to be as good as things would get for this beer. On the nose I get very little, just some wheat and very light sour. On the palate, this beer is a complete train wreck. The beer tastes like a bland, standard american wheat, with some barely noticeable underlying sour. Also, the sour flavor seemed to be almost completely separate from the wheat flavor, as if this was meant to be a wheat beer, with the brewer adding a cup of lemon juice to the mix as an afterthought. Mouthfeel is similarly unimpressive, with the beer coming across as dull and almost flat.
The bartender confirmed that the beer has not sold well at beermongers and has not been a popular beer with his customers. I can see why. I've been a big fan of FS beers over the years, especially the brewmaster reserve series. This is easily the worst beer I can ever recall having from FS.
1,025 characters
3.48
/5
rDev
+1.5%
look: 4 | smell: 3.5 | taste: 3.5 | feel: 4 | overall: 3
A: Pours a very hazy to cloudy deep golden yellow to copper in color with some glowing pale yellow when held up to the light. The beer has a finger tall white head that reduces to a thick film evenly covering the entire surface of the beer. Moderate to significant amounts of lacing are observed.
S: Moderate aromas of wheat with lighter aromas of malts, lemon citrus, and a very light amount of sourness.
T: There is a stronger malt body than I was expecting for the style. Moderate amounts of tartness with hints of lemon and wheat.
M: Slightly heavier than light bodied with moderate amounts of carbonation. Slightly prickly from the tartness.
O: The appearance of this beer is quite dark for the style when compared with other offerings. Doesn't really taste authentic to the style - a little too full bodied and malty. Enjoyable but not as light and refreshing as others in the style (and expectation). Easy to drink and definitely sessionable.
953 characters
3.53
/5
rDev
+2.9%
look: 4 | smell: 3.5 | taste: 3.5 | feel: 3.5 | overall: 3.5
A: The beer is hazy yellowish amber in color. It poured with a finger high off white head that died down but consistently left a thin layer of bubbles covering the surface, unlike most of the beers in this style.
S: There are light to moderate aromas of sourness in the nose from the lactic acids.
T: Like the smell, the taste has a light amount of sourness—although this stands out given the light bodied nature—and also has notes of wheat and hints of lemon.
M: The beer is light-bodied and rather tart on the palate with a moderate amount of carbonation.
O: I could easy drink this beer all day long. It is a nice sessionable beer for the summer months. This beer is quite refreshing but the lemony flavors almost make it seem like fruit syrup has already been added to the beer.
786 characters

3.08
/5
rDev
-10.2%
look: 3.5 | smell: 3 | taste: 3 | feel: 3.5 | overall: 3
Pours a dark yellow, with a bone-white finger of head. It's very hazy.
The aroma was wheaty, with biscuits, a faint acidic tone and very mild fruit-like tart aromas.
The taste was, as similar in the aroma, faintly tart and acidic, with a wheat taste and a rather biscuit/bread crust finish.
It's like, medium carbonation, with a fairly dry feel to it.
Easy drinking, fairly refreshing. However, it's average for the style and rather boring.
448 characters
3.75
/5
rDev
+9.3%
look: 3 | smell: 3 | taste: 4 | feel: 4.5 | overall: 4
22oz. bomber into a Sam Adams sensory glass. Shared by schen9303.
Pours a 1 finger white head that collapses quickly. Beer is a crystal clear pale copper. Spotty lace with no stick. Average for the style.
Skunky with a slight metallic tartness. Clean.
Opens slightly yeasty. Some lactic tartness. Wheat towards the end. Filmy, tart, dry finish. Real simple. Super refreshing.
Light bodied with high carbonation. Prickly and bubbly in the mouth and refreshing, dry, and tart going down. Clean finish with a slightly lingering, foamy aftertaste. So drinkable!
Super easy-to-drink offering that offers a simple flavor profile with a very refreshing, crisp mouthfeel. I could drink this all the time.
705 characters

3.65
/5
rDev
+6.4%
look: 3.5 | smell: 3.5 | taste: 3.5 | feel: 4 | overall: 4
Poured into a Seattle Beer Week pint glass. Pours a light orange straw amber. Minimal head, but a ring around the glass with slight slippery lacing. Aroma of biscuit malt, light citrus and a lactic hint. Flavor starts with tart lemony wheat and develops into a light biscuit malt, wheat and lemon. The tartness is dominant, and other flavors are subdued. Light bodied, but nice mouth feel with sharp active carbonation. A refreshing, understated weissbier with a balanced amount of lactic tartness.
498 characters
3.5
/5
rDev
+2%
look: 3.5 | smell: 3.5 | taste: 3.5 | feel: 3.5 | overall: 3.5
22 oz. bottle from John's Marketplace PDX poured into De Proef Browerij flute 7.1.12.
One finger white rapidly dissipating head over straw gold clear body, champagne like effervescence quickly leading to some clinging bubbles on side of glass, and a few small bubbles rising from bottom of etched glass. The lacto is fairly prevalent in the nose, wet hay and a bit of sourness. Taste is a bit more tart than sour though the finish will make you pucker up, lemony, clean light wheat, no hops to speak of. Mouthfeel well on the light side of medium, about right for style, decent effervescence. Could have used some more conditioning but at this price point certainly a good value. Worth a try.
693 characters

3.78
/5
rDev
+10.2%
look: 4 | smell: 3.5 | taste: 4 | feel: 4 | overall: 3.5
From 06/30/12 notes. A 22 oz berliner for $4.49 off the shelf? Yes please. Served in my Duvel tulip.
a - Pours a hazy golden brown color with one finger of fluffy white head and moderate carbonation evident.
s - Smells like sweaty gym socks. Smells of funk, sour fruits, yeast, and wheat. Wheat is heavy, as is the lactic funk.
t - Tastes or sour fruits, sour citrus, lemon, wheat, grains, light funk. Better than the nose; more sour fruit and citrus.
m - Light body and high carbonation. Pretty easy to drink.
o - Overall a pretty nice berlinerweiss; cool to see them doing things like this. The nose is definitely a bit funky, while the taste has more sour citrus and lemon. Wheat is present throughout, and it is easy to drink. Would have it again.
756 characters

3.7
/5
rDev
+7.9%
look: 3.5 | smell: 3.5 | taste: 4 | feel: 3.5 | overall: 3.5
Bomber, courtesy of Hopstoopid120. Thanks, man!
A: Hazy pale amber body with a thin, coarse white head. Ok.
S: Pretty standard: light, grainy wheat on top of a bit of tart lactic acid in the background. Uninspired, but ok.
T: Follows the nose precisely - tart, grainy wheat dominates, with the light lactic sourness playing a solid supporting role. Clean and refreshing, which is what this style is all about. Pretty good.
M: Light-bodied with soft, light carbonation to match.
O: Not in any way exciting or interesting, but a pretty darn solid example of the style. I just so happened to review it on a hot summer day, and it kinda hit the spot.
Cheers!
660 characters
3.33
/5
rDev
-2.9%
look: 4 | smell: 3.5 | taste: 3 | feel: 3.5 | overall: 3.5
22 picked up at the COOP tonight.. putting some finishing touches on a box that goes out tomorrow... Poured into my slim tulip... the brew is slightly hazed pale golden... short lasting white head...
Plenty of wheat malt in the nose... lemony.. and a bit of lactic notes that seem more like a dosing more than a sour mash... just not enough sour punch.
A "twang" up front.. but that quickly melts into bready/lite toast... very drinkable and approachable in the heat...
I am very happy that this is a low ABV Berliner style... The lesser body makes it more authentic... but I still doubt a sour mash with this one..
I dig this one despite my above negatives... I will buy and enjoy it until it is off shelves... and I hope I will have some stashed for the future.
4/3.5/3/3.5/3.5
786 characters
3.65
/5
rDev
+6.4%
look: 3.5 | smell: 3.5 | taste: 4 | feel: 3 | overall: 3.5
Best by 17SEP12
Really surprised to see this beer from this brewery. Figured Widmer would have taken the front in the geography (and slaughtered the style).
Pours a delicate light yellow with the slightest diaphanous overcast. Fleeting foam atypical of the style. Smells of wheat, co2, lemon must, hay and some hints of lactic acid. Light and crisp smelling. Lightly tart with a wheaty sweetness and finishing corn flavors. The tartness is upfront and surprisingly transient. The finish is longer than I had anticipated with grain and grass with a hint of dry tartness (like I just swallowed some plain yogurt). A little heavy for the style with moderate carb and a wet finish. Clocking in at 4%, this is on the low end for US Berliner's, but the high end for Berlin. I like this version, although I'm guessing it isn't natural lacto, nor is there any Brett, so the beer really does merit a "best by". Nonetheless, I'm not put out by the offering. Certainly worth the $5 I paid.
981 characters
3.68
/5
rDev
+7.3%
look: 4 | smell: 3.5 | taste: 3.5 | feel: 4 | overall: 4
22 oz. bomber,
A: Pours a hazy orange-yellow with a soft pure white head, some solid lace.
S: Lemon, lactic acid, bread.
T: Nice crisp acidity. Again lots of lemon (Meyer lemon, with that hint of sweetness). Light notes of grapefruit zest. Tastes very much to style.
M: Light in body, crisp and very refreshing. Sparkling carbonation, with a nice backing acidity.
O: Not the most complex Berliner in the world, but it is very much to style in ABV and taste. Plus at less than $4 a bomber, the price is right for those who want to get into this style, which for some reason is much more expensive than it should be.
629 characters
Berliner Weiss (Brewer's Share) from Full Sail Brewery & Tasting Room & Pub
3.43
out of
5
based on
161
ratings.