Thomas Hardy's Ale (2015 -)
| Interbrau S.p.A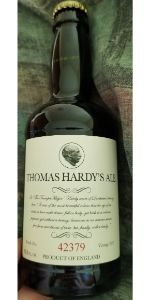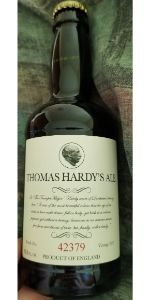 BEER INFO
Brewed by:
Interbrau S.p.A
Italy
interbrau.it
Style:
British Barleywine
Alcohol by volume (ABV):
11.70%
Availability:
Rotating
Notes / Commercial Description:
No notes at this time.
Added by bark on 07-01-2016
HISTOGRAM
Ratings: 11 | Reviews: 6

4.1
/5
rDev
-1.2%
look: 3.75 | smell: 3.75 | taste: 4.25 | feel: 4.25 | overall: 4.25

3.6
/5
rDev
-13.3%
look: 3.5 | smell: 3.5 | taste: 3.75 | feel: 3.5 | overall: 3.5
Hazy dark amber color with beige head. Aroma is quite cheesy with toasted malt notes. Taste has dark fruits, burnt sugar, toasted malt sweetness, some earthy bitterness on the finish. Medium minus body and carbonation. It really doesn't compare to the old version.
264 characters
4
/5
rDev
-3.6%
look: 4 | smell: 4 | taste: 4 | feel: 4 | overall: 4
4.34
/5
rDev
+4.6%
look: 4 | smell: 4.25 | taste: 4.5 | feel: 4.25 | overall: 4.25
4.2
/5
rDev
+1.2%
look: 3.5 | smell: 4.75 | taste: 4 | feel: 4.5 | overall: 4
11.2 oz. bottle poured into snifter
(#42,729 — vintage 2017; courtesy of @TongoRad)
L: orange-brown-red ... a murky copper-bronze or copper with some extra brown in it; the head barely makes a full skin ... looks almost flat; keeps a super thin but consistent collar of offwhite/beige foam
S: toffee, caramel, donuts ... super sweet fruitcake; as it warms and about halfway into the glass a pinch of hop aroma shows up, very hidden but distinctly floral
T: supercharged light-malt everything ... caramel, peach, apricot, toffee and on up to a sweet malt flavor almost as dark as dates but closer to fruitcake; lurking in the background is sneaky pinch of English dirt-hop flavor and with each sip it grows and grows into a lingering bitterness in the aftertaste
F: thick and heavy but surprisingly prickly up front despite the flat-looking pour; that little tingly layer of carbonation does wonders, turning it from feeling potentially like syrup into one big bad beer
O: a showcase of malt with aroma and flavor so strong you wonder how they afford to brew this beer ... there's THAT much barley in it; the label says they added cane sugar, so some of the sweetness is coming from that sugar, but the mouthfeel and depth of the bready/biscuity flavor suggest a maltbill that could choke an English horse; the subtle-but-growing earthy hop bitterness helps tie it together into a tasty brew
1,402 characters

4.64
/5
rDev
+11.8%
look: 4.25 | smell: 4.5 | taste: 4.75 | feel: 4.5 | overall: 4.75
Thanks to Tangorod and zid for multiple bottles of fresh Thomas Hardy Ale. I have had many aged ones over the years.
Bottle number 42379.
It pours a hazy red, small head of foam that shrinks to a ring around the glass.
Smells of piney hops, caramel malt, more caramel malt, toffee, oak and vanilla.
Taste follows, much caramel malt with a cutting pine like bitterness, dark fruits, didn't get that in the smell but most welcome, toffee, oak, raisins, a bit nutty, some of the ample alcohol.
Close to full bodied, carbonation is not quite light, not quite medium, somewhere in between.
Good lord, even fresh, this is a taste to behold, or to put it another way, a taste to relish!
Only time will tell if this new rendition will stand the test of time like the Eldridge Pope beers; for my fellow beer drinkers who have enjoyed the aged Thomas Hardys in the past, I hope so!
885 characters

4.24
/5
rDev
+2.2%
look: 4 | smell: 4.25 | taste: 4.25 | feel: 4.25 | overall: 4.25

4.35
/5
rDev
+4.8%
look: 4.25 | smell: 4.25 | taste: 4.5 | feel: 4.25 | overall: 4.25
Poured from fridge temp. Pours a beautiful opaque dark orange. Almost no carbonation - looks a bit syrupy. Definitely not a bad thing as I like my barley wines like this. Nose is a gorgeous burst of caramel. Also getting wheat, bread, vanilla. Taste is amazing. Sweet caramel, but not overpowering. Getting a hint of brandy, some grapes, and a bit of bitterness on the back end. Some oak and some piney hop bitterness. The malts are definitely strong. Mouthfeel is nice a creamy - coating the mouth. Overall, a splendid beer and one that I will also age and test in coming years.
579 characters
3.89
/5
rDev
-6.3%
look: 1 | smell: 5 | taste: 3.75 | feel: 3.75 | overall: 3.75
From Boxbeers. In Teku glass. Playing Darksiders 2. The aroma is as good as in the historical version but the feel and taste are a bit below, more light, less sticky and fullfilling
181 characters

4.26
/5
rDev
+2.7%
look: 4 | smell: 4.25 | taste: 4.25 | feel: 4.5 | overall: 4.25
2016. Drank at cellar temperature. Aroma is like a caramel-drizzled sweet croissant (a bit on the raw, doughy side) topped with raisins, and more general 'yeastiness.' Tastes of toffee and sherry notes with some moderate heat at the end. More of a silky mouthfeel than sticky. As is, a very nice BW. I could certainly imagine it ageing well.
341 characters

4.05
/5
rDev
-2.4%
look: 3.75 | smell: 4.25 | taste: 4 | feel: 4 | overall: 4
Thomas Hardy's Ale (2015 -) from Interbrau S.p.A
Beer rating:
4.15
out of
5
with
11
ratings