Cerveza Premium
| Cerveceria Argentina S.A. Isenbeck
BA SCORE
75
okay
11
Reviews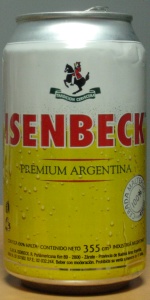 BEER INFO
Brewed by:
Cerveceria Argentina S.A. Isenbeck
Argentina
isenbeck.com.ar
Style:
American Adjunct Lager
Alcohol by volume (ABV):
4.60%
Availability:
Year-round
Notes / Commercial Description:
No notes at this time.
Added by BeerAdvocate on 07-21-2003
Reviews: 11 | Ratings: 17
3.27
/5
rDev
+17.2%
look: 3.25 | smell: 3 | taste: 3.5 | feel: 3 | overall: 3.25
Appearance: clear golden, 3 to 4 finger soapy head. Active carbonation.
Aroma: sweet grainy malts and slightly grassy.
Taste: sweet malts, not bad for the price and considering it's a macro lager.
Mouthfeel: medium bodied, you can enjoy this one.
Overall: this beer has gotten better with the years. Maybe it's one of the 2 better macro lagers in here.
356 characters
3.57
/5
rDev
+28%
look: 3.5 | smell: 1.5 | taste: 4.5 | feel: 4 | overall: 4
I just poured this beer into a pint glass out of a 1 Liter glass bottle. My initial reaction is that this is a great lighter beer. First and foremost, the golden hue the beer gives off in the glass is beautiful. Its a little pale and translucent but its what you would expect from a lighter tasting brew. The head only lingers for a few seconds (i personally don't care about that criteria but to some it is important). There isn't really much of a smell (i tend to like beer that smells a little skunky or like a green plant that so many love). As far as taste goes, it's not hoppy and it goes down like a good mass-produced beer should. It has just the right amount of flavor without trying too hard and it lingers in your mouth and makes you want another sip. This beer is perfect if you want to kill like two or three pints in a sitting and then do something more active. The feel is smooth, and it goes down easy. It drinks like a lighter brew and is perfect for beer pong or drinking games. If you are a devout IPA guy, this isn't your beer; but for its class, price, and style, this one is hard to beat!
1,110 characters
1.91
/5
rDev
-31.5%
look: 1.5 | smell: 1 | taste: 2.25 | feel: 2.25 | overall: 2.25
Light yellow color with a fluffy head that disappear amazingly quickly. Is this beer?
Initially hard to distinguish aroma from water, just a mild sweetness from malt.
Very clean and mild flavor of cooked leaves, mild grassy hops, sweat pale malt, honey, lager yeast and minerals. Neutral aftertaste.
Watery body with a medium to active carbonation.
Ultimate clean taste, but also one of the most bland and watery beers I have ever tasted. Proof that a pure malt beer does not necessarily means it is good. It seems they have taken an adjunct lager and then extracted the adjuncts (and keeping the same volume of initial barley malt...). Barbecue only.
651 characters

3.29
/5
rDev
+17.9%
look: 3 | smell: 3.25 | taste: 3.25 | feel: 3.25 | overall: 3.5
Isenbeck is about as bright and golden as they come. It'd look like the quintessential lager if not for the fogginess preventing clarity and giving it a 'dusty' looking complexion. Speaking of dust, its head is no thicker than the cobwebs in my ceiling and its lace similarly perpetually hangs there.
The aroma has both the raw cereal graininess and baked bready sweetness to appeal to horse and man alike. Best of all it lacks the syrupy, sugar-water profile suited to hummingbirds; this bouquet definitely has a note of corn kernels but it's mild and pleasant. It smells like corn from the cob - not from the giant, industrial, shiny stainless steel vat.
That notion of 'summer barbecue corn-on-the-cob' continues on the palate; this is indeed a beer suited to a sunny weather backyard gathering. It's exactly the kind of agreeable, approachable, overall neutral beer most consumers naturally gravitate to (and the kind even devout craft enthusiasts can put up with given the right climate and social conditions).
Unlike so many other commercial lagers, however, there's really nothing to "put up with" about Isenbeck. It's a pleasing beer. The '100% malta' claim on the label checks out; its grainy, bready maltiness is rather tasty and subtly underscored by (restrained) notes of sweet golden corn. There's no unwanted adjunct presence to spoil anything.
Isenbeck is a "refreshing, clean-tasting" lager not only by commercial, average-Joe standards but also by my own higher, more discerning and critical ideals. Like its name suggests, this Argentinian beer is a nod to the country's German heritage - and it has the quality and quenching properties to back it up. Isenbeck is, as they say, 'la verdad de la milanesa'.
1,730 characters

2.31
/5
rDev
-17.2%
look: 2.5 | smell: 1.5 | taste: 2.5 | feel: 3 | overall: 2.5
Another example of argentine industrial beer, this time slightly better.
A- Gold brilliant very clean color, white foam that vanish fastly.
S- Almost nothing can be smelled except a subtle malt scent.
T- Clean,crisp refreshing beer, nothing delightful but at least drinkable in a hot day of summer if you serve it very cold.
M - Medium body, not bad.
O- Another mediocre industrial beer.
392 characters

3.02
/5
rDev
+8.2%
look: 2.5 | smell: 3 | taste: 3 | feel: 3.5 | overall: 3
A - poured with a small head of white foam on a clear, gold body. Low retention and no lace.
S - a light, grainy malt note, and just a hint of herbal hops.
T - malt and some spicy hops up front. Some pilsner honey character appears in the middle. Finishes with more herbal hops and light bitterness.
M - medium body, average carbonation, and a relatively dry finish.
D - light and thirst quenching, as expected. Nothing special, but slightly better than the average industrial lager.
488 characters
2.25
/5
rDev
-19.4%
look: 2.5 | smell: 2.5 | taste: 2 | feel: 2 | overall: 2.5
Sampled in Puerto Madryn, Argentina.
Typical South American lager. easy drinking with no real flavour. Refreshing and OK for a hot day but not really aything to drink for pleasure.
Straw coloured with no obvious identifiable scent.
No real taste - certainly no subtelty or complexity. Leaves a slightly unpleasant feeling in the mouth - almost dehydrating
358 characters
2.33
/5
rDev
-16.5%
look: 3 | smell: 2.5 | taste: 2 | feel: 2.5 | overall: 2.5
hmm, thought that I'd rated this one before. Anyway, got this can a few days ago at the Supermercado Carrefour here in the Buenos Aires neighborhood of Recoleta. Notice that it says quite prominently on the front "Cerveza 100% Malta" . Nice malty, beery aroma with a little hops. color is a clear gold. White foamy head quickly fades to almost nothing and a little lace. Flavor is much more sweet. Body is ok, bit malty heavy for a German style pils. And the sweet finish doesn't help. It's ok, but the sweet thing is a drag.
525 characters
2.95
/5
rDev
+5.7%
look: 3 | smell: 3 | taste: 2.5 | feel: 2.5 | overall: 4
A friend brought me one of these from Argentina. It's yet another lager intended more for consumption than pleasure. Typical blond color, weak smell and taste without surprises. It had a metallic after-taste, but I suspect it got it from the cap during its trip here. You can easily drink a few of these, if you have nothing else to drink.
339 characters
3.15
/5
rDev
+12.9%
look: 3 | smell: 3 | taste: 3 | feel: 3.5 | overall: 3.5
Not a marvellous beer by any standards.
Poured from a 1L bottle, brought over like some sort of champagne (in an ice bucket). yeah, right.
The appearance was oh-so lagerish. pale straw, clearly translucid. the bright white head was a bit more dense than i'd expected, with a rather ok retention. the carbonation is abundant and permanent.
The smell is very weak and a slight astringency from the hops overrides a very weak malty feel nothing else to be noted. water perhaps? oh, wait, that's odorless.
The taste at first is rather uneventful. about halfway through you realise a weak metallic sensation combined with an even weaker sweetness. There you go, it's got malt (or extract) somewhere within....thereon, a bitter finish, making it refreshing.
The mouthfeel is quite refreshing, too. the carbonation is abundant and hogs up the mouth at the end, combining with the hops. thin-bodied, quite watery and, well, not much more to say.
The drinkability....well, I could chug down a dozen 1L bottles in a row. do I want this, though? hell no! bring on the maudites (sold in the very same place where the Isenbeck is sold).
1,141 characters

2.81
/5
rDev
+0.7%
look: 3.5 | smell: 2.5 | taste: 3 | feel: 3 | overall: 2.5
A nice, refreshing lager, with alot of banana and butter. Poured a pale gold colour, with a minimal halo head. Some malt, butter, banana and hops were smelled. However, it's a very light smelling beer, so you need to sniff and search. Pretty good tasting. Banana and malt dominate upfront, has a slight floral aftertaste, and some creamy butter. Decent mouthfeel. Smooth, and crisp. Good hot weather beer. Nothing amazing about it, but I would not turn one down if offered for free or a low price.
497 characters
Cerveza Premium from Cerveceria Argentina S.A. Isenbeck
2.79
out of
5
based on
17
ratings.