Calafate
| Cervecería Austral S.A.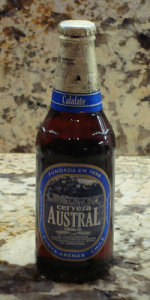 BEER INFO
Brewed by:
Cervecería Austral S.A.
Chile
cervezaaustral.cl
Style:
Fruit / Vegetable Beer
Alcohol by volume (ABV):
5.00%
Availability:
Year-round
Notes / Commercial Description:
No notes at this time.
Added by travolta on 01-26-2008
Reviews: 8 | Ratings: 19
4
/5
rDev
+16.6%
look: 4 | smell: 4 | taste: 4 | feel: 4 | overall: 4
A: a nice clear amber colour, lots of carb, it looks like an apple soda except for the white off head, i would say it has a sand hue, great retention
S: some malt notes but the most notourius is the caramel some fruitness that should be the calafate fruit and some clove and/or pepper at the end
T: a particular tasting, lots of spicy, not sweet notes at all as expected, but some smoke flavour appears. It is an harmonious marriage among fruit, spices and malts
A medium-light body, perfected well balanced
511 characters
3.97
/5
rDev
+15.7%
look: 3.5 | smell: 4 | taste: 4 | feel: 4 | overall: 4
Pour - nice reddish amber color with a very thin head that dives away before I can take a sip. Looks sort of flat but its definitely not.
Aroma - slightly sweet and sour with some malty sweetness sneaking up behind the very unique berry aroma. Calafate berries sort of remind me of a cross between a raspberry and a blueberry.
Taste - tart and tangy with some nice crispness in the finish. Sweet maltiness backs things up really well. This reminds me a little of a blackberry ale I once had. The Calafate flavor is not overly strong and complements the malt flavor really well. One of the beers in Chile that I enjoyed the most.
Overall - a great summer beer. Its light, crisp and refreshing. The fruit flavor is not all that strong but provides just enough sweetness and tartness to be a great session beer on a warm day, of which there are a lot in central Chile.
Would I buy more of it? - yes, this is actually one of the Chilean beers I had several times while in Chile and even had a few more at the airport before the flight home.
Note - The Calafate or "Magellan Berry" is native to only Southern Chile and Argentina. It is a symbol for the region of Patagonia. The blueish-blackish berries are used in jams and can also be eaten raw.
1,249 characters
3.73
/5
rDev
+8.7%
look: 2 | smell: 4 | taste: 4 | feel: 3.5 | overall: 3.5
App:
Clear ruby and copper. Head retention was minimal with zero lacing.
Nose:
Great fruit right up front, slight malt at the finish. Pepper at the end.
Taste:
Great malt smoothness which is pushed away by a cidery hopps. Some dark berry, very low carbonation throughout. Slight black pepper.
Notes:
Had this one at the underground Taberna Pub in Tierra Del Fuego.
377 characters
3.66
/5
rDev
+6.7%
look: 3.25 | smell: 3.5 | taste: 3.75 | feel: 3.75 | overall: 3.75
Copper color with a thin off-white head with low retention.
Sweet predominant aroma of caramel malt and something that I could not quite grasp it. Maybe the Calafate fruit.
Nice refreshing but not tasteless flavor with predominant notes of caramel malt with a light tangy citrusy and mild herbal hops. Hints of spices and dark fruits which is likely the Calafate that I have never tasted before.
Light body with good carbonation.
Very high drinkability and still a tasteful brew. The Calafate addition was a perfect match with the overall beer. Not overwhelming, just the right balance.
586 characters
3.43
/5
rDev 0%
look: 3.5 | smell: 3 | taste: 3.5 | feel: 4 | overall: 3.5
Bottled in 12 '07:
Thanks to jcwattsrugger for bringing this one back from South America.
Pours copper with a thin head that descends to a vanishing patch.
The smell is of caramel, herbal, berry-like fruitiness.
The taste is of caramel, herbal and berry-like fruitiness in the balance. Finishes sweetish.
It has a firm, medium body with moderate carbonation.
Interesting - almost borders too caramelish, but there is some fruity balance.
442 characters

3.17
/5
rDev
-7.6%
look: 3 | smell: 3.5 | taste: 3 | feel: 3.5 | overall: 3
12. oz. bottle from a sampler pack of Cerveza Austral beers purchased in Patagonia, Chile and given to me as a gift. Calafate is more commonly known as the Magellan Berry, a berry from an evergreen shrub that is native to Chile and Argentina. Excited to see what flavors are in here.
A: Pours a reddish amber. Very clear. Attractive white head at first but poor retention with minimal lacing.
S: Definite berry presence and not much else, some sweet caramel malt. Berry aroma is not enormous but defines the nose. I have never smelled a fresh Magellan Berry... but this smells a bit like Leinenkugel's Sunset Wheat, except much less artificial, like a tart blueberry or a mild huckleberry. Smells pretty good.
T: The pleasing nose translates poorly in terms of flavor. Caramel malts and a neutral hop bite along with a medium fruit presence. The taste is so much more boring than the nose. Not much familiar berry flavor, a bit of citrus, and finish has a touch of booziness, which is awkward for a 5% beer. Not distasteful but I was hoping for some unique fruit flavors. Instead I have a rather bland, slightly fruit ale.
M: Light bodied and medium carbonation. Nothing really wrong for a fruit beer, in fact the mouthfeel probably increases drinkability in this instance.
D: Inoffensive and slightly fruit, though bland and not a good finish. This beer is okay. Like the counterpart beers at Cerveza Austral, it seems to intentionally lack excitement. In this case we have an interesting fruit, but it is here in mimimal quantities and covered up with caramel malts.
1,573 characters

3.06
/5
rDev
-10.8%
look: 3 | smell: 3.25 | taste: 3 | feel: 3 | overall: 3
Poured from a bottle into a pint glass in Chile.
L: Pours a clear copper color with thin off-white head.
S: Blueberries and wheat.
T/F: Malt forward with blueberry (pardon me, calafate) dominating. Definitely tastes like a blueberry wheat. A bit too sweet with no discernible hop presence at the finish. Fizzy and somewhat thin.
O: Basically a mediocre blueberry wheat beer using local fruit (calafate) instead of blueberries. Interesting to try while in Chile, but nothing special. A bit too sweet to drink more than one.
535 characters

2.23
/5
rDev
-35%
look: 2.25 | smell: 2.25 | taste: 2.25 | feel: 2 | overall: 2.25
Enjoyed this after the Austral Pale Ale. Too similar in taste to justify a higher rating. Simple malts, almost non detectable hop presence. Nice effort using local Patagonian fruit, though. All in all, not at all bad, but not at all memorable.
243 characters
Calafate from Cervecería Austral S.A.
3.43
out of
5
based on
19
ratings.