Shays Pub & Wine Bar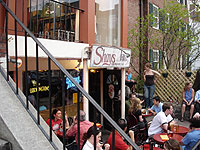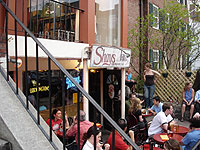 Bar, Eatery
58 John F Kennedy Street
Cambridge
,
Massachusetts
, 02138
United States
(617) 864-9161 |
map
Notes:
Reviews by ridedammit:
3.6
/5
rDev
+5%
vibe: 4 | quality: 3 | service: 4.5 | selection: 3.5 | food: 3
Shays is a small beer and wine bar in Harvard Square. they are best known for the smokey patio on JFK street, but its also a cozy bar inside.
The beer selection is mostly bottle, only about 6 taps Harpoon IPA and seasonal, Sam Adams offerings, Guinness, and a cider. they also have a decent selection of wine, but you'll have to read about that elsewhere :)
The food, on the whole, is not great, but their nachos are really good. The spicy bean nachos are sweat inducing hot and there is a lot of it. A and I make a meal outta the thing since it fills us both.
I am comfortable at Shays, the music is good, the one bartender I know by name is always friendly and remembers your drink.
688 characters
More User Reviews:
3.64
/5
rDev
+6.1%
vibe: 4 | quality: 3.5 | service: 3.75 | selection: 3.5 | food: 3.75
A grungy, basement-ish dive bar, with something short of a cutting-edge taplist when I frequented the place. But that doesn't stop it from being one of the real gems of Harvard Square. It has mysterious and ineffable charms, despite its shortcomings.
250 characters
3.58
/5
rDev
+4.4%
vibe: 3.5 | quality: 3.75 | service: 4 | selection: 3
A small and quiet place on JFK avenue near Harvard square. I came very early on a Saturday afternoon and was their first customer. They have seven beers on tap--none of them macro. All of them were readily available in a store but were of good quality. Some nice bottled beer as well--again mostly more common micros.
The food menu was mostly burgers, sandwiches, and Tex-Mex. The bartender was friendly and attentive.
420 characters
3.46
/5
rDev
+0.9%
vibe: 3.75 | quality: 3.5 | service: 3.25 | selection: 3.5


3.83
/5
rDev
+11.7%
vibe: 4 | quality: 4 | service: 4 | selection: 3.5 | food: 3.5
Shay's is a great place to get a nice beer in a comfortable dive right in Harvard Square. It's quite small, with a pleasantly dingy atmosphere inside. It feels like an old bar in a basement, and with good reason, but it works the charm of such a place well. In addition, Shay's has rare outdoor seating right on JFK Street in a partially covered, slightly sunken front patio along the sidewalk, which rises past it.
The beer selection is fair, but not great. There is nothing too unusual there, but the list consists of much more than typical macros, and there are rotating specials. This is a place to enjoy an old standby in a comfortable dive, but not really a place to go if you're looking to try something new.
The service is generally good, though once it was quite slow on the patio--that was probably a fluke though, as everyone who works here is typically friendly and attentive.
The food is a very solid version of typical pub fare. Sandwiches and quesadillas round out a menu that includes some vegetarian friendly options and good appetizers. The food is tasty and reasonably priced, though certainly not gourmet.
Shay's always seems like a place to come for a beer or two, possibly in the middle of the day, less than a place to settle in for the night, but it (along with Grendel's Den across the street) has a charm that can only come naturally and effortlessly.
1,381 characters
2.56
/5
rDev
-25.4%
vibe: 3 | quality: 2.5 | service: 3 | selection: 2
Hit this patio-attached-to-a-dive-bar while on a Harvard Square pub crawl. Great outdoor seating with nice large umbrellas is much better than the dark interior with a handful of seats. Tap selection bypasses macros for Boddington's, Guinness, Sierra Nevada Pale Ale, and some other large craft names; a few dozen bottles available with nothing terribly special.
Seems like a great place to catch a beer and peoplewatch, or beat the heat with a nice pint. Not a bad bar experience, but I wouldn't recommend it to someone looking for a great beer experience.
558 characters
3.64
/5
rDev
+6.1%
vibe: 3.5 | quality: 3.5 | service: 3.5 | selection: 4
Shay's has always been one of the cooler places in Harvard Sq to have a beer outside. It is probably the only place you can have a beer that is outside, rather than inside with the windows open. Grendel's would qualify IF they let you buy a beer in the seats on the patio, but alas they don't. Shay's is unpretentious, not always that clean, but a nice little hangout nevertheless with a pretty college age crowd. The seating is below street level and is usually pretty full. The inside is dark and not nearly as inviting as the outside. If you're in the neighborhood, do try this place.
587 characters

3.08
/5
rDev
-10.2%
vibe: 2.5 | quality: 3 | service: 3 | selection: 3.5
Stopped in this past Saturday afternoon for a pre-dinner drink. I have never been here before, as the outside seating area always seemed packed. But we found plenty of space inside. The 5 or 6 beers on tap were not impressive, but I was pleasantly surprised at the decent amount of bottled beers offered. The inside is decorated with beers signs, but overall it's a bit run down, with both low ceilings and pipes. Services was decent. The crowd was quite a mix of various people. If I could ever get a seat outside, I'd stop by here again for a quick beer.
556 characters
2.68
/5
rDev
-21.9%
vibe: 3 | quality: 2 | service: 3 | selection: 3
This is a decent place to grab an outside drink on the Square. It is nothing spectacular, but there is a clear respect for beer. Unfortunatelty, the beer selection is not really all that broad. There are about 40 bottles, which encompass the globe, but all of them are widely available. The taps are standard: Magners, Newcastle, UFO, SA, etc (all for $4.50). There is nothing macro, but nothing really all that unusual. It is nice that they have outdoor seating, but what is inside is filthy. The waitress was ok, but not really a beer person.
544 characters
2.93
/5
rDev
-14.6%
vibe: 3.5 | quality: 3 | service: 3 | selection: 2.5
Went to Shay's on a recent pub crawl (first stop). Although it wasn't too warm out, people were still outside on the patio. I really like places that have an outdoor area, not only for those smokers, but because drinking beer outside is GREAT. This place is a hole in the wall, with a bar that extends more than half the length of the bar. They have your usual macros on tap, but not much else in the bottle selection. I did have a Buzzard's Bay while I was there though. They also have Oil Can's of Fosters, which is not a beer I like, but do appreciate them having oil cans. The crowd is mostly Harvard students, but also your typical Cambridge types. I had to wait in line for the bathroom, behind a girl who went into the men's room because a woman was in the woman's room. Then I overheard her talking about how this is Boston, not the South. I didn't know women used men's bathrooms in the South...
Overall, I dig Shay's and would go back if the opportunity presented itself.
984 characters
3.5
/5
rDev
+2%
vibe: 3.5 | quality: 3.5 | service: 4 | selection: 3
I stopped by this little hole-in-the-wall today with my friends. Small place with good service and a cool atmosphere. The bar area seats about 12 and there are also about seven or so other tables in the front. There is also an outdoor seating area that had three or four table. As for the beers, nothing really that special. Boddingtons, Harp, Guinness, Sam, Old Spec Hen and some cider were on tap. While in bottles they had a couple of Sam Smiths, SNPA, Anchor Steam and the like. They also had about seven wines available by the glass. Prices seemed to be right on for Harvard Square. John Harvards is still my first stop though.
632 characters
3.45
/5
rDev
+0.6%
vibe: 3.5 | quality: 3.5 | service: 4 | selection: 3 | food: 3
A nice little unassuming place located below street level right in Harvard Square ... best suited for the summer as there's an outdoor section that sits 20 tops, and allows you to people watch. Inside is very small and will get cramped on weekend nights. I love Shay's in the summer. There's nothing better than sucking back a cool brew on the patio ... I've spent a good part of a Sunday afternoon and evening here.
Beer-wise: your standard crap on-tap, small selection of bottles and that's about it. It's Black Velvets and/or Snakebites for me, or maybe a local fall-back beer if being poured.
Service is always good, solid and friendly. Atmosphere is a mix of locals, non-snob Harvard types, the wannabe "cool crowd" and your average tourist walking in off of the street for a drink. Good music is always on, and never too loud. Typical pub menu with nachos, burgers, fries and whatnot; basically something to stick in your stomach if you plan on hanging for a while.
Is Shay's worth a visit? Certainly. However I recommend visiting with friends and getting their early.
1,083 characters
Shays Pub & Wine Bar in Cambridge, MA
Place rating:
3.43
out of
5
with
14
ratings