Bugsy's Sports Bar & Brown Street Brewery
BEER AVG
-
none
Awaiting 10 Ratings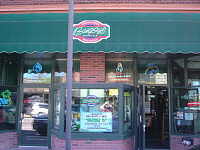 PLACE INFO
Type:
Brewery, Bar, Eatery
16 N. Brown St.
Rhinelander
,
Wisconsin
, 54501
United States
(715) 369-2100
// CLOSED //
Notes:
Closed 2014
Added by Dogbrick
Ratings: 7 | Reviews: 6
Reviews by beerwolf77:
More User Reviews:
1.85
/5
rDev
-32%
vibe: 2 | quality: 2 | service: 1 | selection: 2 | food: 3
Horrible! This was probably the worst dining experience that my wife and I have ever had. It was a Thursday evening at 7:00. When we arrived there was a large table of 14 people that had just given their order, then another man and his son, then us. The waitress took our drink order and I had to spell Hacker Pshorr for her as she did not know what I was saying. My wife got an Anchor Steam, which was served warm. Our waitress did not return to our table for a full 60-minutes, I had to go to the bar to get our 2nd round. When she did return it was only to bring our silverware, we did not even get a refill of water. 30-more minutes before our food arrived, for a total of a 90-minute wait. The meal was decent and they were gracious enough to give us one round of beers for free since the wait was so long.
Regarding the beer: There appeared to be 8-10 taps, but 4 of them were not hooked up. On tap was domestic macros, plus Spotted Cow and Fat Tire, which you can get just about anywhere in Wisconsin. There were some micro's in the fridge, but not many, Anchor Steam being the most exotic.
I'll never go back.
1,121 characters
4.1
/5
rDev
+50.7%
vibe: 3 | quality: 4.5 | service: 4.5 | selection: 3.5 | food: 4.5
I get to Rhinelander now and again for an overnight stay. Each time, I have made a trek to Brown Street Brewery (Bugsy's). I prefer Craft Beer and only drink bottled commercial beer if no other choice. Each time I have been impressed with the homemade selections, especially those with the German slant.
I have read other reviews of this place. For my tastes I would rather drink a draught micro-brew than the mega-swill lite from the mammoth breweries...
I have had the food a few times and have not been disappointed--burgers and fries.
My only complaint was the obnoxious drunks in the place, who were trying to get too friendly.... Leave me alone, as I drink the Munich Lager and watch the Packer game...
I will stop there each time I am in Rhinelander and I would recommend it to others!
Great Value.
810 characters
3.28
/5
rDev
+20.6%
vibe: 3 | quality: 3 | service: 4 | selection: 3
Given the reviews that I had read on this site about this particular establishment, it wasn't on the "must see" list for our recent trip to Eagle River, Wisconsin for the Marathon up there. We were on our way home and the highways aren't really well marked around the area and we didn't know which road we were on. We decided to drive through downtown Rhinelander and spotted Brown Street so we decided to give Bugsy's a try in spite of the harsh reviews on here.
We were pleasantly surprised. They had two of their own beers on tap. An IPA and an amber red. They had guest beers from O'so brewing in Plover, Wisconsin (one on tap, three in bottles). They also had the coffee stout from New Glarus on tap. The bartender was extremely helpful and friendly. It was almost as if he knew we hadn't read good things and were there to give him a second shot, although I didn't tip my hand. He hauled out bottles from Brewery Ommmegang and Duvel and stated that they were going to start carrying some more Belgian style beers in bottles. He poured me small samples of everything and then let my wife and I select our pints based on those samples. The place was clean and in good order. There were a couple of pool tables, foosball, shuffleboard and some video game consoles. Its a sports bar, but I really got the impression they are moving towards being a real brewpub. The bartender also informed us that they are currently brewing 5 new beers which would bring their total up to 7 beers of their own on tap. He was so enthusiastic and excited about all of this, I asked him when he bought the place assuming he must be a new owner. He told me he wasn't the owner. His enthusiasm for the place and how they were improving easily fooled me. We didn't try any food as we were heading to Wausau to eat at another establishment. The pints were only $3 each which these days caused me to click "inexpensive" for the value. My wife commented that the pints seemed "awfully big" which is good normally, but she was my chauffeur, so I got some of her beer. The place seemed to be as "kid friendly" as a place that is mostly bar could be. We had our three kids with us and just sat in the dining area where the pool tables were as opposed to the bar area since Wisconsin still allows smoking. I don't recall anyone smoking while we were there though. I feel that my scores are probably a little lower than they would be if and when the changes they bartender mentioned are complete. To try and end on a positive note, I overheard a couple of guys who came in to play pool and have a few beers say "this is a pretty cool bar for Rhinelander." I don't know if that's a ringing endorsement, but things are looking up for this place. I say "give it a chance." We did and we weren't disappointed.
2,779 characters

2.63
/5
rDev
-3.3%
vibe: 3 | quality: 2 | service: 4 | selection: 1.5 | food: 3.5
Bugsy's is your basic sports bar--just happens to have four beers on tap from mild to milder--all written on a Bud Select imprinted board. TVs all around (one big screen) and half dozen or more pool tables in the next room over from the bar. Ads with Miller girls in skin tight referee shirts were more prominent than the beer list, but they were trying hard. The service was excellent, solicitious even--the bartendar filled our classes for us from our pitchers at the bar. She wanted to sell more pitchers of course, but a magic class that automatically fills is fun too. I ordered a pizza, and it was thin, hot, and tasty. Not mind blowing good, but it was good local pizza. If I found myself in Rhinelander for some reason, I'd stop in for a couple pints and probably eat there again. However, I wouldn't go too far out of my way to get there. It's better than a regular small town sports bar and looked like it might be a fun place to hang with the locals. (October 2006).
On my second trip (June 2007), there's seems to be trouble in paradise. Only one beer on tap, and it wasn't very good and downhill from others I had last time. At the beer festival in Eagle River, I was told several times from different sources that some of the employees of Bugsy's have left for a place down the street and that was to blame. Not sure. Seems like a nice place, the pizza was more than adequate. Just sad to have a bad stop for beer when I went over another place on the way.
1,474 characters
3.05
/5
rDev
+12.1%
vibe: 3.5 | quality: 3 | service: 4 | selection: 2 | food: 3
They only had two beers on tap when I stopped in with a group of friends - a Double Bock, and a Raspberry Wheat. The wheat wasn't good, but I actually thought the Double Bock was tasty (rich, chocolate, kinda sweet and heavy). There are other bottled beers available, like a few from New Glarus and a couple of imports. Food was decent; I tried their "sweet and sassy" burger which was topped with a spicy Thai sauce and cream cheese. My friend's chicken wrap wasn't anything to write home about.
Atmosphere is interesting. When you walk into the place, on the right is quite possibly the smallest brewhouse I've ever seen - three small tanks in an area about as big as a storefront display window. A long zig-zagging bar continues on the right, and further in the back is a small indoor basketball court. Yes, you can actually set your beer down on a counter outside the court and go in to shoot hoops. Fun stuff on a rainy Northwoods Saturday. There are also a bunch of pool tables on the left. Ventilation was pretty good - despite a bunch of smokers, it wasn't hard to breathe in the place.
Look, with the brewing setup they have, it doesn't surprise me that they only had 2 of their own beers on tap. I don't think Rhinelander is a hotbed of craft beer enthusiasm either, so I think most folks would be glad to have a place like this in town. Defintely not a place to seek out a shangri-la of good craft beer, but it has its rewards.
1,444 characters
1.4
/5
rDev
-48.5%
vibe: 2 | quality: 1 | service: 2 | selection: 1
The beer at this establishment is terrible. I tried the nut brown ale and the stout. They both had a winey flavor. I don't know if they used maple syrup or something else, but the flavor was horrendous for both beers. They had a very unfinished product. I did not even finish the beer.
Also the atmosphere is for a young crowd, I am not sure how it is during the day, but I was there just after 8:00 p.m. and they had a band start playing and the music was too loud. You could not talk to the person sitting right next to you. Very, very disappointing. I would not recommend this establishment to anyone.
608 characters
Bugsy's Sports Bar & Brown Street Brewery in Rhinelander, WI
2.98
out of
5
based on
0
ratings.