Beatrix

Brouwerij De Horste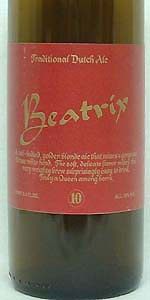 Rate It
Beer Geek Stats
| Print Shelf Talker
Style:

ABV:

10%

Score:

86

Avg:

4.11

| pDev:

9%

Reviews:

14

Ratings:

From:

Avail:

Retired (no longer brewed)

Wants

Gots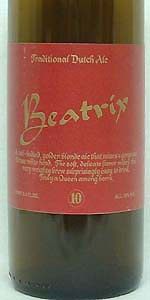 Notes:
Reviews by TheLongBeachBum:
TheLongBeachBum from California
3.87
/5
rDev
-5.8%
look: 3.5 | smell: 4 | taste: 4 | feel: 4 | overall: 3.5
Presentation: A rather plain looking 750ml bottle, cork and caged. A simple purple obverse label has gold writing. Down the left hand side of the label it states 'GrootVorst - Bottle Conditioned', elsewhere in the middle it is labeled as 'Traditional Dutch Ale – Beatrix – 10'. Stated as 10% ABV, but has no bottled on or best before date.
On a side note: There is a website listed on the label that is listed as "www.hollandbeer.com", which appears to have little to do with this beer. This is also listed in Tim Webb's latest Good Beer Guide to Belgium & Holland as a "Brewer without a Brewery", with the misleading website; I don't doubt this for one minute. He also states that this beer may well also be known by the name 'Prestige'.
Appearance: In the glass it is a golden-amber color that has plenty of streamers in the body and an orange marmalade shine when back-lit. A decent sized light beige head forms when the beer is first poured and it dissociates with an audible fizz as it settles to a thin broken covering. Minimal carbonation levels and not much lacing either.
Nose: Pungently fruity, it so reminded me of the nose on the 1999 Alesmith Weizenbock that I recently reviewed. Sweet malts mixed with a honey soaked grain.
Taste: A glazed sweet honey malt start, a syrup middle and a lingering alcohol laden malty finish. This beer has a spicy herbal feel at times, especially in the middle, but the sweetness is a little too pervasive ultimately. The ending has a lingering honey finish.
Mouthfeel: For all its sweetness, this has a very smooth nicely aerated mouthfeel, light and airy like a whipped chocolate flake, it is a solid brew that has plenty of body and yet it has a light pair of feet also.
Drinkability: The 750ml was the last of the night and adequately accompanied me until the wee hours. But the syrupy sweetness eventually proved to be the downfall of this beer for me, and prevented me from really enjoying it much beyond the second glass.
Overall: Quite a strange brew; sort of like a cross twixt a Belgium Tripel, a Belgium Strong Pale Ale and a Weizenbock. Definitely worth a try, but who's to say where it is actually brewed, I would hazard a guess that its Belgium taste profile traits may well answer that question for you.
Jan 12, 2004
More User Reviews:

francisweizen from Alaska
4
/5
rDev
-2.7%
look: 4 | smell: 4 | taste: 4 | feel: 4 | overall: 4
Vintage 750ml botte. Interesting. A golden beverage with a nice small head of compact white foam that lasts and leaves nice lacing. Carbonation is a bit thin and streamlined. Aromas are all over the board. Farmhouse funk, must, saison-y notes, fruits, bubblegum, banana, candy, other various esters, spicy hops that turn floral and more. Taste is an intriguing blend of all of the above. The main charcteristics to me are the spiciness of the hops that turns floral in the middle and mixes with a doughy maltiness before turning into a cantillon-like dry finish of gueuzey funk and whatnot. Mouthfeel is thin, but balanced and worthy, drinkability is very good. A nice concoction from a crazy brewer...
Jul 19, 2005
BierReise from Florida
4.12
/5
rDev
+0.2%
look: 4 | smell: 4.5 | taste: 4 | feel: 4 | overall: 4
750ml corked bottle. Looks like a tripel to me,cloudy gold with a voluminous white head. Has a spicy yeasty estery aroma and yes, barnyard animals do occur to me right now. Wow I love the smell of this brew. Smooth creamy full bodied and like a heavier tripel. Flavor is peppery and a bit sour. I think Nuffield sums it up well, "There is a witbier-meets-lambic-meets-Belgian ale qualtiy to this." Well put my friend. It's complex and if I weren't privy, I'd think it was Belgian. Alcohol is well hidden yet can be found in the background of the aroma and also causes the consumer to use words like privy. Fantastic brew!
Oct 13, 2003
jcalabre from California
4
/5
rDev
-2.7%
look: 4 | smell: 4 | taste: 4 | feel: 4 | overall: 4
Originally sampled from bottle on 31 March 2003. A hazy yellow pour, w/ a large head full of large bubbles. The nose is a bit yeasty, w/ hints of green apple. The body is medium, w/ flavors of more green apples that leads to an extremely clean finish. It's a great beer. Thanks, hoprus
May 29, 2003

Gueuzedude from Arizona
4.12
/5
rDev
+0.2%
look: 3.5 | smell: 4 | taste: 4 | feel: 4.5 | overall: 4.5
2nd Rating, July 2004
Pours a brilliantly clear color. Cider dominates the aroma, there is an apple like acidity, and it is probably a little oxidized, though it is not overly apparent in the nose. This is lightly sweet up front and finishes with a spicy astringency at the end. Good but the flavors seem washed out, and perhaps not as oxidized as my prior sample.
Sampled June 2004
Pours a hazy copper-gold color. This beer is quite well carbonated, which generates an off-white head. Aromas of malt, cider, sherry, raisin and fig are all found in the nose, though the fruitiness dominates. The carbonation is volcanic, it almost seems to vaporize the beer as it runs across my tongue. There are some slight notes of oxidation in the taste, at this level, it seems to add a certain richness to the beer. Up front this beer is a bit sweet with notes of apple. These are balanced by a drying acidity and the carbonation in the finish. the flavors in this beer are fairly simple. There is a fruitiness up front, which I definitely like. As I get more into the beer subtle spice notes start to open up in the finish. I start to pick out notes of ginger, pepper, coriander, and alcohol. As it warms up even more, the spice notes become even more pronounced. This is a good beer at this age, but unfortunately there are not really any hints left as to what made this a great beer.
Jun 27, 2004
Crosling from Colorado
4.23
/5
rDev
+2.9%
look: 4.5 | smell: 4 | taste: 4.5 | feel: 4 | overall: 4
Golden.
Nose of spices (ginger), caramel corn, cotton candy, bubble gum, caramel, nutmeg, pine and apple core. Quite the intoxicating blend.
Outstanding flavor. Ripe fruits abound with subtle hints of sugar glazed damp tree branches, dark fruits, farmhouse funk, must and apple. I sure wouldn't go about calling this a flemish sour but whatever it is I like it!
Aug 31, 2004
Rastacouere from Canada (QC)
4.78
/5
rDev
+16.3%
look: 3 | smell: 5 | taste: 5 | feel: 4 | overall: 5
Courtesy of Matta from Tampa! Beatrix pours a murky straw colour with a fully diminishing white head. Perhaps the Rochefort chalice didn't do it justice. Tart brett aroma, very hard to describe the esters accurately, but I can say it's a treacherous pleasure to sniff and re-sniff. Apple skin, flowers, peachy fruitiness with citric apple. Finish is herbal, very long and slightly bitter. 10%: Just no way! Rather thick and comfortable mouthfeel. Just great and classy. The best apple you'll ever taste.
Jan 07, 2004
Sammy from Canada (ON)
3.39
/5
rDev
-17.5%
look: 4.5 | smell: 3 | taste: 3.5 | feel: 3 | overall: 3.5
Several years old, courtesy sharing with Steve (Beerhugger). An aroma of a very aged beer. The color of beige, lots of foam. A vinegary cidery taste, but better than a Cantillon. I could only sip this in between other food and drink. Still significant carbonation. Great for what it is.
Dec 04, 2005
hopdog from Pennsylvania
4.25
/5
rDev
+3.4%
look: 4 | smell: 4 | taste: 4.5 | feel: 4.5 | overall: 4
Sampled from the same bottled enjoyed at the SD Strong Ale Fest brought by beerguy101 (thanks for the sample!). Poured a cloudy and hazy golden color with a large white head. Sweet aroma, some yeast and fruity. Spices, citric with lemon and oranges. Smooth and easy to drink.
Notes from and tasted on 12/6/04
Nov 07, 2008
czechsaaz from Washington
3.57
/5
rDev
-13.1%
look: 3.5 | smell: 4 | taste: 3 | feel: 4 | overall: 4
Very spicey aroma with a little hop bite. Nice malt character with some honey and a little saison-like "funk". Very complex aroma, lots of things going on with fermentation/yeast.
Nice golden color with a thin but solid layer of white head. Clear with lots of nice rising carbonation bubbles.
Nice malt profile with a good hop bite. Definitely on the maltier side. I still get a low level "funk" like a good farmhouse ale. It's got a good balance of sweet and sour and a good spicey flavor. The further I get into the glass though, the malt and apice fades and it seems a little lacking in character. Completely hides its 10% strength.
Medium bodied with biting carbonation. The high carbonation level is refreshing.
Good beer in a crowded style. There's not a lot to make it stand out from a lot of others. Surprisingly easy going and pleasant for a 10% beer.
Jul 23, 2006
Bighuge from Minnesota
3.87
/5
rDev
-5.8%
look: 4 | smell: 4.5 | taste: 3.5 | feel: 3.5 | overall: 4
Slightly hazy golden. A stream of carbonation bubbles rise to the surface at the speed of light. A nice frothy white head sits on top. Aroma is musty, cidery, fruity, acidic, doughy, yeasty and sweet (yet also sour). Beautiful. The mouthfeel is quite airy, maybe just a tad too carbonated. Almost like a champagne. Body is a little better than medium. The taste is pleasant. Yeast and cookie dough. Cider and bay leaves. Acidic and sour. Sweet and fruity. Quite a battle of polar opposites. Solid beer.
Jun 17, 2003
aracauna from Georgia
4.12
/5
rDev
+0.2%
look: 4 | smell: 4.5 | taste: 4 | feel: 4 | overall: 4
This is a cloudy gold and its very well carbonated with an ample white head. The aroma is complex with apples, apricots and cigarette ash being some of what I'm picking up. The malt is a bit on the dry side. The fresh fruit and musty flavors are a nice combination.
Jul 13, 2004
NeroFiddled from Pennsylvania
4.72
/5
rDev
+14.8%
look: 4.5 | smell: 5 | taste: 4.5 | feel: 4.5 | overall: 5
750ml corked bottle. Nestled between Belgium & West Germany are the Netherlands. This "golden blonde ale" is from Holland; clearly borrowing more from Belgian-tradition than German. It's bottle conditioned & slightly hazy. Golden orange w/ a gorgeous bright white head that holds extremely well as it's continually fed by champagne-like flumes of tiny bubbles rising quickly to the surface & keeping a dense 1/4" head. The aroma is bold, even at arms length. Woody w/ lots of oak, slightly acetic, over a very lightly sweet malt note. The body is light-medium (though the label reads "full-bodied"), & its intensely-effervescent but extremely-delicate carbonation gives it one of the creamiest, pillow-soft mouthfeels I've ever encountered. The flavor is quite woody upfront, followed by a very soflty fruity dryish malt entwined w/ a very gentle acidic note (not quite tart) that helps to restrain the woodiness & round out the beer. There is some astringency, as might be expected from such a woody beer, but it is limited & it fits properly w/ the gently hopped, lightly soft, and subtly sweet malt character. In fact, I think it lends to the drinkability & dryish finish of the beer. The 10% alcohol by volume is extremely well hidden, only appearing in the finish toward the end of a serving. Not as complex as some of the better know Belgians, & w/out the full spiciness often found; but extremely unique & intensely enjoyable. Absolutely worth seeking out.
Sep 03, 2002
Gusler from Arizona
4.42
/5
rDev
+7.5%
look: 4 | smell: 4.5 | taste: 4.5 | feel: 4 | overall: 4.5
The beer pours an unilluminated golden orange color, the head voluptuous and long lasting the lace thick glutinous sheets that meld themselves to the glass, quite impressive I must say. The aroma of malt, hints of alcohol, a tad buttery, musty like a fresh ploughed field, hints of the yeast, deep and very inviting. Start is ambrosial the top middling in its feel to the mouth, finish is spitefully acidic, tart and pleasantly hopped. The long lingering aftertaste dry and quite a quaffable brew and well worth the effort to find and sample, this is a unique and complex beer that I wish was more readily available here in the West.
Dec 25, 2002
Beatrix from Brouwerij De Horste
Beer rating:
86
out of
100
with
14
ratings