Dismiss Notice
Joe Jost's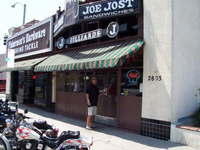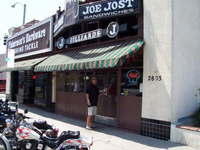 PLACE INFO
Type:
Bar, Eatery
2803 E Anaheim St
Long Beach
,
California
, 90804-3702
United States
(562) 439-5446 |
map
joejosts.com
Notes:
No notes at this time.
Added by BeerAdvocate
PLACE STATS
Reviews:

7

Ratings:

pDev:

13.01%
HISTOGRAM
Ratings: 11 | Reviews: 7
Reviews by mickeymac:

3.55
/5
rDev
-3.8%
vibe: 4.5 | quality: 3.5 | service: 4 | selection: 3 | food: 3
From what I understand, Joe's is the oldest continually operating bar in LA County, dating back to the 1920s: ancient by our standards. I have good memories of this place dating back to my childhood, when my dad and grandfathers and their railroad buddies used to stop in for schooners and pickled eggs. Anyhow, it's located in a Long Beach neighborhood that has certainly seen better days. The floor is covered with sawdust, and the owners seem to spend little on maintenance. However, this is part of the charm. I recently went in after not having been there in years. The only change I could see was the addition of one of those tickers runnings sports scores and news headlines on one of the walls. You'll find a lot of regulars here but will feel welcome on your first visit. The beer selection is limited. Don't go to Joe's looking for de Dolle and you won't be disappointed. Instead, grab a schooner of PBR, a hot dog, and some peanuts and enjoy an old-fashioned neighborhood bar.
987 characters
More User Reviews:

3.88
/5
rDev
+5.1%
vibe: 4 | quality: 4 | service: 4.5 | selection: 3 | food: 4
We hit Joe Jost's after a visit to Steinfillers. My first time here, but it has been on my target list for a long time. Not a craft beer joint but VERY cold beer served in VERY cold schooners in a nostalgic location. Their special sausage sandwich & an ice cold Busch with pickled eggs (the best) was a great combination at a place that has thrived since the 1920's. Definitely worth a visit to remind us all of how beer used to taste......
444 characters



3.38
/5
rDev
-8.4%
vibe: 4 | quality: 4 | service: 3 | selection: 2.5 | food: 4
I have been to Joe Jost's many times now the last of which was today. I figured it was time to write up a review.
Joe Jost's is not a craft beer bar period. They have Busch, Bud Light, Guinness, etc. The two selections that are MAYBE craft inspired are Widmer Hef and Redhook ESB. All beer is served at something like 29 degrees in frosted glasses (small, medium, schooner).
Joe Jost's has some sandwich options for grub, peanuts, etc. My personal favorite are the spicy pickled eggs however. They put them on a bed of pretzels with some hot peppers and sprinkle black pepper over the top of everything. Probably the best picked eggs I have had other than the ones at Phillippes.
Prices for beer and food are very reasonable and you could get some good grub and a few beers for $20 or so.
They have lots of TVs with sports going on and some pool tables if that's your thing. Lots of cool memorabilia and old beer bottles/cans around the place as well.
I always look forward to going to Joe Jost's when in am in the Long Beach area.
1,040 characters

3.38
/5
rDev
-8.4%
vibe: 4.5 | quality: 3 | service: 4 | selection: 2.5 | food: 4
Didn't realize that this place was in the database. Didn't really even think to look, to be honest. I've been here a couple times over the years.
The beer selection is not really what I would call good (Busch, PBR, Coors, etc.). But, that's not really why you go to Joe Jost's. The atmosphere is the quintessential dive bar. The staff is great, the beer is cheap, and they have a lot of pool tables.
Their sandwiches are awesome here. I usually get the polish or salami, but I've heard good things about the liverwurst as well (I'm not a big liverwurst fan, though).
If you're around here, I wouldn't advise against a stop in with some buddies for some large beverages and a few games of billiards.
701 characters
4.1
/5
rDev
+11.1%
vibe: 4.5 | quality: 4 | service: 4 | selection: 4 | food: 4.5
Joe Jost's is the quintessential Long Beach "Beer Bar", a great after work place where an old school atmosphere meets modern taps. They pour 29 degree beer into frozen schooners. It doesn't get any better than that. Unfortunately their selection is not great. I prefer PBR over Busch but as the story goes the PBR distributor was ripping off Joe Jost's. They do have Guinness but it would be nice to see Sierra Nevada or other decent Pale Ale/IPA selection.
Joe Jost's bar food is superb. Their pickled eggs ($1.15 ea) are the best I've eaten. They serve em up with pretzels and banana peppers. One cannot go wrong with a sandwich here their delicious liverwurst or thick cut salami on rye make the call for another schooner oh so easy. Their peanuts while tasty are lacking in salt. If you get a cool barman you can ask for a pickled egg salad sandwich.
For entertainment Joe Jost's features Pool, Shuffleboard, Jukebox, TV Sports and half naked calendar girls from the last 50 years. If you dig a classic beer bar feel with old school favorites like pickled eggs and liverwurst than Joe Jost's is a place for you.
1,118 characters
3.45
/5
rDev
-6.5%
vibe: 4.5 | quality: 4 | service: 3.5 | selection: 2.5 | food: 3
This is a real swell dive. If the BeerFly review had a rating labeled "Intangibles", it would get a 5 on that to bump up the score.
As a beer bar, it's nothing special. They have a limited tap selection, but when I go here I know I'm there for the atmosphere. It's close enough to where I work to make it there for lunch, and there is always a good crowd of regulars around the bar for a friendly atmosphere.
The food quality is pretty good for the limited menu. A Joe's Special (hot dog, pickle, cheese, mustard on rye), a couple of pickled eggs, some fresh roasted nuts, and some pretzels go down real easy with a schooner of PBR served at 30 degrees.
If you live in or around Long Beach, you owe it to yourself to drop by here at least once and see what it's all about. I know I'll continue to go there for lunch on a regular basis as long as I'm working in Long Beach.
881 characters
3.6
/5
rDev
-2.4%
vibe: 4.5 | quality: 3.5 | service: 4 | selection: 3 | food: 3.5
Tired of visiting the usual licensed hostelries in LB, in the last few weeks I have been slowly visiting some of the other Bars in Long Beach. This afternoon I finally made it to the one that continually seems to be mentioned to me by people in the know.
Bloody Hell, I can't believe that I never came here sooner. It has taken me a little over two years to finally get here. What took me so long is anyone's guess.
This place used to be a Barbers Shop allegedly, and is the oldest family owned and operated Bar in L.A. County so the blurb goes. Opened in 1924 as a Barbers shop, 10 years later after the repeal of prohibition it started to serve Beer & Food.
At the junction of Anaheim Street and Temple Avenue, JJ's is not much to look at from the outside and you could be forgiven for driving past oblivious to this licensed landmark. A large wooden frothing glass of Root Beer was the sign that I looked for and easily found.
Inside the bar runs down your left hand side, some booth's run down the right hand side. The back room contains Pool Tables and a Peanut roasting machine that appears to have an older history than the Bar.
The beer range is limited; Coors Lite, Wydmer Hefeweizen, Shiner Bock, Harp Lager and Guinness – I settled for the latter, very creamy and thankfully served at the right temperature and not freezing cold as seems to be the craze these days. The best selling beer here seems to be the frosted Schooners of Pabst Blue Ribbon though.
Food is limited to snack like items, but we are not talking the usual processed crap. Peanuts are roasted daily in the back of the premises in an old roaster dating from the very early 1900's. In addition you can pick up a Hot Dog, these seemed to be very popular and served in sliced Rye Bread with plenty of pickles, mustard and cheese. I opted for a Pickled Egg (my English Bar days shine through huh?). Well, the Pickled Eggs are bloody excellent, pickled in Vinegar and Peppers, the resultant effect is that they are a luminous green color. Served on a bed of small straight Pretzels with a handful of Peppers they make a great drinking snack with a few Pints of Guinness.
I ended up sitting next to, and chatting with a guy originally born in Glasgow, who had lived & worked in Long Beach for many years and frequented JJ's for at least the last 20+ of them. A character with many, many Stories, the afternoon soon flew past. Soon it was time to leave.
Open 10am – 11pm Weekdays and Saturdays, and until 8pm on Sundays, I have to say that I found it very easy to put the limited beer range aside here and still thoroughly enjoy myself, I most certainly did today. The Sunday afternoon session I had in here was great fun. A *fantastic* and friendly locals bar with oozals of character and a clientele to match, very friendly and well worthy of a visit. A very friendly reminder, to me at least, that not all great bars, have to sell 20 or more great beers. Get back to your roots and have a chat & a Pabst here, LMAO.
Last Visit: 28th Dec. 03
3,050 characters
Joe Jost's in Long Beach, CA
Place rating:
3.69
out of
5
with
11
ratings