Decadent Evil Belgian Style Golden Ale
| Valley Brewing Company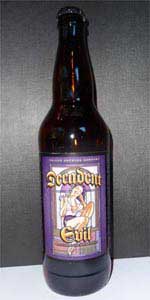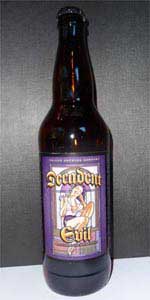 BEER INFO
Brewed by:
Valley Brewing Company
California
,
United States
valleybrew.com
Style:
Belgian Strong Pale Ale
Alcohol by volume (ABV):
9.50%
Availability:
Rotating
Notes / Commercial Description:
No notes at this time.
Added by mjl21 on 01-27-2010
HISTOGRAM
Ratings: 13 | Reviews: 12
Reviews by swungomonkey:

More User Reviews:

3.15
/5
rDev
-10.3%
look: 3.5 | smell: 3.5 | taste: 3 | feel: 4 | overall: 2.5
Sampled at the brewery restaurant. Brilliant gold in color, thing white head with what little lacing the paltry head can muster. Aroma of grassy hops, wheatlike graininess, fruity esters, banana, pear, and some phenolic Belgian yeastiness. Tastes intensely of phenolic Belgian yeast, cider, apples, straw, and a finish with bread and cookie. Wasn't huge on this one. Feels medium to full bodied with a smooth medium carbonation. This didn't really rub me the right way, though it was not a bad beer, just not my cup o' tea.
523 characters

2.58
/5
rDev
-26.5%
look: 3 | smell: 2.5 | taste: 2.5 | feel: 3 | overall: 2.5
Bottle courtesy of Lunch. Served in a SAVOR snifter.
Pours a clear golden yellow color with a small white head that doesn't really leave any lace or anything like that behind. The nose brings some light bready character along with some really faint yeast character -- there's a very light bit of earthiness and some pepper, but those were very difficult to pick out. The flavor was the same way. I got a bit of bread and grain, but no real yeast character. Some continental hops. Light body and fairly crisp. Dry finish. Nothing really Belgian about this beer.
561 characters
4.45
/5
rDev
+26.8%
look: 4.5 | smell: 4.5 | taste: 4.5 | feel: 4 | overall: 4.5
Bottle purchased at city beer
A - Pours copper-gold with 2.5 fingers of off-white head. Dissiaptes moderately slow and leaves really nice lacing. Beer is moderately carbonated.
S - Honey, white raisins, belgian candi sugar, some nectar and belgian funk.
T - Honey, white raisins, belgian candi sugar, some nectar, bittering hops, some light breadiness, and belgian funk.
M - Full-bodied, well-balanced, finishes sweet and lightly dry. There is some alcohol on the mouthfeel as well.
D - Overall pretty good. Would drink again. Wondering if the lady on the label is the owner of Valley...
592 characters

2.2
/5
rDev
-37.3%
look: 3 | smell: 3 | taste: 2 | feel: 2 | overall: 1.5
Source/Serving: Draft, 25cl
Smell: A lot of honey, some caramel which are balanced by a touch of floral, grassy hops. Juicy apples come through after a few sniffs. Moderately complex for the style but not top tier.
Taste: A let down. Really smooth and easy to drink but lacking intense flavors that a golden strong ale should bring. Quite cidery, a little lemony and bread with back of the throat grassy bitterness. Honey and caramel notes as well as coriander appear as the temperature increases, but it simply isn't captivating. Finishes clean, too clean in my opinion.
573 characters
4.11
/5
rDev
+17.1%
look: 3.5 | smell: 5 | taste: 4 | feel: 3 | overall: 4
22oz bottle to tulip. Straw/golden body appears w/ soft, thin white head that dissipated quickly to cap of lacing. Aroma is strong and inviting. Fruity esters abound. Cherry, peach & cream, pepper corn, subtle hops and alcohol. Deliciously mouth watering.
Flavor is interesting and unexpected. Not so complex as I would have guessed, and the body is a bit flabby, but somehow I'm enjoying every sip. The alcohol weaves in and out of the scene, at once the major player and hardly present. Fruit flavors are there, spicy yeast, again there's the play of soft, subtle hops. A little thicker, I think, that what I'd prefer. The finish doesn't highlight the best aspects of the beer.
Overall, for the price this is a tasty experience and, finding myself at a party pouring only Decadent Evil, I would be pleasantly surprised.
:-) Cheers.
836 characters
3.81
/5
rDev
+8.5%
look: 3 | smell: 4.5 | taste: 4 | feel: 3.5 | overall: 3
Appearance- very belgiany. Pale and cloudy with a bit of head
Smell- smells like an amazing bouquet of herbs and flowers...
Taste- a lot like it smells. Can definitely tell it's almost 10%
Mouthfeel- a bit thin and overcarbonated but great overall
Drinkability- definitely tasty but not something i could drink all night... Too sharp and potent to be easily drinkable
373 characters

3.78
/5
rDev
+7.7%
look: 4 | smell: 3.5 | taste: 4 | feel: 4 | overall: 3.5
Bottle from the Valley brewpub
A - Poured a golden color with a white head that leaves lacing behind
S - Is very sweet with honey and fruit scents of apple and grapes
T - Like the nose it starts off very sweet then the fruit flavors come out and finish with some spice
M - This beer has a medium body with higher carbonation to it
O - I'm liking this one quite a bit not really a beer that you want to drink fast but a good sipper to relax with as it has a good taste going on worth picking up if you see it around
519 characters

3.18
/5
rDev
-9.4%
look: 4 | smell: 3.5 | taste: 3 | feel: 3 | overall: 3
Shared by Paul, thanks! This brewery needs to stop naming their beers "Decadent" because they ain't.
Beer is yellow and clear with a thin weak white head of small bubbles that leaves some lacing on the sides of my bruery tulip, carbonation is low.
Aroma is mildly sweet and mildly bready with some yeast character coming through, I'm not impressed but I"m not scared either.
Beer is thin and sweet with a watery finish, oddly bitter and a little harsh. Not an impressive beer by any stretch of the imagination. I'm going to say that it was average and move on, never again.
576 characters

3.18
/5
rDev
-9.4%
look: 4 | smell: 3.5 | taste: 3 | feel: 3 | overall: 3
Bottle shared by Lunch. Thanks Paul!
The beer is golden hued with a small white head that leaves faint traces of lacing on the glass.
The aroma brings herbal and floral notes, with additional scents of alcohol and a subtle yeast character.
This beer is overly sweet, with alcohol too prominent. The body is thin, and overall, this was pretty tough to drink. It wasn't horrible, but I didn't particularly enjoy it either. Nothing about this brew really embraced the Belgian style to me. Yeast character was subdued, and the alcoholic sweetness was just overpowering.
569 characters
3.6
/5
rDev
+2.6%
look: 4 | smell: 4 | taste: 3.5 | feel: 3 | overall: 3.5
22 ounce bottle poured into a tulip. Comes in at 9.5%. No bottling info but it was just released in the last few weeks.
A-Pours a clear golden yellow with a slight brown hue. It has a very thin off white head that sticks around the rim of the glass. A decent amount of bubbles can be seen rising from the bottom. It leaves minimal lacing.
S-Lots of yeast, honey sweetness, pear, and green apple are all quite evident. It has a faint barnyard funk that is noticeable at the start but fades as it warms.
T-It starts with lots of fruit, particularly green apple and pear. The honey used is evident and definitely adds sweetness. The yeast picks up in the middle. The barnyard funk that was noticeable in the nose is also evident in the middle. There is some graininess in the back. As it warms it picks up a white grape flavor.
M-Thicker bodied and sweet. I found it to be a little under-carbonated.
D-A 22 ounce bottle is too much. A ten ounce pour would be about right. The booze is well integrated, but the sweetness limits this one.
The sweetness eventually beat me with this one. I have tried this aged in barrels and it was not nearly as sweet. Definitely one to share.
1,178 characters
3.93
/5
rDev
+12%
look: 4 | smell: 3.5 | taste: 4 | feel: 4.5 | overall: 4
On-tap at Beachwood BBQ,
A: Pours yellow with a creamy white head, looks the part of a Belgian-style beer.
S: Definite honey off the bat, smells a bit like mead, notes of yeast esters.
T: Heavy honey, mead-like characteristics, bordering on Braggot. Yellow apples and pear abound, very light hopping. EVIL stands for Every Villian is Lemons, there is certainly a considerable lemon play throughout.
M: Very smooth and silky on the palate. You'd never know this was almost 10%.
D: An excellent brew from Valley. I always like the complexity that honey can bring to a beer, and this beer is no exception.
607 characters

3.85
/5
rDev
+9.7%
look: 3.5 | smell: 3.5 | taste: 4 | feel: 4 | overall: 4
Nice Belgian-style strong ale. There's some booze in the nose and it's a bit simply sweet, but otherwise, this is a very good beer and easy to drink, relative to the abv. It's a bright, transparent light golden color with a relatively small white cap. The aroma is honey, raisins, band-aids, cough syrup, earth, caramel, sugar cane and herbal hops. The flavor is pleasingly sweet; lots of honeyed malt comes through. It finishes a little weak without any real punctuation of flavor, merely drifting off into diminishing sweetness. The mouthfeel is good, though not really noteworthy. It's a good beer, though not really a huge loss if the new ownership at Valley Brew chooses to discontinue it (unlike some of Steve Altimari's incredible beers).
745 characters
Decadent Evil Belgian Style Golden Ale from Valley Brewing Company
Beer rating:
3.51
out of
5
with
13
ratings