Zolotaya Bochka Klassichiskoye
| Kaluzhskaya Pivovarennaya Kompaniya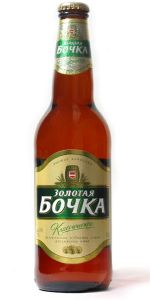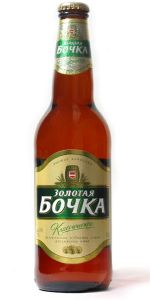 BEER INFO
Brewed by:
Kaluzhskaya Pivovarennaya Kompaniya
Russian Federation
bochka.ru
Style:
European Pale Lager
Alcohol by volume (ABV):
5.00%
Availability:
Year-round
Notes / Commercial Description:
No notes at this time.
Added by Globetrotter on 07-24-2003
This beer is retired; no longer brewed.
HISTOGRAM
Ratings: 9 | Reviews: 6
Reviews by Atlas1:

2.77
/5
rDev
-3.5%
look: 2.5 | smell: 3 | taste: 2.5 | feel: 3 | overall: 3
Okay, so I'd been into my favorite beer store several times and seen the Russian beer sitting off to the side, away from the main beer cooler, ignored by most patrons, as if they were being shunned by the rest of the community. Ridiculous, I know, but it seemed to me to be so. And each time I went in I would tell myself that I was going to delve into the Russians a bit. And each time I ended up not doing so. But I've had some of the Balitca beers before, and while they're certainly not that great, they're certainly not all that bad either... right?!? Anyhow, to make a long story short, this time I reached for a few Bochkas.
The Bochka Classic Russian Lager (with the gold and green label), as it's called (we need to get some photos up for the Bochkas, folks!) pours a thin, pale golden orange color. Very weak, thin head with no lace. The aroma is somewhat surprising. I was expecting a thinly veiled alcohol smell to catch my attention, but I was actually able to detect some malty notes in there. A nice surprise, to be sure. Think of the aroma here as a rich man's High Life. I know that doesn't sound all that great, but it makes sense if you try this beer. Tastes malty, but thin... like the aroma. Some very slight citrus here. Definitely an alcohol residue in the back of my throat. But still, it's not an offensive beer. It does have a decent mouthfeel after all. I mean, don't get me wrong. There are plenty of quality lagers out there that are better than this Bochka, but I can think of countless beers I would turn my nose up at before this guy. In fact, if I had to name my "desert island" beer and the only category that I was able to choose from was "watery Russian lagers," I might possibly consider picking this one. Possibly....
1,758 characters
More User Reviews:

3.5
/5
rDev
+22%
look: 3.5 | smell: 3.5 | taste: 3.5 | feel: 3.5 | overall: 3.5
2.79
/5
rDev
-2.8%
look: 3.5 | smell: 2 | taste: 3 | feel: 3 | overall: 3
My first impression of Russian lagers was that they were too sweet, but maybe that was just the Baltika. This one, however, is suitably dry, the color is a nice golden hue with a thin head. Maltiness plays well with a little bitter. A nice standard beer. And I gotta love getting these half-liter bottles for the equivalent of 50 cents american!
345 characters
2.68
/5
rDev
-6.6%
look: 3 | smell: 2.5 | taste: 2.5 | feel: 3 | overall: 3
It is common knowledge in Moscow that Zolotaya Bochka products are better on tap than in the bottle. This is true, to a point. Better on tap, however, does not mean good on tap. I tried this at a nice downtown Moscow bar that served it properly.
Came out a deep clear gold under a white two-fingered head with very good retention and nice lacework. The nose was a bit soapy, while the mouth was light and prickly. There is a bit of malt in the opening, but it is very mild. This is followed by a very mild hoppy bite that leaves a somewhat bitter aftertaste. Sure, I could drink a few of these, but I wouldn't be very happy about it.
636 characters
3.51
/5
rDev
+22.3%
look: 4 | smell: 3 | taste: 3.5 | feel: 3.5 | overall: 4
pours dark yellow/amber, looks very nice. Pretty thick (1 finger) white head stayed on for quite a while.
grassy smell, not too strong. nothing special though
very nice refreshing taste, again nothing special, a bit flat, but really, what would you expect from average lager?
I think this is a good beer, much better than what I expected from unknown russian brewery.
Drinkable. Actually, very drinkable.
404 characters
2.03
/5
rDev
-29.3%
look: 3 | smell: 2.5 | taste: 2 | feel: 1.5 | overall: 1.5
Pale golden color, high level of carbonation, not much head.
Smell malty, with a vague vegetable note and some unwanted artificial aroma (vanilla powder?).
Taste malty, rather bland, attacked by uncivilized hops that bring to the scene bitterness and sourness together. Acidic finish, artificial again.
Not disgusting, but is it a beer or a 'beer drink'?
363 characters
2.56
/5
rDev
-10.8%
look: 3.5 | smell: 2.5 | taste: 2.5 | feel: 2.5 | overall: 2.5
Deep golden hue, very clear. White foam, quite good.
At the smell, the usual. A decent malt, some metallic, and nothing else. Nothing interesting.
Malty taste, clean and not heavy, after all, but again, nothing interesting.
Even a hint of hop, somewhere, but still.
Macro lager, nothing interesting.
299 characters
Zolotaya Bochka Klassichiskoye from Kaluzhskaya Pivovarennaya Kompaniya
Beer rating:
2.87
out of
5
with
9
ratings