Millrose Restaurant
BEER AVG
-
none
Awaiting 10 Ratings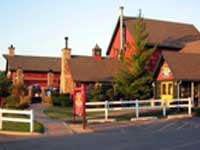 PLACE INFO
Type:
Brewery, Bar, Eatery
45 S Barrington Rd
South Barrington
,
Illinois
, 60010
United States
(847) 382-ROSE |
map
millroserestaurant.com
Notes:
*** No longer brewing as of 12/09 ***
Added by Dogbrick
Ratings: 7 | Reviews: 6
Reviews by beerwolf77:
3.18
/5
rDev
-8.1%
vibe: 4 | quality: 4 | service: 2 | selection: 3
We jumped over here after our stop at The Lucky Monk for a drink.
Upon entering you notice the awesome rustic decor. Full on north woods cabin feel. Wood everywhere along with huge antler chandeliers. Once up the stairs to the bar you can the vast array of levels this place has. I would love to take some time to explore this place someday.
We grabbed seats at the bar and were told to hang on. Well they didn't look overly busy especially for a Saturday night. Yet we waited for a solid five minutes to get a beer. Once we did get served I was even more let down. I ordered a RIS and it was served in a weizen glass. WTF!? The selection was decent but consisted of only Two Brothers stuff on tap. Not a totalt bummer since they make good beer but a bit of shocker.
We didn't order food since we had just ate so I can't comment on that.
Overall this place has a lot of potential. Just needs a bit better management.
923 characters
More User Reviews:

3.19
/5
rDev
-7.8%
vibe: 3.25 | quality: 3 | service: 3.5 | selection: 2.75 | food: 4
3.43
/5
rDev
-0.9%
vibe: 4 | quality: 3.5 | service: 3.5 | selection: 3
Been driving by this place for years and never made it in while they used to brew here. It still says "brewing co." on the little roadside sign out front. It looks like a converted barn built into a complex incorporating a restaurant, bar, store, and banquet rooms.
Inside there's a hostess stand, and past that on the righthand side and up a few stairs is the bar room. An island bar sits in the center, with tables along the sides of the rectangular room. Dim lighting with worn wooden beams framing the walls and ceiling. An iron chandelier hung overhead, completing the rustic warm decor.
Service was quick and friendly. Beer selection was fairly limited to a range of 8-10 taps, and 15 or so bottles (Lagunitas IPA, Smuttynose Winter). Taps were all Two Brothers varieties, plus a Miller Lite handle. Crowd was nearly all senior citizens on a Sunday afternoon. The country store in the back had a small cooler with a meager handful of 2 Bros, Sprecher, and Smuttynose Winter Ale available for carry out.
It seemed like a popular place for the senior set, now a prime rib dinner place that once housed a mediocre brewpub in a former life.
1,148 characters
3.38
/5
rDev
-2.3%
vibe: 4.5 | quality: 4 | service: 2.5 | selection: 3 | food: 3.5
When entering the main entrance, you're greeted with a giant open barn with a large bar just up a few steps. The bathrooms are right in front and easily marked. Up the steps is the bar inside the giant aforementioned barn that seems to go on forever. There are stairs everywhere leading to tons of different levels and we were instantly overwhelmed by what seemed like a maze of levels and tables. There was also no shortage of seating or fireplaces. Very rustic feeling, yet clean, not dirty at all.
We were seated along a long hall with windows showing the outdoor patio with ample seating and fireplaces presumably run by gas (since there was no smoke). Out table was small and we were sat in giant leather chairs on wheels. I honestly felt that I should have been in a dark, tall ceilinged den with a snifter containing scotch in one hand, a pipe in the other, and adorned with slippers and a robe.
The patronage was all old and my girlfriend and I felt incredibly out of place like we were being watched the whole time by these yuppy old people fresh off the country club looking for dinner since they don't care to eat at home and "slave over the stove". It was very awkward and during dinner, despite the number of people there, you could hear a pin drop. Honestly, I don't hold it against the atmosphere for the place though because the building was incredible.
I had already know this from looking up the menu online, but the prices were pretty ridiculous (chalk that up to being in South Barrington I suppose). My certified Black Angus burger which came with a small side of salad and 2 toppings (from the list were things like, cheese, mushrooms, bacon, etc.) and it was $12. For $12 I better get a damn ridiculous burger or a lot of fries. It was ok but not worth the price tag at all. My girlfriend had the Friday fish fry for $16 and I was thinking the helpings would at least be big. I think there were four medium size (think chicken fingers) pieces and fries.
The service was alright but our beers came with no head leading me to believe they sat at the bar for far too long.
The food was good, but not for the price. I'd much rather go to The Ram at far less expense for better tasting food.
The beer was $4.25 each I believe. A fair price for going out I suppose
The beer was ok, but I called back to get the name of the Vanilla beer and no one, even the bartender, could tell me the name or alcohol percent. They claimed it was "Vanilla Beer" although I specifically remember it being called something else on the menu. For a place that brews their own beer, the bartender better ought to know what the hell its called and the percent it contains.
I'd like to make it back to try the rest of their beers but I don't think I'll ever eat there again for the price of the food.
2,799 characters
4.13
/5
rDev
+19.4%
vibe: 4 | quality: 4 | service: 4.5 | selection: 4 | food: 4
This place is very large and at the front door it said men must wear sleeve shorts. I was nervous that it was going to be a suit and tie place but everyone was very relaxed. When you walk up the stairs to the bar there is a great open area that feels like 6 very old barns were crammed together. There is no way you could efficiently stack hay in this place.
The bar is very Northern Woods feel with a nice big chandelier or antlers and chairs made of twigs. There are a nice number of Navaho looking rugs draped over the balcony to soften the wood. The bar had 4 year round brews and 3 seasonal beers with 14 bottles choices that could make any BMC drink happy. The two of their beers on tap are sold in 6-packs in the country store. The beers were all very tasty and I focus on beer more than a big dinner. I had the baked goat cheese, which was very nice and was made with lots of fresh ingredients.
I can see they put a good effort into using fresh herbs and spices while also take pride in their beers.
The other half of the Millrose family runs Rose foods and they sell Canadian bacon to McDonald's and make frozen Chicken Kiev and meatballs. If you go to the country store you can find some of those things with kitschy little wines, jams and knickknacks.
1,274 characters
4.05
/5
rDev
+17.1%
vibe: 5 | quality: 3.5 | service: 4.5 | selection: 3.5 | food: 5
Very cool interior with thick wooden beams and a great general warmth. It's HUGE. I had driven by it quite a few times and hardly gave it notice, but once you're inside, you can't believe the sheer size of the place. I went for a family dinner and the extensive menu gave us all a hard time picking our dish. Everyone was thrilled with the food quality, except for a little one who didn't realize pasta primavera would have so many vegetables.
I was there mostly to try the beer, but the food was definitely better than the brew. I had the flight sampler which was presented nicely with generous servings. But the beer was simply average. Kudos for serving your own, but I recall them being a bit flat for my tastes. The various styles seemed to blend together when I was hoping they'd stand on their own.
Service was prompt and thorough, but whoever was mixing up the cocktails mistook grenadine for cranberry juice. Our server, however, made quick amends without a fuss.
Moral of the story: Great place to get the gang together to enjoy some primo food, but drinks are disappointing.
1,094 characters

3
/5
rDev
-13.3%
vibe: 5 | quality: 1 | service: 4 | selection: 3 | food: 4.5
Let me begin by quoting AutumnalDave - "This is a mastodon of a place!" Well put, Dave. I was absolutely blown away by its enormity. This pace is beyond immense. I felt like I was sitting in someone's barn, given its spaciousness fore to aft, port to starboard and mast to keel. Oh wait, it IS constructed of someone's barn, in fact, seven (7) barns pushed togther to make way for the Interstate highway. I am all for historic preservation, but this is on a mind-boggling scale. The interior has so many flights of stairs, both short and tall, that as I wandered around, I began to feel as though I were in an Escher print.
I loved the decor. It was very rustic, with a stone fireplace inside and three more outside on the open patio. Lots of exposed knotty pine throughout. The bar is a rectangualr affair, made of a mix of blonde and dark wood. The stools are swivelling chairs of mystery wood that look like hunks of bark. Above our heads, at the bar, is a chandelier constructed of interlocking antler racks. Super! PETA types, stay away. The wood beams in the overhead are all exposed and in the balconies are beautiful southwestern-style blankets, being used as decoration. I should also mention that I one of the wings is an upstairs beer lounge and in another, a restaurant with a dining area. Dave and I each ate a really good burger, despite having eaten at Brass only a couple of hours before. Millrose's food is that good.
What is not good is their beer. Dave handed me a porter that would have gone nicely on a tub of popcorn, it was that buttery. We tried their samler, holding out hope that we would find something worth drinking a full pint of, only to have our hopes dashed.
Dash, we did, right out of the joint, but not before paying up and making a visit to the Country Store, a really big operation that is sure to satisfy any shopper. I wanted to like it here, but this has ended up being some of the widest grades that I've ever given in a BeerFly review.
1,988 characters
Millrose Restaurant in South Barrington, IL
0
out of
5
based on
0
ratings.