The Power Plant Restaurant & Brewery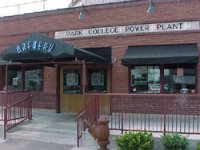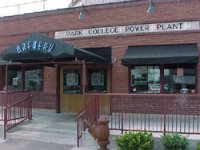 Brewery, Bar, Eatery
2 Main St
Parkville
,
Missouri
, 64152-3754
United States
// CLOSED //
Notes:
Recent ratings and reviews.
Ratings by MarzenMan:
Reviewed by MarzenMan from Missouri
3.75
/5
rDev
-2.6%
vibe: 4 | quality: 4 | service: 4 | selection: 3 | food: 4
The power plant has closed so I thought I'd give it a review before it was retired. I really liked this place. Very cool building and atmosphere there in Parkville. Lots of old antique "power plant" equipment in the entry. Always seemed busy and well-run.

The food was good. We stopped in here a couple times to have beer and dessert. The beer that I remember drinking the most was the Southbound Brown. Never a complaint about this place. I wish it were around for another trip. RIP :(.
Oct 16, 2008
More User Ratings:

Reviewed by jjayjaye from New York
4.5
/5
rDev
+16.9%
vibe: 4.5 | quality: 4.5 | service: 5 | selection: 4 | food: 4.5
I've had the great opportunity to travel to the Kansas City area frequently over the last ten years on business and found the Power Plant Restaurant & Brewery in Parkville, MO in the last four. I really enjoyed the atmosphere...it was my home away from home. Mug #112 for the last three years. Really good food and fine brews at reasonable prices in a wonderful historic venue with amazing service...it escapes me how a combination like that could go under. A real shocker to learn that its doors are closed! I will also sorely miss Gordon Gerski's fine imaginative beers and the outstanding people, patrons and staff. I hope that Angelo Gangai can find some investors and a new location in the Kansas City area. The Power Plant may not have been the most well known brewpub in the KC area, but it will be greatly missed by this advocate!! Cheers!
Nov 25, 2008
Reviewed by rlcnmeyer from Missouri
4.2
/5
rDev
+9.1%
vibe: 4.5 | quality: 4.5 | service: 4 | selection: 4 | food: 4
As of October 9th 2008, the Power Plant Restaurant & Brewery in Parkville, MO has closed its doors. I will sorely miss Gordon Gerski's fine beers and the great people at Power Plant. Restaurant co-owner Angelo Gangai said they are putting everything in storage and are looking into the possibility of moving to a new location in the Kansas City area. The Power Plant may not have been the most well known brewpub in the KC area, but it will be greatly missed. If I hear of any new developments, I'll post them here.
Oct 10, 2008
Reviewed by RedBaron from Illinois
3.86
/5
rDev
+0.3%
vibe: 4 | quality: 4 | service: 4 | selection: 3.5
A pretty nice little brewpub in northwest KC (actually, in quaint, old-suburban Parkville).

Atmosphere: The Power Plant Restaurant and Brewery occupies a turn-of-the-century (1900), brick-built building (it was indeed a water power plant long ago) situated on the north bank of the Missouri river in historic Parkville. It is a very charming and cozy establishment to say the least, with exposed wood and brick in the interior. There are many different rooms, with many levels, here as well as a ceramic "mug club" for the regulars (nice touch).
Quality: Pretty decent beers, and it was my first time. I tried a Dortmunder-style beer here which, although the bartender said was "like a clean, light lager", actually tasted more like a kolsch beer (nice mistake in syntax!); I also had their pale ale, which was a good intrepretation of an English-style p.a., and I finished with their fall release: "pumpkin ale". The pumpkin ale. was outstanding...like liquid pumpkin pie - full of spices and had a wonderful mouthfeel start to finish.
Service: Very good bar staff, particularly "Shawna", who took care of not only me, but many others huddled at the bar.
Selection: I was hoping for a large array (to me "large array" constitutues 7+ beers) of tap selections, but there were only 5 on my visit. Not bad, but was expecting more I suppose.

The Power Plant R&B was the best of the two brewpubs I visited while on vacation in Kansas City. I'm not certain that I would have ventured here had I been staying in downtown KC, but let me assure you that it's worth the visit if you're staying in north KC, or visiting the Parkville area for a time.
Sep 11, 2007
Reviewed by Dansting from Kansas
3.3
/5
rDev
-14.3%
vibe: 4 | quality: 4.5 | service: 1.5 | selection: 3.5 | food: 3
I have been to the Power Plant Brewery several times, but lately, I have less and less of a desire to go. They do have some good points though. First of all, the building is pretty good looking, as apparently this was an old power plant. It has a cool set up on the inside which is nice, and apparently they have a deck, although I have never been on it. Also, the beers are usually really good. They have a decent selection, and what they do have is usually done well to the style. The food is usually decent. But the last few times I have went there the service has been awful. And not like a "we're busy; please bear with us" busy, but more like "no one is here, so I'm gonna try to pick up the bartender and I'll get with you when I get with you" attitude. And the last few times they've also run out of many of their beers. In fact, the last time they ran out of their red and IPA, and only had three choices to choose from. So basically, on this is only because of the service, it will take a bit more than a 2-for-1 dinner coupon to return.
Jul 24, 2006

Reviewed by swid from Missouri
3.68
/5
rDev
-4.4%
vibe: 4.5 | quality: 4 | service: 3 | selection: 3.5 | food: 4
The Power Plant Restaurant & Brewery is, as the name suggests, a former power plant that has been turned into a brewpub. As such, it has a wonderful old-school industrial atmosphere that is very fitting for the local community (an old river town). Lots of brick, wood and exposed metal; very cool. A sizeable portion of the brewpub is given over to the bar area, and there are several TVs in that section.

The service was hit and miss: our orders were taken promptly and we were checked on every 5 minutes; yet, our servers failed to notice that we had no silverware and did not ask if we wanted a glass of water along with our beers. The beer selection is fairly standard: five permanent beers, one seasonal, and BMC (unadvertised). I had the IPA, which was good...but unadventurous. I sampled a bit of the red ale and the brown ale and both could also be described in the same fashion.

I ordered the Cajun Chicken Philly sandwich. It was tasty, and at $9, one of the cheapest items on the menu. Overall, it was a good experience; however, as with many brewpubs, the focus seemed to be more on the food than the beer.
Jun 25, 2006

Reviewed by pivoichamiz from Maryland
4.03
/5
rDev
+4.7%
vibe: 4 | quality: 4 | service: 4.5 | selection: 4 | food: 3
I visited the Power Plant on Christmas Eve 2005, fresh off the airplane from Washington, DC en route to visit my family a couple hours to the west. They had just opened when I got there that afternoon but there must have been 6 or 7 staff members, which I thought was quite a bit. I was surprised they were even open!

I ordered a sampler of their beers that included the following: Walnut Creek Wheat, Blackberry Wheat Ale, Colonel Park's Pale Ale, Derailed Red Ale, English Amber, Steamboat Stout and Java Stout. They were out of the Southbound Nut Brown. The beers were really good, especially the English Amber but unfortunately they ran out of it after my sampler. I ended up getting a growler of the Derailed Red to take home to my parents. My favorite beers were the English Amber, Derailed Red, Walnut Creek Wheat and the Java Stout.

I also ordered a pork tenderloin sandwich, which was OK. Compared to DC prices, I thought I did pretty good pricewise, although the sampler was a bit higher than I would expect for the Midwest. The total came to $25 including lunch ($8), sampler ($7) and growler + fill ($8). That's the cheapest growler price I've seen. Sometimes just the refill is that price, let alone the actual growler!

Would definitely recommend this place. They also sell the piggies or whatever they're called. Basically a cross between a growler and a keglet. It was interested watching one get filled up.
Jan 15, 2006
Reviewed by DPMomutant from Missouri
3.45
/5
rDev
-10.4%
vibe: 3.5 | quality: 3.5 | service: 3 | selection: 4 | food: 3
My wife and I were in North Kansas City this afternoon and I brought up the idea of visiting the Power Plant since I had never been there.

We walked in and there was a nice brick interior from what was formerly a power plant for nearby Park University. It's a nice open area with an upstairs dining area which wasn't open when we were there. Trains came by the very nearby tracks often giving the building a rumble. Unique, but quite loud, knocked off a half point for that.

I don't think they recognized the extra traffic they might get on a holiday like MLK Day where many people are off. It was slow going even getting greeted as they appeared way understaffed. Once finally served, however, the waitress was very friendly and prompt so they get back to acceptable for that.

Apparently, the lunch menu is a bit slimmer than the dinner menu, as no steaks were available so I had a good, but very spicy, jambalaya which is something you don't find in just any brewpub. My (beer-hating so the food has to impress her) wife, though, was a bit put off by the spiciness in the chicken in her fettucine alfredo. We did both like the spinich artichoke dip served with warm pita bread, however.

I had a couple of pints to drink myself. One an IPA and the other a Brown and both I could call above average despite the jambalaya doing a number on my palate. Also available permanently were a wheat, a blackberry wheat, a red, and an Irish stout. The menu also advertised a black and tan, not sure if that meant they made one or if they mixed the IPA with the stout (which is on nitro). Their current seasonal was (strangely considering January is quite cold in these parts) a kolsch which I didn't try but might have went better with the spicy stuff.

This is a place where I'd go in the neighborhood, and it is quite a nice neighborhood with lots of small town shops and nice historic buildings. Not sure if I'd drive far and wide to get there, but it's overall as good as any KC area brewpub.
Jan 18, 2005
The Power Plant Restaurant & Brewery in Parkville, MO
Place rating:
0
out of
5
with
8
ratings