Double Dry
| Groupe Geloso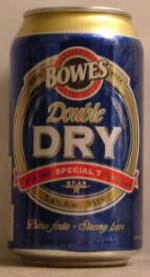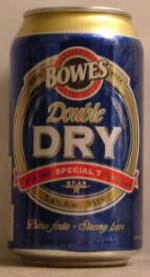 BEER INFO
Brewed by:
Groupe Geloso
Quebec
,
Canada
groupegeloso.com
Style:
American Adjunct Lager
Alcohol by volume (ABV):
5.60%
Availability:
Year-round
Notes / Commercial Description:
No notes at this time.
Added by lipschitz on 08-01-2003
HISTOGRAM
Ratings: 7 | Reviews: 5
Reviews by IronDjinn:

2
/5
rDev
-14.9%
look: 2 | smell: 2 | taste: 2 | feel: 2 | overall: 2
This sample comes from my father's private selection (tongue-in-cheek) while I was visiting the folks for the Easter weekend. I figured if it was available and offered to me, I'd try it.
Came in a blue/gold/red can, and the moment I crack it the smells of sour grain and additives escape and wreak havoc in my general headspace. Pours out a mildly washed out straw gold, a one finger white head that lasts nearly a minute. The aroma is a bit more subdued now from when I first opened the can, but it still retains the character of sour grain, but now with a bit of sweet malt as well, and some medicinal additives. The flavour starts out malty and all right, this seemed promising--and then a couple seconds later a tidal wave of sour grains hits out of the blue and the beach party is over. The flavour is inconsistent as well: at times the sourness will carry on through the middle to the finish, and well into the aftertaste, while other times it'll drop off before the finish, providing a clean dry finish, only to pop up with fury in the aftertaste. The mouthfeel is light, a bit watery, and bristling with carbonation that combs the tongue and palate as it passes across them. My final conclusion is this is simply another discount beer with a different coat of paint (interesting how we can get cheap beer from Quebec available in Alberta, but not a lot of their finer micros), meant to be drunk from the can as cold as possible. A pass for me next time around, but thanks to dad for providing the sample.
1,516 characters
More User Reviews:

2.56
/5
rDev
+8.9%
look: 3 | smell: 2 | taste: 3 | feel: 2 | overall: 2.5
Appearance is a very dull yellow with moderate head, smell is a bit fruity but kind of stale and metallic.
A very sweet, malty taste with a hint of vegetables. Aftertaste ruins ruins what could be a mediocre bargain beer, very metallic and sour. Nicely carbonation and watery body makes it easier to drink.
This beer is a lot better to be swilled then to savor, would imagine it would give you a huge hangover though from the probable chemicals in it.
453 characters
2.95
/5
rDev
+25.5%
look: 3 | smell: 3 | taste: 3 | feel: 2.5 | overall: 3
Presentation: 355ml can.
Appearance: Dark straw color.
Smell: Somewhat fruity and fun, somewhat chemical.
Taste: Interesting for a cheap-priced adjunct lager, but I hate that metallic taste. Aluminum cans may be the reason of that unwanted taste.
Mouthfeel: Again, the metallic taste spoils everything else. It turns down to a watery feeling really too quickly. At least, it continue to be fizzy (high carbonation) like a soda.
Drinkability: Excellent, if you want something cheap-priced to get loaded fast, but not exactly a premium quality product.
566 characters
3
/5
rDev
+27.7%
look: 3 | smell: 3 | taste: 3 | feel: 3 | overall: 3
A = a yellowy, straw color with a moderate, quickly dissipating head
S = a fruity smell
T = sweet, malty, with little aftertaste
M = medium carbonation and watery body
D = highly drinkable, good for volume, not savoring; a discount price; drink cold.
254 characters
2.17
/5
rDev
-7.7%
look: 1.5 | smell: 2 | taste: 2 | feel: 3 | overall: 2.5
Presentation: 355 ml can with no best before date. The can Also has a large, red #7 on the label with the following explanation: The 7 represents the 7 ingredients used to brew this beer...I wonder what the other 3 are?
Pours pale, clear yellow with an almost non-existent head. Aroma is of corn, cooked veggies & faint hops (very faint). There is an unpleasant medicinal taste that lingers alongside strong veggie & husky notes. Mouthfeel is quite watery and thin, with a generous carbonation level.
Notes:
This beer isn't horrible, but it is not very good. After a few sips, the medicinal quality seems to fade, but it is still there. As with all Dry beers, any flavours that exist leave the scene quickly (a plus in this case). A budget beer that tastes stronger than it is – which is not a good thing.
822 characters
Double Dry from Groupe Geloso
Beer rating:
2.35
out of
5
with
7
ratings