Griffes Du Diable

Groupe Geloso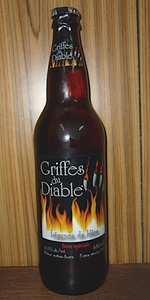 Write a Review
Beer Geek Stats:
Style:

ABV:

16.5%

Score:

Avg:

1.54

| pDev:

32.47%

Reviews:

7

Ratings:

From:

Avail:

Year-round

Wants

Gots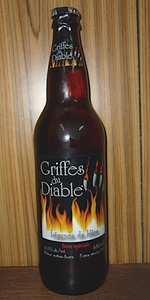 Notes:
Reviews by Viggo:
Viggo from Canada
1.11
/5
rDev
-27.9%
look: 2 | smell: 1 | taste: 1 | feel: 1.5 | overall: 1
22 oz bottle, big thanks to ritzkiss for sharing this gem. I guess this is the answer for growing segment of homeless craft beer drinkers.
Pours a clear yellow, fizzy white head disappears. Smell is delicious, corn, sugar, kerosene, maybe some rotting fruit, one dimensional but satisfying. Taste is similar, very sweet but I find the rubbing alcohol/fuel really cuts that down a bit. Mouthfeel is medium bodied, slick and oily, low carbonation. Suitable stuff for Ratebeer gatherings. Thanks Preric!
Feb 04, 2010
More User Reviews:
Phyl21ca from Canada
1.09
/5
rDev
-29.2%
look: 2.5 | smell: 1 | taste: 1 | feel: 1 | overall: 1
Bottle: Poured a bright golden color beer with a huge foamy head with minimal retention and not much lacing. Aroma of pure alcohols with some gross sweet adjunct notes. Taste is dominated by fuses and alcohol phenolic with a gross adjunct sweetness lingering at the end. Absolutely atrocious - one of the worst beer I have tasted in my lifetime.
Jan 20, 2010
allergictomacros from Canada
2.38
/5
rDev
+54.5%
look: 3 | smell: 2.5 | taste: 2.5 | feel: 2 | overall: 2
A - Clear straw with a big billowy head that drops quickly.
S - Nose is white wine, hints of malty caramel, and boozy. Really boozy.
T - Very sweet, very boozy with a heavy champag... er sparkling white wine and concord grape. This one will knock you out in a hurry! Probably best chilled to kill the sweetness and best served in small doses. Very dessert wine-like. Fairly pronounced bitterness in the finish.
M - Light, alcoholic body and very fizzy.
D - Finish it I did, but I wouldn't do it again. Not as bad as I expected.
Sep 09, 2010
bobsy from Canada
1.12
/5
rDev
-27.3%
look: 3 | smell: 1 | taste: 1 | feel: 1 | overall: 1
Style 103. I'm not sure why anyone would ever want to drink something like this. This was the first malt liquor I've had in the 27 years of my life and I don't intend on drinking another. My brother-in-law makes moonshine and it hides its alcohol a lot more than this.
As Eric noted, the appearance is somewhat non-descript, but its light gold hue and fizzy head is what I'd expect from the style. The nose is horrific. The sugar alone is frightful, but the accompanying rocket fuel doesn't help it any. I shudder when I recall it If you hope that its gonna get any better once the flavour hits the tongue, don't kid yourself. This is corn syrup, if corn syrup was a petroleum byproduct. Sickeningly sweet with a huge alcohol presence that burns the back of the throat. There's something floral that could pass for hopping, but who knows? After this the night descended into chaos in a hurry.
What terrifies me about this is that it comes in a 22oz bottle, and I can't imagine someone getting through the whole thing unless under torture. This is really horrendous stuff and you'd have to be insane to drink it. I'm trying to rate this to style, and I honestly can't imagine there being another example out there that has the potential to be worse than this, Evil Eye included.
Thanks (with an asterisk) to ritzkiss for sharing this gem.
Feb 04, 2010
ritzkiss from Canada
1.21
/5
rDev
-21.4%
look: 2.5 | smell: 1.5 | taste: 1 | feel: 1 | overall: 1
22oz bomber picked up in Montreal on a whim, never heard of it before. I'll probably stop doing that after this one...
Label states that it's legendary and that it is. Pours a crisp golden with a bit of head, nothing of note either way here.
Dip your nose in and - oh my god. Fusel alcohol mixed with sickeningly sweet honeysuckle.
Taste does nothing to deter this analysis - sickly sweet, I can almost feel my teeth rotting as I drink it. A touch of factory fumes, some corn/adjunct hints, a touch of rosewater, flowers and BURN.
This is obviously not meant for consumption outside of the bum who thinks they are too good for a cheap bottle of wine or Colt45. The ABV will kick your ass (in a bad way), this is where the night went downhill. Brutal - avoid.
Though I am quite proud that this was the malt likka that completed bobsy's tour de force through all 103 styles. Cheers mate!
Feb 03, 2010
eat from Canada
1.86
/5
rDev
+20.8%
look: 2 | smell: 1 | taste: 3 | feel: 1 | overall: 1
Wow. What can I say? Chugging half a bottle of this is not a good idea...I think that was the moral of the evening for me. The remainder of the night fades in and out of memory (mostly out) but I managed to scribble down some hieroglyphics which might be roughly translated as this:
Pours completely transparent. No head at all.
Smells like cheap cognac, were that to exist. Maybe more like bad grappa.
Tastes similar to grappa. Way, way too sweet. Way too sweet. Yikes. (I rated this a 3.0?? Alright...My notes clearly say 3.0).
No carbonation. Like flat something.
Notes on drinkability are illegible. I think that sums it up right there. This beer kicked my ass.
Feb 07, 2010
Yoonisaykul from Canada
2.03
/5
rDev
+31.8%
look: 2 | smell: 1.5 | taste: 2.5 | feel: 2.5 | overall: 1.5
650 mL
A- light maple syrup, absolutely no head.
S- peculiar smell, like fermented wildberries. Vinergar. Alcohol.
T- grapefruity chocolate. Alcohol.
M- highly carbonated. Very prickly.
D- the two guys who had it with me took maybe two sips out of the glass and offered me to finish theirs. I only managed to down one of them. I enjoyed two glasses but could not handle any more.
Feb 08, 2010
Griffes Du Diable from Groupe Geloso
Beer rating:
1.54
out of
5
with
7
ratings