3 Horses Holland Lager Beer
| Oranjeboom Bierbrouwerij B. V.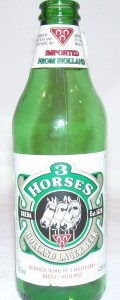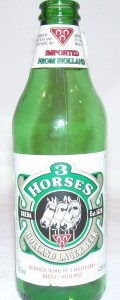 BEER INFO
Brewed by:
Oranjeboom Bierbrouwerij B. V.
Netherlands
interbrew.com
Style:
Euro Pale Lager
Alcohol by volume (ABV):
5.00%
Availability:
Year-round
Notes / Commercial Description:
No notes at this time.
Added by BeerAdvocate on 01-22-2004
Ratings: 62 | Reviews: 46

2.23
/5
rDev
-22.8%
look: 3 | smell: 2.5 | taste: 2 | feel: 2.5 | overall: 2
Pours a pale golden with a generally flat look and feel to it. Soapy looking, unattractive, and very brief head. Nose is grassy with mildly skunky hops. Mostly inoffensive but extremely boring and uninspiring in its visual and olifactory display.
As expected, taste is also lackluster; Nasty astringency is the main flavor along with cruddy hops and an almost complete lack of craft or art in the taste or texture is the result. Definitely a last resort type thing.
469 characters
2.96
/5
rDev
+2.4%
look: 3.5 | smell: 2.5 | taste: 3 | feel: 3.5 | overall: 3
The local Liquorland carries this occassionally, along with a few other Dutch Lagers.
It is a typical low key Euro Lager , pale and perhaps a little crisper than some and not overly sweet and tacky like some can be.
It is a reasonable hot day guzzler, but has no particular merits or faults.
293 characters
2.11
/5
rDev
-27%
look: 3.5 | smell: 2.5 | taste: 2 | feel: 2 | overall: 1.5
Pale gold with watery lemon edges. A few steady streams of bubbles ascend to a bright white head that is of respectable quality. While I'm not overly impressed by the amount of glass coverage, enough lace sticks for the appearance to be considered slightly above average. The beer looks 'clean' if nothing else.
We all know that green-bottled beer is uber cool (I mean look at Heineken!), but what this green bottle has succeeded in doing is giving 3 Horses a Pepe Le Pew aroma on crown cracking (I'll resist the urge to call it 3 Skunks). The nastiness is now almost completely gone and in its place is the fairly typical EPL nose of pungent, grassy noble hops that have lain in the sun too long.
The flavor can't even maintain that bargain basement benchmark; I think I'll go back to smelling instead of drinking. Seriously though, this is not good beer, even for a style that struggles to be enjoyable on a good day. It may be a tad sweeter than most, but hops rule the roost. Not good when they've been used with such a lack of skill. Short, uninspired, glad-that-it's-over finish.
Tough call on the mouthfeel since EPLs are supposed to be light. It feels too light though, especially on the back end, and lacks any sort of excitement at all. There's enough carbonation, but it doesn't even last all the way to the end of each mouthful.
3 Horses Holland Lager Beer is a poor man's version of Heineken. Make that a destitute man's version since I can't imagine drinking this stuff even if it was free. What would be nice is a horse of a completely different color since this one is drab, dull and lifeless. No thanks.
1,632 characters

3.4
/5
rDev
+17.6%
look: 3 | smell: 3 | taste: 3.5 | feel: 3 | overall: 4
One of the rare reviews I've made for beer in a can.
Appearance: Bright, clear, pale gold beer pours a thick white head of Bud-like foam that dissipates quick. No lacing, light carbonation.
Smell: Honey, light hops and some adjunct, but not enough to deduct from the score. It's clean and light, almost soapy. Honey and grassy notes dominate.
Taste: Slightly metallic, otherwise this is as "pilsnery" a taste as you can get. Reminiscent of Budweiser only without the overpowering taste of corn/adjunct. Slight smack of honeyness in the aftertaste.
Mouthfeel: Light, vanishes on the swallow with some remaining sweetness left behind.
Drinkability: Certainly a good warm weather beer to refresh with. I like it better than Henekein, I'll tell you that much. Trader Joe's carries this, at least in my neck of the woods.
831 characters
3.14
/5
rDev
+8.7%
look: 4.5 | smell: 3 | taste: 3 | feel: 3.5 | overall: 3
Poured from a green bottle.
A: Great head. About two fingers and sticking to the glass like mad. Very frothy. Pale straw color.
S: A little skunked, but some spicy hops coming through. Dominantly sweet aroma.
T: Begins sweet with some sour. Flavor evaporates into an artesian well water flavor. Ends with a spicy hop flavor and some residual bitterness.
M: A little dryness in the finish. Quite refreshing.
Overall: This is what I'd expect from the style with a stronger finish. Although the overall flavor seems to be a bit weak, the aftertaste picks up and closes the flavor profile nicely.
608 characters
2.65
/5
rDev
-8.3%
look: 2 | smell: 2 | taste: 2.5 | feel: 2.5 | overall: 4
Pours a pale urine color with alright lacing. Gradly any head to speak of after like 5 seconds. Aromas were pretty generic, bvland with hints of natural lager yeast and gras and/or hay. The flavor profile was light amd fluffy with water. But slightly spiced water.
264 characters
2.63
/5
rDev
-9%
look: 3 | smell: 2.5 | taste: 2.5 | feel: 3.5 | overall: 2.5
From a green tall 12 oz bottle. Best features of this beer is the hops and decient mouthfeel which almost salvage an undrinkable Euro-Lager. Light stuck due to breen bottle but some time for it air out helps. Clear yellow with a strange watery gold look on pour into my French Seidel active carbonation puts up 2 finger head and sustains a ring. Better than average grain taste suggest a little sweet light caramel malt. I am tasting this at cellar temp ( 55° F) - initally I was ready to condem this as undrinkable but if you can find a fresh bottle (no born on / best by date) you may want to give it a try.
610 characters
2.55
/5
rDev
-11.8%
look: 3.5 | smell: 3.5 | taste: 2 | feel: 3 | overall: 2
Pours a dark gold with a nice head and good lacing.
Hard hop smells up front, very fruity like raisins and dates.
Strong taste, not all that pleasant. Fruit upfront that turns into solvent alcohol and then more fruit and a hint of caramel in the back. Astringent aftertaste with just a hint of hops. Inoffensive once you get used to it, but a bit off putting at first.
Nothing impressive here.
402 characters
2.5
/5
rDev
-13.5%
look: 2.5 | smell: 2.5 | taste: 2.5 | feel: 2.5 | overall: 2.5
This beer's been around for a while already in Colombia and recently became a top import, for some bad reason perhaps: The beer's only charm is the very, very intense hop smell that i felt on every sip, but other than this, the beer follows the any-lager pattern of taste and appearance. This isn't something to go ahead and purchase regularly but might be worth trying on a hot summer day.
390 characters

2.63
/5
rDev
-9%
look: 2.5 | smell: 2 | taste: 3 | feel: 2 | overall: 3
Note: I found 24 bottles of this stuff for 10 bucks at Sam's Club. If you can get it for that price, it's definitely worth it. Definitely better than macros; it's rather like a generic version of Heineken. (Though the bottle is green, very little skunkiness was detected)
Appearance is rather generic, simply a pale yellow. There was a small bit of head that lingered for about a minute.
Smell was unimpressive; a bit sour-ish, though by no means offensive or off-putting.
Taste is rather similar to Heineken or Becks. A slightly bitter, astringent aftertaste is detectable. (However, the aftertaste is not noticeable when drinking this with somewhat spicy food).
Mouthfeel is somewhat smooth, but still too watery.
Drinkability is high if you can overcome the aftertaste, which is pretty easy to do.
Bottom line: I'd reccomend this as a good follow-up beer, after having something that's more tasty and robust. Definitely great with casual lunches. If the price is right, go for it.
1,002 characters
3
/5
rDev
+3.8%
look: 3 | smell: 3 | taste: 3 | feel: 3 | overall: 3
Appearance: light golden nice two finger head, clumpy, no lacing, but good staying power
Smell: faint "beer" profile, no distinguishing aroma
Taste: crisp, pleasant, non-descript, inoffensive, a bit of a pleasant malt aftertaste
Mouthfeel: not full, but not watery
Drinkability: sure, good pool/jacuzzi beer, harmless.
Comment: A perfect "3"
346 characters
2.26
/5
rDev
-21.8%
look: 3 | smell: 2 | taste: 2 | feel: 2 | overall: 3
The beer after departing the bottle pours a limpid gold color with a modest, bright white head that is spumous in texture and the lace a thin veil to cover the glass. Malt dominated nose, sweet, crisp and clean with the start sweet, lightly malted, top is cadaverous in feel. Finish is meekly carbonated, the hops sparing in their spiciness, dry aftertaste, a very thin waisted beer, as most lagers/pils, drinkable but to light in body to score well with me.
458 characters
3 Horses Holland Lager Beer from Oranjeboom Bierbrouwerij B. V.
Beer rating:
6.5%
out of
100
with
62
ratings