Staropolskie Mocne
| Browar Staropolski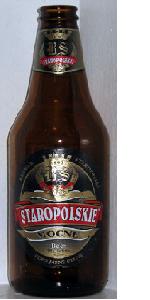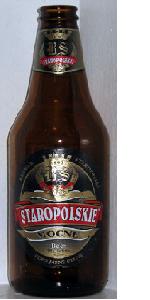 BEER INFO
Brewed by:
Browar Staropolski
Poland
browarstaropolski.pl
Style:
Euro Strong Lager
Alcohol by volume (ABV):
7.00%
Availability:
Year-round
Notes / Commercial Description:
No notes at this time.
Added by BrewMaven on 06-13-2005
HISTOGRAM
Ratings: 12 | Reviews: 11
Reviews by rallison:
3.06
/5
rDev
-4.7%
look: 3.5 | smell: 2.5 | taste: 3 | feel: 3.5 | overall: 3.5
Sub $2 500ml can from Hi Time.
Clear golden color with a hint of orange. Decent white head.
Smells of cheap grain and notes of corn, alcohol and other reminders that this is not a supremely crafted beverage. That said, the smell is not actually horrible...much better than your typical American malt liquor.
The taste? Relatively simple with a grainy character that leads into a relatively sweet beer. Some soft characteristics help smooth out the body and the alcohol. This is surprisingly not offensive. Super awesome? No. Great? No. Better than expected? Yes.
This is by no means a good beer; but, for what I think it is aiming for, it is well done.
657 characters
More User Reviews:

3.6
/5
rDev
+12.1%
look: 3.5 | smell: 3.5 | taste: 3.5 | feel: 3.5 | overall: 4
Poured a dark yellow/light orange with a fine head that dissipated halfway through. Smell seemed to be pears or some type of similar fruit and slightly musty. Moderate carbonation and a "thicker than macro lager" mouthfeel.
Taste was also pear like, malty with a hint of hops. Smooth finish. Went well with a bag of chips during my weekly fight night beer session. Yes, I'd have another.
390 characters
3.48
/5
rDev
+8.4%
look: 3.5 | smell: 3 | taste: 3.5 | feel: 3.5 | overall: 4
A slightly hazy golden-peach colour with a fairly large white head. Head retention isn't bad, and lacing sticks.
Fairly grainy aroma. A little bit of shampoo. Smells ok.
Smooth fruity malt into a faintly grainy hop finish. Nothing wild here, just a straightforward taste. It works.
This beer has a touch of body to it and is readily carbonated. Better than the average strong lager body.
This beer stays away from the typical strong euro lager downfalls by keeping it simple. In the end it is an easy drinker considering its ABV.
541 characters
3.51
/5
rDev
+9.3%
look: 4 | smell: 3 | taste: 3.5 | feel: 3.5 | overall: 4
Poured into a weizen glass, had to pull the bottle away a little to get any head on it. Maybe a finger of foam tops the hazy orange body. A ring of sediment was in the bottle, so I poured that in too. Spindly webs of lace circle the glass. Steady carbonation. Faint banana ester from the yeast when it's first poured. Aroma slides downward after that, mostly papery cardboard. It retains a doughy malt aroma also, which counters the paper products.
Lightly sweet, papery malt again, very faint bitterness toward the end. Aftertaste has some residual apple flavor. It has a fuller mouthfeel than typical Euro lagers, more like a Czech Pilsner. It's not overly alcoholic at all either, which works well. It's somewhat bland, but has a sort of rustic character about it. I would try it again for the price.
This is a fairly new arrival in the area, hopefully the bottle is less than 6-8 months old. Imported by J&B Brands Chicago, IL.
935 characters

3.5
/5
rDev
+9%
look: 3.5 | smell: 3.5 | taste: 3.5 | feel: 3.5 | overall: 3.5
Came in a 500ml brown bottle, yet another Eastern European lager to hit the local shelves. I assume this one is Polish.
Decent looking in appearance, a deep golden peach hue, assertive carbonation with a tall chunky white head that possesses great retention. Thick sticky lacing.
Light fruity esters, husky yet crisp grains, with a touch of grass pretty much round up the aroma profile.
Very grainy up front, a rounded grainy, not crisp. Becomes flowery and grassy towards the finish, then metallic on the aftertaste. Sweet malt as it warms up a bit. Towards the bottom of the glass I start to pick up some cooked veggies (brussel sprouts to be exact) at the back of my palate, but that's on the after-after-aftertaste by this point.
The mouthfeel is smooth and full as well, a pleasant surprise.
Not bad at all for some Polish high test, it's user friendly enough, and has its moments. I tend to cringe when I try lagers like this from Eastern Europe, but there's no need to duck and run from this one.
1,018 characters

3.08
/5
rDev
-4%
look: 3.5 | smell: 3 | taste: 3 | feel: 3.5 | overall: 3
This is a darker shade of gold than I would normally expect from a lager, head formation is lacking.
The smell is sweet and very malty. There is a sweet scent here that suggests the presence of fusel alcohol. No hops detected in the scent.
The taste begins sweet and malty with a bit of toasted grain taste and some dry grain husk in the finish. Lots of sweet toffee candy, nuts and molasses, it is sweeter than I would have guessed. This is very much a malt beer and this REALLY tastes like Bock beer.
The mouthfeel is good.
OK drinkable but I can't say it really hit the spot on this ultra hot day. I would have probably have liked this a lot better during Bock beer season and not at the start of thirst-quencher season.
735 characters
2.36
/5
rDev
-26.5%
look: 3 | smell: 2 | taste: 2 | feel: 3 | overall: 3
Pours clear amber in colour with white head. Smell - sweet malts and that is pretty much it. Taste - sweet malts and alcohol. i'm not impressed, it's pretty boring brew. Mothfeel - medium body, moderate carbonation. drinkability - one is enough for now, and I don't think I'll be getiing more.
Too sweet for me, they tryed to hide alcohol, but it wasn't successful
364 characters

3.14
/5
rDev
-2.2%
look: 3 | smell: 3.25 | taste: 3.25 | feel: 2.75 | overall: 3
3.28
/5
rDev
+2.2%
look: 3.5 | smell: 3 | taste: 3.5 | feel: 3.5 | overall: 3
"The unique taste...is due to a traditional fermentation method." Isn't all fermentation traditional? 500 ml tall boy with labels and descriptions in English and Polish. On to the beer:
Pale, faded fools gold in color, the head rises up with delight, then drops to a soapy layer about one finger thick. The aroma is mostly sweet alcohol with a little graininess. Upon tasting, I get this sweet sensation of white grapes. This is a very sweet tasting beer, this reminds me of Dogfish Head's Midas Touch. There's a big presence of honey flavor in this brew. The alcohol is hidden within the body, only brief sprouts of dullness is detected. No hops to be found here, but luckily this doesn't become cloying sweet. A little peat smoke in the aftertaste.
It hails from Poland, it's in a common Polish beer style (strong lager), and comes in a tall boy...I knew this would be interesting. The extra booze must keep the Poles (temporarily) warm during their cold winters.
968 characters

3.28
/5
rDev
+2.2%
look: 3.5 | smell: 3 | taste: 3.5 | feel: 3.5 | overall: 3
this one I found in a united distributors beers of the world 8 pack...my grandmother was Polish...here's to you Grandma!
Certainly a deeper amber than most lagers..nice sized head that receeded at a decent rate and the lacing sticks very nicely to the sides of the glass.
faint sweet malt aroma
given the higher ABV, the taste is quite nice. Malty, sweet with a sharp clover honey taste. Tad metallic aftertaste and then you get a little kick from the alcohol.
fuller bodied than your average euro-lager, it has a slicker feel to it.
compared to the Old Stock I tried as a teen this is heaven. Not bad at all
624 characters
2.76
/5
rDev
-14%
look: 4 | smell: 3 | taste: 2.5 | feel: 3 | overall: 2.5
Greeted by a light, clear amber with only a few small, sluggish bubbles gurgling to the top every five seconds or so. Not a bad fillmy foam with just a little lacing after each sip. The aroma is a concentrated toasted sweetness. Makes me think of a cheap eastern European convenience grain snack. The taste is a almost chemical induced malt sweetness. Or they used a lot of old liquid pale toasted malt. Not enough ops to help balance the weird adjuncts and malts. The palate is a little overpowering of fake sweetness, alcohol, and adjuncts.
542 characters

3.47
/5
rDev
+8.1%
look: 3 | smell: 3.5 | taste: 3.5 | feel: 3.5 | overall: 3.5
A: Straw/yellow color and clear.
S: Low hop aroma. Slight apple smell perhaps.
T: Moderately hopped beer with a narrow flavor profile. Nice.
M:Full mouthfeel. A strong point for this beer.
D: Good, but not as good as many other European lagers. A tad filling but totally inline for this style of beer.
Not my idea of a session beer but I like light bodied beers. Hops stand out at first but it mellows to a nice tasting beer.
433 characters
Staropolskie Mocne from Browar Staropolski
Beer rating:
3.21
out of
5
with
12
ratings