Zorg
| Browar Staropolski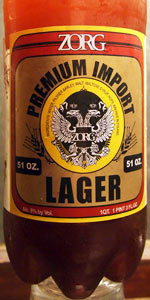 BEER INFO
Brewed by:
Browar Staropolski
Poland
browarstaropolski.pl
Style:
Euro Strong Lager
Alcohol by volume (ABV):
8.00%
Availability:
Year-round
Notes / Commercial Description:
No notes at this time.
Added by crossovert on 09-02-2011
Ratings: 8 | Reviews: 7
Reviews by notchucknorris:

1.08
/5
rDev
-46.3%
look: 1.5 | smell: 1 | taste: 1 | feel: 1.5 | overall: 1
Found this sitting on the floor of a local liquor store. At first I thought it was a mixer, but then I saw the word "Lager" on it. At $3.99, had to give it a try.
A: Pour a milky brownish green color with absolutely no visible carbonation. Looks a lot like swamp water.
S: It's gotta be tough to get a beer to smell this bad. An insanely sweet aroma had me cringing every time I went in for a sip. It smells like honey that's been soaking in stagnant water. Lots of malt syrup, a little hazelnut and some rotten apple as well.
T: Unquestionably one of the worst beers in existence. The sweetness is overwhelming and leaves massive flavors of watered down malt syrup, fermented honey, watery barley, and honey soaked sewage. The mouthfeel is so thick that this beer tasted warm even when it was nearly frozen. If you're looking to try the worst beers in existence, Zorg has to be included in the conversation.
911 characters
More User Reviews:
2.12
/5
rDev
+5.5%
look: 2 | smell: 2.5 | taste: 2 | feel: 2 | overall: 2
A-Pours an orange, gold color with 1/8 finger of white head that dissipates very quickly.
S-Sweet and caramel malt notes with no noticeable hop presence.
T-Dry graininess with an almost tannic quality.
M-Pretty much flat in the carbonation department with thin body.
D-It is 99 cents; that being said, this is one I probably won't purchase this one again. My primary objective isn't getting drunk so, if yours is, check this one out.
437 characters
4.26
/5
rDev
+111.9%
look: 4 | smell: 3 | taste: 4.5 | feel: 5 | overall: 5
If your trying to live it up - cheap style - then Zorg is your friend (about $5 for two bottles). 51 ounces of extremely smooth Maltose syrup taste, kind of like brown sugar really. Allot like New Castle, but with more kick and a slight scummy back alley aftertaste. DELICIOUS. If I didn't know any better I'd say it was an ALE not a Lager like the bottle claims.
Compared to other beers in it's price bracket: Old E, Steel Reserve, Ice House ect. it's stronger, cheaper and better tasting.
Zorg forever - also works great as a flotation device , because of snap lid design, should you be stranded in large body of water. In other words it can and will save your life.
671 characters
2.16
/5
rDev
+7.5%
look: 2 | smell: 3.5 | taste: 2 | feel: 1 | overall: 1.5
This is it ladies and gentleman, the cheapest beer on earth. 99 cents for a 51 oz plastic flip-top.
It struggles to form a head as it pours a super-pale orange.
The smell isn't that bad, it smells like maltose syrup, alcohol, and honey.
The flavor is also not garbage for the price. It is a bit flat though. It is mainly just sweet caramel and booze overtones. not any worse than a Mickey's.
This is what college kids should put in there crackpipe and smoke the living shit out of it... err their beerbongs.
511 characters

2.06
/5
rDev
+2.5%
look: 3 | smell: 2 | taste: 2 | feel: 3 | overall: 1.5
Pours a surprisingly dark color, but it's still just sort of light orange. The nose is interesting...despite the 8% ABV, this still smells (and tastes) largely like malt extract. Kind of boozy with a bit of honey and bread sweetness (as if the beer needed it). The flavor has a touch of cardboard to go along with the overwhelming sweetness and maltose flavor. This is just not pleasant.
389 characters

1.81
/5
rDev
-10%
look: 2.5 | smell: 1.5 | taste: 1.5 | feel: 3 | overall: 2
How bad can beer be? America's youth wants to know. Try "Zorg," is my ready answer. It has all the educational qualities you will be wanting to experience:
- musty smell
- beer-like carbonation and white scum on top
- color like an amber fog
- flavor of Italian Swiss Colony sherry mixed with a vegetable broth heavy on the rutabaga
- intriguing plastic hints in the flavor profile
- extremely bitter and metallic taste, mid-taste, and aftertaste
I think there may be a kind of Polish blood sausage that will help in the ingestion of Zorg. I am about the research, am yearning to share knowledge. Zorg is more than just a beer. It is a footbath.
Poured dubiously from the 51 oz plastic jug. Note the reinforcing lobes on the bottom of my photo, like a fancy water tower. I bought this at an unpretentious liquor joint on Washington St. in Mission Hills. Importer is Bella Voda in San Diego of all places.
906 characters

1.92
/5
rDev
-4.5%
look: 1 | smell: 1.5 | taste: 2 | feel: 1 | overall: 3
Briefly returning to reviewing for this whale tick. 51oz, plastic, flip-top bottle poured to a Lagunitas jar.
Pour yields a bit of soapy foam from a very hard pour. Appears a diarrhea water brown hue.
Smells of malt, alcohol and caramel. Taste is more of the same but the alcohol is actually masked pretty well at nearly 8%. Mouthfeel is full but watery with almost no carbonation.
Surprisingly drinkable for what it is. Ounce for ounce and dollar for dollar it's not that bad.
483 characters
Zorg from Browar Staropolski
2.01
out of
5
based on
8
ratings.