Strzelec Porter
| Browar "Strzelec"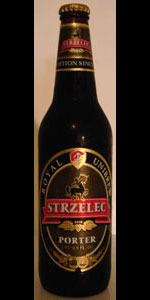 BEER INFO
Brewed by:
Browar "Strzelec"
Poland
vanpur.com
Style:
Baltic Porter
Alcohol by volume (ABV):
9.20%
Availability:
Year-round
Notes / Commercial Description:
No notes at this time.
Added by bruachan on 12-02-2005
This beer is retired; no longer brewed.
Ratings: 12 | Reviews: 10
Reviews by emerge077:
4.1
/5
rDev
+8.2%
look: 4 | smell: 4 | taste: 4 | feel: 5 | overall: 4
Rich, dark color with deep reddish-brown highlights. Three fingers of tan latte-style floam billow to the lip of the glass. Some sticky lace present. Aroma is rich and spicy with dark fruit, maybe raisin and plum.
Taste is milk chocolate, hint of nutmeg, with a mildly sweet plum finish. Roasty malt comes through in the aftertaste, but not bitter. Alcohol warmth is there, without tasting it. Creamy and velvety on the palate, couldn't be improved in any way. Reminds me of eggnog and cookies during winter holidays. Delicious and balanced, falls more on the smooth side, rather than big and robust. Flavors compliment one another well, no indication of the 9% abv.
One 1/2 liter bottle was good enough for me, but I could see this one as a fall or mid-winter sessioner.
Allow to warm a bit for best taste. Drinking cold picks up a grain husk flavor, although not totally bad, isn't optimal for this particular brew...
929 characters
More User Reviews:

3.85
/5
rDev
+1.6%
look: 4 | smell: 4 | taste: 4 | feel: 3.5 | overall: 3.5
Served in a half-liter pilsner glass. Opaque obsydian liquid rises up the glass, pushing a light brown head of lumpy and wispy meringue a full inch high to the top of the glass. Retention is amazingly long.
Aroma of ripe plum and raisin, sweet molasses, cocoa, and a hint of hop bitter.
Rich flavor clobbers the tongue. Sweet dark burnt malt, charred wood bark, molasses, tangy cherry and currant. There's a fair amount of sweetness, but not cloying. Alcohol remains fairly hidden, this one could be dangerous.
Slick and syrupy mouthfeel, but full and viscous. Tiny bubbles tingle in the finish, finshes a bit dry and tannic. Alcohol warms the tongue and cheeks.
Pretty drinkable for a beer that packs such flavorful and boozey wallop, but a sipper for sure.
770 characters
2.53
/5
rDev
-33.2%
look: 3 | smell: 2.5 | taste: 2.5 | feel: 2.5 | overall: 2.5
16.9 oz bottle with no freshness date noted
Clear mahogany with a thick tan head.
Strong molasses aroma, with some liquorice notes.
Flavor is sweet. Molasses, liquorice, sweetened coffee.
Sugary sweet finish.
A little too sweet to drink on a regular basis
272 characters

4.32
/5
rDev
+14%
look: 4 | smell: 4.5 | taste: 4.5 | feel: 4 | overall: 4
Pours a five finger tan head that fades quickly to a thin layer, leaving a good lace. Black color, no highlights. Light-medium carbonation and heavy bodied. Molasses nose. Flavor is sweet roasted molasses and coffee. Higher ABV is hidden. A deal at $1.79 for a 500ml bottle from Manchester Wine and Liquors Manchester, CT.
322 characters
3.75
/5
rDev
-1.1%
look: 3.5 | smell: 3.5 | taste: 4 | feel: 4 | overall: 3.5
brought this back from the source
deep and dark, with some night dark red highlights. clear, but nearly a black hole. the head was pretty fluffy during the pour, but i sat down to change the channel and it was gone
a strong one. a very warming alcohol heat interrupts an otherwise fairly smooth example of the style. a touch of dark fruit, but otherwise not too estery. a fairly deep roasted maltiness up front, but it doesn't hold up. a hint of licorice at the outset. an almost coffeeish flavor sticks around (similar finish & lingering taste to peche mortel)
this is pretty solid, actually. at 9.2% it's not something i'm going to drink in multiple, but i enjoyed savoring it
687 characters

3.92
/5
rDev
+3.4%
look: 3 | smell: 3.5 | taste: 4 | feel: 4 | overall: 4.5
Brown/Black with no highlights noticed. Light tan head.
Nose is full of toasted notes. Lightly bready with fig and rasin. sweet alcohol.
taste opens with nice malt sweetness, licorice and biter molasses. Roasted notes are mild.
Mouthfeel is full and warm. Aftertaste is very palatable.
This is a very easy drinking Baltic Porter and a good example of the style.
366 characters

3.73
/5
rDev
-1.6%
look: 4 | smell: 3.5 | taste: 4 | feel: 3.5 | overall: 3.5
Dark muddy brown color, very nearly black. Tan head pops up about one inch but quickly recedes. If not for the regally dark color I would dock it, but it still looks nice enough.
Not quite strong enough in the aroma, what's there is a pleasant mix of chocolate and road-paving tar. Slightly roasted, but it smells really sticky for some reason.
The flavor is quite bold, aggressive with the sweet, roasted malts but not quite enough of the roast side for me to be really impressed. Only a tiny glimmer of the alcoholic peppering in the finish, pretty well hidden for the size although the sweetness would be a dead giveaway that a lot of sugars and yeast gave their lives for this one.
Solid but not exceptional mouthfeel is the kicker for me: this is an average Baltic porter, a fine example of the style and for the price, definitely a good choice if you're feeling the need (like I was tonight).
904 characters
3.7
/5
rDev
-2.4%
look: 3.5 | smell: 3.5 | taste: 4 | feel: 4.5 | overall: 3
After a little time outside the fridge to warm up, it is time to open the bottle. On to the beer:
It's cola black in color, hues of brown at the bottom of the glass. The head forms thick on top, but fades to a thin lace. The aroma....whoa cowboy! Extremely sweet and potent. Very fruity, ethanol, squaw bread notes. But, it is "to style".
Not as sweet in the taste (thankfully!). It's charred bitter chocolate which is the first flavor to be tasted. Actually, if you don't inhale the aroma, this beer has a good balance to it. There's a mild, tamed sweet boozy flavor which doesn't knock you dead. Thick as a baltic porter should be, and it's quite viscous. A little charred wood action leaves its mark towards the end of each sip, and into the aftertaste.
You get what you pay for, right? As I have noticed in the case of Polish brewed porters, you end up getting good bang for your buck, and this one is no exception.
924 characters

4.1
/5
rDev
+8.2%
look: 4 | smell: 4 | taste: 4 | feel: 4 | overall: 4.5
Purchased and sampled in Poland, summer 2006.
A hard pour would fill the atmosphere with that (distinct) Baltic chocolaty-tar smell. A deep, deep muddy brown in colour - like polluted sea water. Thin head - where any. I quickly deceided I liked this one. A rich, complex taste. 'Bold' is a most appropriate adjective. It does, however, lack some roastness to round out the finish. An otherwise lasting aftertaste. Mouthfeel excellent! Carbonation well under control. Flavour rolls off the tounge and setlles nicely into that lasting aftertaste. No hint of a 9%!
Excellent Baltic Porter by my standards.
605 characters
3.4
/5
rDev
-10.3%
look: 3.25 | smell: 3.25 | taste: 3.5 | feel: 3.25 | overall: 3.5
Dark and sweet, molasses and raisins initially come to mind at first sip. Dark brown with small creamy beige head. Aroma is prune juice, dried fruit, molasses. Taste is initially sweet, elements of raisins and roast grains. Sweet and smooth.
241 characters
Strzelec Porter from Browar "Strzelec"
3.79
out of
5
based on
12
ratings.