Wildebok
| Scheldebrouwerij
BA SCORE
84
good
10
Reviews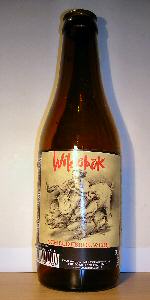 BEER INFO
Brewed by:
Scheldebrouwerij
Belgium
scheldebrouwerij.nl
Style:
Bock
Alcohol by volume (ABV):
6.50%
Availability:
Fall
Notes / Commercial Description:
No notes at this time.
Added by paterlodie on 11-10-2005
Reviews: 10 | Ratings: 16
4.03
/5
rDev
+9.8%
look: 4.5 | smell: 4 | taste: 4 | feel: 4 | overall: 4
On tap at In De Wildeman, Amsterdam.
Chocolate brown with ruby highlights and a lumpy tan head that leaves clumps of lace. Smoke, coffee, wax and chocolate malts on the nose. Dark fruitcake malts, brown sugar punch in the middle, some diacteyls, and Christmas spice and bark hops to end. Molasses tartness and a boozy hot finish. Medium, round, creamy, and warming.
Good wintry bock.
385 characters

3.95
/5
rDev
+7.6%
look: 4 | smell: 4 | taste: 4 | feel: 3.5 | overall: 4
A nice bock beer, in 2008 chosen as the best bock beer of the Netherlands. That prices indicates the level of the Dutch bock beers. This is a good, regular beer. If this is the winner....
L: ruby brown, white/beige medium lasting top;
S: roasted malts, grapefruit/orange (?);
T: malty beer, a little tartness, no bitterness;
M: a bit undercarbonated, the light alcohol gives as a first impression that it is a fresh beer, after a half glass it feels like the alcohol is too less;
O: good. Dot.
494 characters
3.9
/5
rDev
+6.3%
look: 4 | smell: 4 | taste: 3.5 | feel: 4 | overall: 4.5
33cl. Pours a dark ruby beer with beige head, good quality of foam but doesn't stay that much long. The nose is malty with caramel and red grape notes.
The taste is clearly malty, smoothly hopped and small carbonation.
I found some chocolate, dry fruits and red grape notes.
The aftertaste is spicy with small hop finish.
Quit good beer.Cheers.
344 characters
3.85
/5
rDev
+4.9%
look: 4 | smell: 4 | taste: 4 | feel: 3.5 | overall: 3.5
Bottle: Poured a deep clear brown color beer with a large foamy head with good retention and some lacing. Aroma of fruity ester with some sweet malt notes is really interesting and enjoyable. Taste is a mix between some sweet malt with some incredible fruity ester. Full creamy body with great carbonation and no apparent alcohol. Really interesting beer and some thing that makes me want to try more form this fine brewer.
423 characters
3.82
/5
rDev
+4.1%
look: 3.5 | smell: 4 | taste: 3.5 | feel: 3.5 | overall: 4.5
Thanks Probst for this Bierophelie buying club participation. Pours amberish with bare minimal drops of head (after it calms) and lace. A bit boozy and carmel aroma. Lively carbonation, medium plus mouthfeel. Secondary yeast. Spice in taste.Satisfying overall. Tasty and unusual bock. Very good drinkability.
308 characters
3.65
/5
rDev
-0.5%
look: 4 | smell: 4 | taste: 3.5 | feel: 3.5 | overall: 3.5
BB december 07. Nice brownish and lasting head and a very dark beercollor. Nose is good giving lots of carramellic maltynes, koreander, litle kruidnagel, some sourness and good fruit esters. Taste is strong and heavy. lots of darkmaltaromes and bitterness dominate but also backed by a fair amount of spice and lots of alcohol. After a while you notice more and more the haigh salt content that all brews from scheldebrouwrij seem to have.
Fine mouthfeel but edgy and maybe litle overdone in fullness of taste making mouthfeel litle bombastic. Still well drinkable and certaily something else then your regular bokbeer.
620 characters
3.65
/5
rDev
-0.5%
look: 3.5 | smell: 3.5 | taste: 3.5 | feel: 4 | overall: 4
BB 12/2008, served lightly chilled in Westmalle's broad-rimmed goblet.
A: pours a deep dark brown colour with faint reddish glows when seen against light, topped with a hissing dark beige foam dissipating fast to a rim, resting on top of semi-lively carbonation full of tiny fizz.
S: moderately chocolatey, black-prune jammy as well as raisiny upfront, laced with very faint hints of roastiness (Munich malts), while a swirl gives rise to Chinese black grass herbs, black sugar syrup, and an underlying touch of alc. Different from a German Bock, this bottle uses dark candy sugar, rendering a somewhat aromatic sweetness behind the malty sweetness, more in line with a Belgian dark ale tradition.
T: the flavour comes quite sweet from the start, skirted by cocoa powder, chocolate fudge, sweet black tea, and plentiful brown-sugary undertones of the (presumably) dark candy sugar, leaving faint hints of dried black plums and black dates, restrained herbal bitterness, and random sweet-coffee-ish roastiness in the aftertaste. Overall, the taste is slightly too sweet in the beginning, but improves as the beer warms a bit, while the hops (Hersbrücker and Hallertau, according to the beer label) do seem to make a pleasant, albeit belated, mildly bitter entry to compliment the sweet façade.
M&D: enjoyed in this broad-rimmed goblet, the beer actually drinks better and better by each sip and I gradually could sense the pleasure of the understated hop bitterness that serves to compliment the predominantly sweet malty foretaste. On top of a medium body, the carbonation also comes quite "healthy" with a very mild spritzy bite. Equipped with little experience with Dutch Bock, I think I relate this ale quite a lot to a Belgian dark ale and it fares quite well even in that category, as a less estery example for sure.
1,824 characters
3.58
/5
rDev
-2.5%
look: 4 | smell: 3.5 | taste: 3.5 | feel: 4 | overall: 3.5
Bockbier from the Scheldebrouwery... it's the season for it now: this one not been reviewed for a while here.
Fresh smell of caramel malts. A bit of dark dried fruits, but only modestly in smell and flavour.
Decent amount of aroma, similar to the taste. A bit of sweet and tart and bitterness. It's not too complex, but it's got decent flavour.
Bittersweet aftertaste, balanced and modest. Drinkable, but don't expect too much.
Decent experience.
449 characters
3.4
/5
rDev
-7.4%
look: 3.5 | smell: 3.5 | taste: 3.5 | feel: 3.5 | overall: 3
Pours a brown beer with some yeast haze and a small head that quickly disappears and leaves a small ring against the glass.
Smell is almost typical for a bock, sweet, malt and caramel with some metallic taste and something that reminds me of grapes.
Taste is malty and caramellic and not sweet at all, maybe a little sticky. Nice to finally find a bock that does not make me feel like I am drinking malt syrup. There is a fruity swing to it which comes from the yeast, reminds me of a dry yeast strain? I don't know, it is not very disturbing. The dark malts give the beer a good maltbitter and a roasted taste. Mouthfeel is medium.
For a Dutch bokbier this could have been a little fuller and sweeter in mouthfeel.
725 characters
3.33
/5
rDev
-9.3%
look: 4 | smell: 3.5 | taste: 3.25 | feel: 3 | overall: 3.25
Dark brown ruby colour with a decent head that doesn't hold up quite long though. A decent smell of malt and hops. Taste is disappointing: the taste in the mouth is quite weak and the typical bock caramel sweetness is missing. There is some malt, but other flavours, like salmiak or dark fruits, are missing. The aftertaste is fine though: a nice lingering hop bitter. Not enough to compensate though. The body is just too weak and watery to make this a good beer. It is average now.
483 characters
Wildebok from Scheldebrouwerij
3.67
out of
5
based on
16
ratings.