The Perfect Crime American Blonde
| Scheldebrouwerij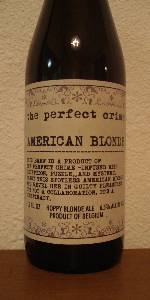 BEER INFO
Brewed by:
Scheldebrouwerij
Belgium
scheldebrouwerij.nl
Style:
American Blonde Ale
Alcohol by volume (ABV):
6.50%
Availability:
Limited (brewed once)
Notes / Commercial Description:
No notes at this time.
Added by cosmicevan on 08-01-2012
This beer is retired; no longer brewed.
Reviews: 11 | Ratings: 33
3.91
/5
rDev
+0.5%
look: 3.5 | smell: 3.75 | taste: 4 | feel: 4 | overall: 4
A: The beer is rather hazy straw yellow in color and has some fine particles floating in suspension. Although it only has a light amount of visible carbonation, a slow pour erupted into a three finger high white head that took a very long time to die down and left a coating of bubbles down the sides of the glass.
S: The smell has lots of aromas of coriander spices along with notes of Belgian yeast.
T: The taste is similar to the smell and also has flavors of grassy malts, which also contribute a light amount of bitterness.
M: It feels light- to medium-bodied on the palate with some hints of dryness and has a moderate amount of carbonation.
O: This beer definitely has some interesting flavors and isn't bland as are many of the other beers in the style. Apart from its excessive overcarbonation in the pour, I thought this was a well crafted beer.
856 characters

4.25
/5
rDev
+9.3%
look: 4 | smell: 4 | taste: 4 | feel: 4.5 | overall: 5
The pour is a hazed golden color with a huge white head. Quite yeasty with lots of bread, white pepper, coriander, and fruity esters of apple, pear, and banana. There is a light grassiness to the aroma as well. The flavor is decently sweet, but high carbonation and a peppery finish give the beer a nice dryness on the back end. Plenty of apple, pear, and banana along with some notes of coriander. Bready malt, yeast, and a touch of biscuit. Quite easy to drink and very enjoyable.
482 characters

4
/5
rDev
+2.8%
look: 4 | smell: 4 | taste: 4 | feel: 4 | overall: 4
Poured into a Nostradamus flute glass. Pours a light to medium golden amber with a two finger fine white head with good retention and lacing. Aroma of Belgian yeast and spicing, hint of pineapple and hops. Flavor is spicy light stone fruit citrus hops, finishing somewhat dry with hop bitterness and peppery spicing. Nice medium body with creaminess and good carbonation. A nice hybrid Belgian ale with a hop kick to it. I enjoyed this quite a bit. I'm not sure I am able to detect a major difference between this and the European Blond except a lighter color.
560 characters

4.03
/5
rDev
+3.6%
look: 4.5 | smell: 4 | taste: 4 | feel: 4 | overall: 4
Draft at Alla Spina in Philadelphia, PA.
Pours a bright golden orange color with tangerine hues and a two finger, pillowy white head that slowly settles into a thick, lasting ring.  The glass is left coated with chunks of soapy lacing.
Slighlty musty, earthy farmhouse aroma with floral hops, crisp light fruit, booze and subtle bready yeast.  Grass hops with straw and hay as well as some orange peel, apple and pear.  Faint brett presence with subtle pale malts underneath.
Medium bodied with soft carbonation and a really nice balance of earthy, musty funk, brett, crisp light fruit and earthy hops.  Almost like a hoppy saison but lighter.  Floral with crisp hops providing slight dry bitterness that's countered by musty brett, citrus and light fruit.  Well balanced, light and refreshing.
806 characters
4
/5
rDev
+2.8%
look: 4 | smell: 4 | taste: 4 | feel: 4 | overall: 4
consumed on 6/29, while I was "on Hiatus." picked up locally. enjoyed from my stillwater wineglass. Stillwater / Evil Twin / Six Percent collaboration brewed at Scheldebrouwerij.
label says:
this brew is a product of the perfect crime -infused with deception, puzzle, and mystery. enjoy this spotless american blonde and revel her in guilty pleasures. it's not a collaboration, it's a conspiracy.
a - brew poured a semi transparent orange with about 2/3 of the glass filled with huge foamy head. as the head dissipated it left humongous chunks of foamy lacing everywhere. BIG head for an american blonde.
s - stinks of spiciness...belgian spiciness. not your typical american blonde, she's complex (waka waka waka)
t - the taste is actaully quite nice. like an american blonde lost in belgium. quite yeasty and sweet...not like the american blondes i know. this one has a lot to say. she's spicy and intriguing and different from those like her style.
m - mouth is rich and filling and tingly. quite belgian. much thicker than i'd expect for the style.
o - overall, i'm a big fan of stillwater, just getting acquainted with evil twin, and i loathe 12 percent...however, this beer is an interesting take on the american blonde. it adds a new dimension of fullness and richness to the style and it works. this american blonde has substance and talks about politics. she's a looker and she also talks the talk. i was rather impressed as this is a style that usually leaves me wanting something else, but this one kind of hit the spot with the richness and fullness. not your classic blonde by any stretch of the imagination.
bottle
1,650 characters

3.28
/5
rDev
-15.7%
look: 3.75 | smell: 3.25 | taste: 3.25 | feel: 3.25 | overall: 3.25
Poured from an 11.2 oz amber bottle into a Samuel Adams Perfect Pint glass. No freshness date. Purchased at Wine Warehouse (Charlottesville, VA).
A: Hazy tequile sunrise hue with 2-fingers of soapy white head with decent retention and a craggy line and scattered dots of lacing.
S: Aroma is pretty light and dominated by yeast esters which are fruity with pear, peach, and banana. The hops are not "American" by most stretches and this still reminds me of a Belgian pale ale rather than an American Blonde Ale. The hops are subdued and flora and spicy. There is less sweetness than in European Blonde by the same collab group.
T: I didn't like the flavor of American Blonde as much as European Blonde, mainly because the malt component is harsher with more fuselly, solvent-lke alcohol notes. There is still a fair amount of yeast character in this beer, which is not supposed to be part of an American Blonde Ale. That being said, this brew still tastes pretty good with a little bit of light caramel malt sweetness in the finish/aftertaste that is pleasant and honey-like. The hops are fairly earthy, herbal, and floral with moderate spiciness. The yeast notes are just too strong in my opinion, and the solventy, peppery alcohol notes are out of place. Even in a Belgian pale ale, fusel alcohols would not be appropriate.
M: Slick feel, light-medium body, moderate carbonation and bitterness. Pretty drinkable.
O: Kind of a disappointment for the price and the caliber of brewers collaborating on this brew. I don't think they were really going for an American blonde ale, maybe more of a Belgain plae ale with American ingredients or touches. The solventy alcohol note sinks this beer, as does the steep price tag (5.49 for 11.2 oz and a lot of yeast floaties).
1,770 characters
4
/5
rDev
+2.8%
look: 4 | smell: 4 | taste: 4 | feel: 4 | overall: 4
Enjoyed this bottle from a large snifter glass.
A: Pours a very cloudy brown hue with a huge frothy white head that slowly dissipates leaving a nice trail down the side of the glass ending a solid persistent lace.
S: Musky caramel malt aroma with a sweet fruity background.
T: Sweet caramel flavor with a Belgium yeast background and followed by a muted hoppy flavor.
M: Medium body and medium carbonation.
O: Solid Belgium brew – worthy of a try.
454 characters

4
/5
rDev
+2.8%
look: 4 | smell: 4 | taste: 4 | feel: 4 | overall: 4
A - Hazy golden-orange with a big finger of frothy off-white head. Fades fairly slowly.
S - Sweet grainy and cracker malts, Belgian yeast, coriander, spices, banana, lemon zest, citrus and floral hops.
T - Sweet grainy and bready malts, Belgian yeast, coriander, pepper, other spices, farmhouse flavors, a bit of funk, lemon zest, citrus and floral hops, touch of bitterness.
M - Medium bodied moderate carbonation. Smooth with an estery and dry finish.
D - Nicely balanced. More complex than expected but good mix of flavors.
530 characters
4.07
/5
rDev
+4.6%
look: 4.25 | smell: 4 | taste: 4 | feel: 4 | overall: 4.25
A. It has a thick gold/bronze color. It is basically gelatinous. It has a lot of sediment. A couple streams of bubbles at the bottom. It has a huge foamy white head and a ton of lacing.
S. It has a metallic, lemon and wheat scent.
T/M. That is a lovely weed and celery taste. Hops are smooth. It has a bit of a banana bread taste. It has a medium body. It is carbonated yet smooth on the mouth. Refreshing.
O. Flavorful and fairly complex. I'm not a huge fan of blonde beers, but this is excellent.
501 characters
3.52
/5
rDev
-9.5%
look: 3 | smell: 3.5 | taste: 3.5 | feel: 4 | overall: 3.5
This brew was served from the tap at Rattle N' Hum in New York, NY. It arrived in a becker glass, showing a dirty straw coloring, and sporting a half finger tall head of tan bubbles which disappeared rather quickly. This gave spidery lacing around the edges of the glass. The beer appeared hazy, but no sediment was noted. Carbonation appeared average. The aroma was wheaty with wet, dirty, pale malts making up the initial sniff. As the beer warmed, phenolic clove made an appearance along with a sour lemon chalkiness, and a nice vanilla sweetness for balance. The aroma also sported a nutty hummus vibe. Our first impression was that this tasted a lot like a boozy triple. The beginning of the taste crashed in with biting clove and fusel booze. Wheat added substance to the initial flavors, while nutmeg and cinnamon spice added complexity. Grassy hops and mustiness provided a nice balance to the beginning. We continued to the middle where the spicy wheaty qualities from the front mixed with some bittering citric orange peel, and a plastic clovey bite. As we moved to the finish, we noticed an apple and white grape sweetness, washing with paler malts. The aftertaste breathed of peppery booze, grassy hops, and puckering bitter grain. The body was medium, and the carbonation was medium. The fusel booze gave this one a warming quality, and the beer showed nice slurp and smack. The hard palate was left slick, with an astringent finish. The abv was appropriate, and the beer drank easily.
Overall, the best thing about this beer was the spicy, warming, and gritty qualities to the flavoring. This flavoring tends to be a bit harsh for many beers, but here, the softness in the feel struck a nice balance with it, giving things a unique "rough around the edges" vibe. The beer did, however, lose points on the aroma, as we felt it was relatively weak and watered through. Overall, this was a decent lighter beer to enjoy on a hot summer day.
1,958 characters
4.2
/5
rDev
+8%
look: 4 | smell: 4 | taste: 4.5 | feel: 4 | overall: 4
Just picked up at my local store really interested in giving this a try. Bottle to oversized wine glass.
A - a beautiful hazy golden with hints of darker tones with a big ol white head that fades to chunks
S - funky spice with a hint of sweetness, clove, coriander and a lingering must
T - wow, surprising complex for a blonde ale, varying yeast flavors adding a bit of spiciness to a sweeter taste mid palate, it is light, 'crisp' and refreshingly good
O - wasn't sure what to expect from this one but it was a really nice take on a (American) Blonde Ale, much more flavorful and hit all the right notes for look and taste, really glad I got to try it
657 characters
The Perfect Crime American Blonde from Scheldebrouwerij
3.89
out of
5
based on
33
ratings.