Dismiss Notice
Corner Pub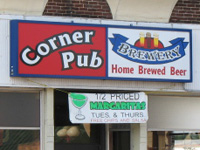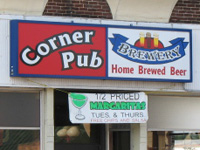 PLACE INFO
Type:
Brewery, Bar, Eatery
100 E. Main St.
Reedsburg
,
Wisconsin
, 53959
United States
(608) 524-8989 |
map
Notes:
No notes at this time.
Added by Dogbrick
HISTOGRAM
Ratings: 13 | Reviews: 9
Reviews by fmbrewing:

4.6
/5
rDev
+15.6%
vibe: 4 | quality: 5 | service: 5 | selection: 4 | food: 4.5
One of the best jukeboxes around and a pool table is all I need to ask for at a fine location like this (besides for top notch house mad craftbrew). The burgers at this location are excellent, they use a recipe which makes the meat pretty spicy and yummy and the prices for these sandwiches are hard to beat! The beer is even better. Twenty minutes from the Dells and 45 minutes from my hometown! Cheers to this location and must visit for anyone near Wisconsin Dells. Biz Hours are 11am until midnight except Sundays they are only open seasonally.
548 characters
More User Reviews:
3.31
/5
rDev
-16.8%
vibe: 3 | quality: 3 | service: 4 | selection: 3.25 | food: 3
4.5
/5
rDev
+13.1%
vibe: 4.5 | quality: 4.5 | service: 4.5 | selection: 4.5 | food: 4.5
We sat there for 20 minutes before someone bothered to bring us a menu. A lady from the kitchen area brought it to us while the bartender/ server was behind the bar just talking to people that had drinks and food. The food was good a little disappointed that the prim rib was replaced by steak but the stake is really good.
323 characters

3.73
/5
rDev
-6.3%
vibe: 4 | quality: 4 | service: 4 | selection: 3
This place was part of my week long brewery/ brew pub tour.
Tucked into a corner (duh) on the main street in Reedsburg. Very cool mural on the outside wall pertaining to the years when Reedsburg had hop farms. Upon entering we noticed the place was empty except for one lonely woman having dinner. This wasn't the most startling thing. What grabbed our attention was a huge wurlitzer organ being played by a live human. This gave off a great old school vibe. Now I'm not sure what his story was but he never stopped playing the whole time we were there. Very cool.
The beer selection was rather lack luster in terms of numbers. The owner was behind the bar and explained that they tend to not brew when it's oppressively hot. Well it's been stupid hot in Wisconsin for the last month. So his beer was almost gone. They did have a few offerings for us to indulge in. All were fair. Nothing outstanding but nothing I would go out of my way for.
We were treated well and the owner was friendly. We perused the menu but didn't get any food.
Overall a decent stop in a place where you wouldn't expect craft beer.
1,115 characters
3.28
/5
rDev
-17.6%
vibe: 3 | quality: 3 | service: 3.5 | selection: 3.5
Drove here specifically to try the Dill Pickle beer. After calling about it that beer in particular and to ask about their hours, I was then told they didn't have it on tap. Maybe it actually was the IPA I tried, because it tasted more like a pilsner. I thought the stout was ok, but a little thin. The Bourbon Scotch Ale also seemed thin, but the flavor profile for that beer was outstanding. The place was laid back and uncongested and architecturally constructed like an old neighborhood tavern. I didn't try any of the food but it did look good. Service was good although I wish they had told me the Dill Pickle beer was not currently available, and selection was also ok. I found the prices actually considerably less than other brew pubs, but considering the other alternatives out there I probably won't visit again.
823 characters
4
/5
rDev
+0.5%
vibe: 4 | quality: 4 | service: 4 | selection: 4 | food: 4
You really have to respect what they do here, running a 10 bbl brewery in a tiny town is a real anomaly... and they have been doing it for over 10 years. Respect to Corner Pub, here's to many more years of great beers!
July 2010:
Made a point to stop in and sample the house brews after hearing they had recovered from the flooding in '08. It just happened to be "piano lunch tuesday" and we were serenaded by a live pianist during our visit. Noticed they also have homemade bread available now, and the pub had a new layout with booths along the wall. Sat at the bar and admired the shelf of breweriana, lots of Hacker Pschorr krugs and some Old Gold glasses.
Selection was much improved, and the majority of the house brews were interesting. Standouts were the IPA, Bourbon Scotch Ale, and Smoked Porter.
A great establishment worth a detour, especially if escaping the Dells nearby.
07-07-2008
As of July 2008, recent flooding has damaged the brewing equipment in the basement. They hope to be up and running again this fall for football season.
Stopped in July 4th weekend, and it was a ghost town. We grabbed a table and ordered off the limited menu. BLT and the walleye special were tasty. There were daily specials on the back of the menu, friday was a fish fry.
There were a bunch of classic NFL team flags around, with the usual neon signs and mirrors. Some breweriana on the walls, framed prints of vintage advertising brands such as Old Gold. There was even a classic sign hanging above the side entrance. A shelf of beer glasses and clay krugs lined the wall behind the bar. A window under the tiny stage looked onto fermenting tanks below.
Without the house beers on tap, it was hard to judge selection. They have some basic options in bottles from WI breweries such as Capital and Leinie's mostly. Summit, Pyramid, Anchor, and a few other mixed micros. A handful of bottled imports as well. I'll have to return when they're brewing again.
1,966 characters
3.93
/5
rDev
-1.3%
vibe: 3.5 | quality: 3.5 | service: 4.5 | selection: 4 | food: 4
Corner pub fits right into the Small Town Main Street mentality, with a townie feel and a local flavor. Upon entering, the grill is next to the front window, with seating along the opposite side, along with a small stage area and a couple various arcade games near the back. The bar runs alongside the left side, right next to the grill. Flags for various sports teams populate the ceiling, while random old breweriana lines the back of the bar.
There were eight offerings from the brewpub, with three guest taps: Miller Lite, a Point beer and Sprecher Root Beer. The brewpub offerings were very unique: a stout, two porters, an APA, an IPA, a Weiss, and two herbed beers (some of the oddest beers this BA has ever tried).
The two herbed beers were startling: a Dill Pickle APA and an Italian Herb APA. Both tasted just as they sound, and neither was very good, although the Dill Pickle APA did grow on the palate a bit (not to the point that this BA would order another, but it was not bad). The sheer oddity of these beers and the fact that the other offerings were pretty damn good make this a solid stop in this part of the state.
The food was typical small-town bar food, but still quite good and very cheap (3.75 for a burger). The burgers are probably the best items on the menu; hand pressed patties picked up daily from the local meat market. Very fresh and satisfying eats.
Overall, this place is quite good in all aspects. The burgers are great, the beer is good (and quite odd), and the place does not seem to get smoky before and during dinner hours (twice visited at 4:30 and 5:30 on weekday afternoons). The brewer seems to be having fun with experimentation, but still knows how to brew some solid staples. This BA had the Dill Pickle APA and the Smoked Porter during the first visit, and the Italian Herbed APA and the Dry Stout during the second visit. Will definitely return next time the opportunity arises. Cheers!
1,941 characters

3.75
/5
rDev
-5.8%
vibe: 3.5 | quality: 3.5 | service: 4 | selection: 4 | food: 3.5
This place is a small town corner bar with a tiny 2 bbl system squeezed in under!! the floor! pub looks like no more then a kinda dirty small town bar (which it is). TV's all over with whatever you want to watch on them. we visited on a slow Sunday eve in March. Food was classic fried bar food, chili fries, cheese curds, burgers, hot dogs etc.
The house beers were passable to good (the porter)They had about 4 house beers on tap and 8 guest taps...including Sprecher Black Bavarian and Goose Island Honker. Numerous WI micro bottles were also available.
Our server was a local guy who had just moved back to the area. I do not recall his name but he was a very pleasant fellow who was more than happy to chat with us about our trip and the area goings on. Even recommended to us a stop at Carr Valley Cheese Shop on our way back to the Twin Cities...and BOY! am I glad he did!
I would love to give this place another try at a more busy time of year...I have a feeling it is better than a slow, cold, dull, Sunday night in March!
1,034 characters
4.05
/5
rDev
+1.8%
vibe: 3 | quality: 4 | service: 4.5 | selection: 4.5 | food: 3
Stopped by this place while staying in the Dells this week, only about 10 miles from the freeway. The food is just your normal bar fare, nothing special, but the beer was excellent, and at only $3.25 a pint was on par with anything you would get for $5 at a bigger place in a bigger town. The stout was no longer available but I tried the smoked porter and the wee heavy bourbon barrel aged Scotch ale. The wee heavy was a tad sweet but not outside the style, with just a hint of of barrel-aged goodness in the background. The smoked porter was excellent, the smoked character was not overwhelming (smoked sausage) a la Shenkerla but definitely noticeable and added a nice change over the typical dark sweet porters out there. The service was excellent, and if you look under the stage across from the bar you can see the brewing equipment in the basement!
856 characters
3.8
/5
rDev
-4.5%
vibe: 3 | quality: 4 | service: 4 | selection: 4 | food: 3
If Reedsburg wasn't out of the way of all civilization I would stop in at this spot regularly.
The prices are fantastic. A pint of their renowned Milk Stout (My very favorite example of one of my very favorite styles) costs only $2.50. Daily specials are even cheaper. Selection includes about 12 taps. All but two or three are homebrews and the styles vary greatly. The standard import bottles (Becks, Corona, Heineken, etc…) can be found as can a few bottles from Paulaner, Franziskaner, and Spaten. Corner pub offers a number of Sand Creek's brews in the bottle but those are about it on the craft front.
They have a full bar menu of sandwiches, fish, and deep fried stuff. The cheese curds are decent. Atmosphere is pretty average. The bar is located in one of Reedsburg's old downtown storefronts giving it some charm. The wooden décor would be nicer if it wasn't all pretty well covered in sports crap and Miller ads. Service is very friendly and prompt and the brewer seems to be there most of the time tending bar.
A great stop if you get lost on your way to the Dells or decide to go to the Norman Rockwell Museum, Reedsburg's only other piece of culture.
Update: 7-5-06
After another visit and a long chat with the owner and one of his staff I'm bumping service up by half a point and selection by a half a point too. With the exception of the Hefeweise (bad) and Porter (average), Corner Pub's brews are consistently stunning. In addition to offering my favorite Milk Stout in the dairy state, Corner Pub brews a Red that is as sour as a good lambic (this is a very good thing), and a Rye IPA that rivals Hop Rod. Moreover, the owner is one hell of a nice guy and full of local stories and beer knowledge. I'm also impressed by their operation, which I was able to learn a little about this time. All of their beers are brewed in two barrel batches. That's it. This is a true homebrew operation and yet they manage to offer up a huge selection consistently good and ever rotating beers. This place is worth the drive from Baraboo or the Dells. There's no question about it in my mind any longer.
2,133 characters
Corner Pub in Reedsburg, WI
Brewery rating:
3.82
out of
5
with
30
ratings