Zoethouter Tripel
| Bierbrouwerij Sint-Servattumus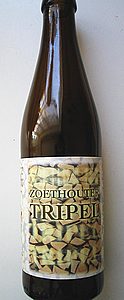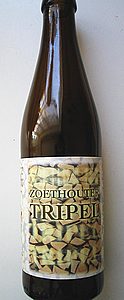 BEER INFO
Brewed by:
Bierbrouwerij Sint-Servattumus
Netherlands
sintservattumus.nl
Style:
Tripel
Alcohol by volume (ABV):
8.00%
Availability:
Year-round
Notes / Commercial Description:
No notes at this time.
Added by paterlodie on 01-16-2005
Ratings: 5 | Reviews: 4
Reviews by Regenpak:
3.36
/5
rDev
-2.6%
look: 4 | smell: 3 | taste: 3 | feel: 4 | overall: 4
Not being a licorice fan I feared the worst when opening the Zoethouter bottle. But my fears were unjustified. While slightly past its "best by" date (usually not a problem with stronger beers) it appeared perfectly OK. Definitely a "fantasy" beer, it poured easily enough albeit with an enormous head that stayed for a long time after overflowing my "Piraat" bolleke. And I had poured carefully! It has a nice clear almost orange color, with lots of fine bubbles rising along the glass and in the head. The smell is a sweety mixture of sensations but the licorice is not prominently present. Having used pilsner yeast it indeed has a bitter, hoppy taste, again with not much licorice noticable. All in all a great "drink it if you dare" beer! Detail: it was purchased in a supermarket in the town (Schijndel) where it was brewed.
830 characters
More User Reviews:
3.73
/5
rDev
+8.1%
look: 4 | smell: 3.5 | taste: 4 | feel: 3.5 | overall: 3.5
Beer flavoured with hallentauer hops and liquorice.
Colour amber orange brown, thin head good lacing, good carbonation.
Smell of malts, floral, some citric notes. Liquorice is in the background, but not a lot.
Taste similar. Mouthfeel is smooth. The alcohol is well covered, the hoppy bitterness is not overwhelming, but pleasant lingering in the aftertaste.
An ok beer.
Not significant enough to be well recommended though. It's good to drink, but sampling/appreciation takes a bit more.
491 characters
3.94
/5
rDev
+14.2%
look: 3 | smell: 4 | taste: 4 | feel: 4 | overall: 4
First beer from a brewery thats only 10 miles away from where I live so very delighted to try it. Pours in ok but no geat head and a clowdyyellow colour. Nose is strang but the zoethout is there for sure sweetish as it is and is nicely harmonic with the malt & dry-spicy yeastarome. Taste is full malted, sweet, and (port)spicy before it gets into a strange aftertaste zoethout& hops match! Like it and can recomend it as "something else" but good.
448 characters
3.98
/5
rDev
+15.4%
look: 4 | smell: 3.5 | taste: 4 | feel: 5 | overall: 4
A bottle-conditioned beer, it comes in a slim brown, 33cl. bottle, with a recommended expiry date of March 06. The name, Zoethouter, or "sweet wood", carrys the open secret of this beer's ingredients: licorice stick, and the beer lable illuminates chopped wood piles as such.
In my tulip shaped wine glass, it pours an extremely cloudy (suppose the yeasts are disturbed...) dark-orange hue, very fizzy, with a half-inch thick off white beer head full of tiny bubbles. The smell is buttery, lemony, yeasty, permufy, and candyish malty--a bit too overpowering, though complex enough. On the palate, the extremely creamy and even oily texture surprises me at first... Taking a second sip, bit by bit a chewy malty and oily bitter lemon zesty taste prevails with a soft woody flavour (I guess this is where the licorice stick comes into play...), while the finish is roundly bitter with a warmish, lingering flavour of woodchips (as if I knew what woodchips taste like...?), yeasts and mushrooms, while a tangerine-like candyish flavour of malts and perfumy hoppy aftertaste are also present in the aftertaste. The texture of this beer is the most distinctive from my limited experience of the big beer world: in the mouth it's so creamy, almost like the texture of densely aerated milk froth. Full-flavoured and full-bodied, this beer's slightly overpowering nose softens to very round and complex palate. I like this beer, though I'm not able to drink more than one bottle each time--the unsettled yeasts swimming in my beer make me dizzy!
1,541 characters
Zoethouter Tripel from Bierbrouwerij Sint-Servattumus
Beer rating:
0
out of
100
with
5
ratings