The Brick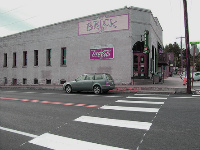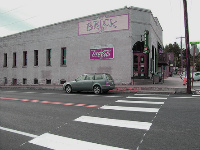 Bar, Eatery
100 W Pennsylvania Ave
PO Box 531
Roslyn
,
Washington
, 98941-0531
United States
(509) 649-2643 |
map
bricksaloon.com
Notes:
Reviews by Giangio:
3.9
/5
rDev 0%
vibe: 4.5 | quality: 4 | service: 3.75 | selection: 3.75 | food: 3.75
More User Reviews:

4.43
/5
rDev
+13.6%
vibe: 4.5 | quality: 4.5 | service: 4.5 | selection: 4.5 | food: 3.75
3.84
/5
rDev
-1.5%
vibe: 3.75 | quality: 3.75 | service: 4 | selection: 3.75 | food: 4
Finally got to make a stop in Cicely, uh er Roslyn, on our way back from Yakima's Fresh Hop fest a few days ago. It was a semi-busy fall afternoon with nice weather. Our group of 6 got a table in a side room, in front of the stage, where Puntball was on TV. Apparently they have live music every Friday and Saturday night.
Pretty good taplist, a few BMC-type brews, but mostly regional craft beers. Had a Blackberry Wit from Whipsaw Brewing that was pretty tasty. The food menu was pretty standard pub-grub, but everything seemed nicely done. Everyone in our group liked their order. I had the mini-quesadillas, and they were very tasty. My friend Chris is a butcher, and said that his burger was very good beef.
Service was friendly and attentive, without being hovering or clingy. When our server was busy with another table, a different server came over to check on us, a simple enough thing that is not done often enough these days. If you still harbor fond memories of Northern Exposure, you will still enjoy a stop at The Brick. If not a fan of the show, I think you'll still enjoy a few minute detour off I-90 for lunch and a couple cold ones.
1,152 characters

3.76
/5
rDev
-3.6%
vibe: 4.5 | quality: 3.5 | service: 4 | selection: 3.5
I passed through Roslyn and stopped at The Brick while traveling.
Atmosphere is unique and rich in history and character. Rustic antique interior. Awesome bar with high foot rail. Water trough under the bar for spitting tobacco juice. Antique wood stove, rustic wood floors. Brick interior, with high ceilings. A great circa 1900 bar. Nice mix of classic rock and country music was playing. There are a couple of pool tables and a shuffleboard table.
Quality is OK. Two local brews (Roslyn) on tap, and a half dozen (or so) regional craft brews (Widmer, Big Sky, Mac & Jack's) etc.. The Brick Pale Ale is actually Snoqualmie Copperhead re-branded.
http://beeradvocate.com/beer/profile/859/3359
Service was very good. There were 10 or 12 customers in the place and a single bar tender had the service well in hand.
Selection is OK. See notes on quality above for craft details. Bud, Bud Light and Stella round out the tap selections. There is also a full bar.
Value is good. Happy hour included $3 pints. It doesn't get much better than that.
1,048 characters
3.78
/5
rDev
-3.1%
vibe: 4.5 | quality: 3.5 | service: 4.5 | selection: 3 | food: 4
I was last in Roslyn in the mid-1990s so I welcomed the chance to visit on our way from Seattle to Richland following a Seahawk game on a Sunday evening.
The atmosphere is rustic given the age of the building (1889). Brick is the motif inside and out. The ceiling is ~17 feet high and the bar is a classic stretching about 20 feet from end to end. There is an antique wood burning stove is a highlight of the main room.
The beer selection limited to a typical selection of bottle beer (macros complemented by the usual suspects for micros including Widmer, Redhook, and Full Sail products). On tap they offered the Roslyn Munich Dunkel, a Widmer hefeweizen, and bud and miller products.
The service was excellent given that we among a dozen or so patrons. We were promptly served our beers in unchilled pint glasses. We selected burgers and frys for dinner and the food arrived reasonably quickly, warm and tasty. The prices were reasonable.
The Brick is worth stopping into. The atmosphere alone is worth the trip if you are in the neighborhood. The beer selection needs to be upgraded but it is adequate for a stop off for beer and a burger.
1,150 characters
3.29
/5
rDev
-15.6%
vibe: 4 | quality: 3.5 | service: 3 | selection: 3
On my day to return to Spokane from Wenatchee, I decided there was no hurry, so I thought I'd head south over Blewitt Pass and check out Roslyn. I'd been there once about 10 years earlier with the parentals while traveling with them to Seattle. They were devoted fans of Northern Exposure, a show I rarely saw due to its proximity to my late teens and early twenties (I was too busy hanging with girls and buddies to watch TV at that age!). At the time, the tiny little coal town had a brisk tourist business going.
That business still seems intact. One of the buildings is still dressed up as the radio station that figured in the show. Unfortunately, when I got there, I was right on the heels of a large biker group that pretty well filled up streets already teeming with weekend tourists from the Puget Sound area.
Undeterred, I decided to enter The Brick for lunch and a couple of local Roslyn beers. Unfortunately, the bikers had the same idea, and the place was packed like a sardine tin with leather-clad smokers. This unfortunate timing was further exacerbated by the fact that the waitstaff appeared to be under strength. After a barstool miraculously opened by the taps, I then spent ten minutes under the eyes of the bartenders before I was finally able to order a Roslyn. After I drank that, I spent another ten minutes waiting to order another beer - a Brookside. By this time, I'd abandoned all thought of getting a meal here, so when I ordered the latter beer, I asked for my tab. It wasn't brought with my beer, which was set down by a bartender who didn't even slow down as she walked down the length of the bar to some other patrons. After I had finished my beer, another ten minutes passed before I was able to flag down the same bartender with almost superhuman effort. She looked at me, then told me I had waited patiently so long that I didn't owe anything.
This is why I'm not completely slagging this place. I intend to come back and try it again - hopefully when it's not so busy.
Now, as for the score values:
Yes, the atmosphere is very cool. Unfortunately, I couldn't see much of it, because of the ridiculous number of people. The water trough was cool, but I have no idea what purpose it once served, and I knew the odds were rather long against getting an employee to stop and tell me. Also, at the time, it was extremely smoky. I seem to be making the transition from occaisional smoker to complete ex-smoker, so it bugged me more so than it might have earlier in my life, or maybe they simply don't have a good filtration system to deal with it.
The beer selection was actually pretty ho-hum. Besides the two Rosly beers mentioned above, micros were represented by Redhook, Pyramid and Widmer, with the most commonly encountered of their beers being present. There was an at-least equal number of macros, with more in bottles. If they weren't also serving beer from a truly local brewery, I might very well have skipped having a beer altogether, and simply left without ordering anything.
The beers were served at typical temperatures, though I don't think the glasses were frosted. Possibly they were unable to keep up with glass demand to do so!
I will come back sometime for the atmosphere, but I will make sure it's not at a peak tourist time. I can't help but think this place is really cool at the right moment.
3,375 characters
The Brick in Roslyn, WA
Place rating:
3.9
out of
5
with
8
ratings