Vetter's 33°
| Vetter Alt Heidelberger Brauhaus Neuenheim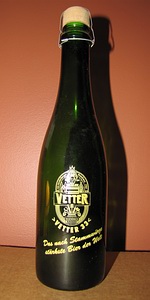 BEER INFO
Brewed by:
Vetter Alt Heidelberger Brauhaus Neuenheim
Germany
Style:
Doppelbock
Alcohol by volume (ABV):
13.20%
Availability:
Year-round
Notes / Commercial Description:
No notes at this time.
Added by allboutbierge on 11-12-2003
Reviews: 15 | Ratings: 27
4.08
/5
rDev
+7.7%
look: 4 | smell: 3.5 | taste: 4.25 | feel: 4.5 | overall: 4.25
I find this brew a lot more than a doppelbock. This is a almost a barleywine. Very thick. Dark dried fruits; raisins, prunes. Very hi alcohol 11.5%. I liked it. Very sweet. Great after dinner drink. Not what I expected from a brewery that caters to the masses--tourists. That's why I consider this brew special since we drank it at the brewery in old town Heidelberg. This is a special artisan brew. Not for the uninitiated or drinkers expecting Bud Light.
456 characters
3.47
/5
rDev
-8.4%
look: 3 | smell: 3.5 | taste: 3.5 | feel: 3.5 | overall: 3.5
Flip top bottle thanks to Rich. Dark amber with fast subsiding head. Sweet molasses aroma, sweet malts, minor roast grains. Taste ratchets up the sweetness, normal doppelbock flavors, but extra sweet. Sweetness masks the higher ABV.
232 characters

3.77
/5
rDev
-0.5%
look: 3.5 | smell: 3.25 | taste: 4 | feel: 4.25 | overall: 3.75
Aroma: Musty, nearly nonexistent aroma.
Appearance: Very quickly dissatisfied light brown head, that is completely gone after the first sip, no lacing. Cloudy dark brown color, similar to maple syrup.
Flavor: Rich caramel flavor with hints of whiskey barrel and a slight alcohol burn. Well balanced malt, no real hop presence.
Mouthfeel: Silkiest, smoothest beer I've had. This really has a mouthfeel all its own, similar to that of whole milk. Very distinct and delicious.
Overall this beer is great in some aspects and lacking in others. I still highly recommend it because of its history and some distinct features you don't typically find in a beer.
655 characters

4.12
/5
rDev
+8.7%
look: 4.25 | smell: 3.5 | taste: 4.25 | feel: 4.75 | overall: 4.25
On tap at brewery in Heidelberg. Looks delicious. Smell is almost non existent. Faint Brady aroma. Caramel toffee taste. So much better than the nose. Super smooth foamy milk chocolatey mouthfeel. Has to be the best mouthfeel I recall that's not been enhanced by a barrel. Excellent beer.
296 characters

3.17
/5
rDev
-16.4%
look: 4 | smell: 2 | taste: 3.5 | feel: 3.5 | overall: 3.5
Pours a finger of head on a hazy brown body.
The aroma is mild to non-existent... grain?
The taste is caramel candy, malty sweet, touch of lemon, alcohol heat, cotton candy with a long finish.
The texture is medium and smooth.
It's really sweet, worth trying for the experience.
278 characters
3.71
/5
rDev
-2.1%
look: 3.25 | smell: 3.5 | taste: 3.75 | feel: 3.75 | overall: 4
Black. A veil of light brown foam, disappearing in 5 seconds.
Important and intense, yet from the smell. Full, malty, alcoholic, warming. Rhubarb, wood, soy sauce, a lot of nuts notes, artichoke. Maybe plums.
In the mouth too, full and intense, and even a bit salty. The alcohol is there, but not too strong at all. Structured, pleasant.
Nut and wood in the aftertaste, dark malts, soy sauce.
Important beer.
408 characters

4.29
/5
rDev
+13.2%
look: 3.5 | smell: 4.5 | taste: 4.5 | feel: 4 | overall: 4
Thanks very much to Ryan Montgomery of Montgomery Distillery for bringing this to a tasting last night.
1998 vintage in a swingtop, purchased at the brewery years ago and stored forgotten in a basement in the meantime.
This pours a murky deep red with just a bit of head that fades quickly without leaving lace, no surprise given the abv. On the nose there are tons of raisins and figs, with very mellow caramel. In the mouth the dark fruits were still there, but at the back end there was a strangely pleasing, slightly sour note. This would never be mistaken for a true sour, but just that little hint added so much depth and complexity to the sherry flavors that were more prominent. The body was quite big with not much carbonation to enliven things, no surprise given the age.
Overall, this was an outstanding beer, probably getting close if not already at its peak. I had no knowledge of this beer when I saw it on the table, but it was one of the favorites at the tasting.
983 characters

4.1
/5
rDev
+8.2%
look: 4 | smell: 4 | taste: 4.5 | feel: 4 | overall: 3.5
I visited this Brauhaus while visiting a good friend living in Sandhausen, a town outside of Heidelberg. Heard about this Vetter 33 ale that broke records as the world's strongest beer and decided to order a Litre of it. Served into a Glass Stein and enjoyed thorougly.
Appearance- Extremely dark (like a stout almost), very little head, and left nothing on the glass.
Smell- I remember smelling a great amount of spice but the amount of alcohol distracted any other aroma to come.
Taste- Great amount of alcohol. Maybe some type of cherry/fruit in the background but a very dark beer. I enjoyed this Litre to the very last drop.
Mouthfeel- Full Bodied, almost no carbonation, and thick.
Drinkability- We took our time with this Litre, as it was our first of the night. With only 1/4 of the beer left, it was tough to finish. I'm not sure if I could have had a second or not... We switched to a Hefeweizen after this one.
I enjoyed this beer greatly but should have enjoyed in a smaller dose (.3 L).
1,007 characters

3.38
/5
rDev
-10.8%
look: 4.5 | smell: 4 | taste: 3.5 | feel: 2.5 | overall: 2.5
This beer is technically labeled a "Doppelbock." This seems to be a very general designation at best: this is a thick, syrupy liquor, more like a port wine than a beer. Though undoubtedly in the bock family, I might call it a triple or quadruple bock (should such a label even exist).
Had on tap at the Vetter 33 pub in Heidelberg. A fantastic atmosphere, great service, and amazing food. I highly recommended any BA to stop by here.
The beer pours a dark maroon color with a full head. It really is a beautiful pour with a great rich hue.
The nose is excellent. I smell grape juice, sweet malts, brown sugar, port wine, and cherries.
The mouthfeel is very syrupy, thick, and viscous. With little carbonation, it feels more like cough medicine than anything else in the mouth.
The taste is nice - if you like overly sweet beverages. This drinks more like a desert wine than anything else. I taste port and rich bock malts. There is a slight (but pleasant) tanginess on the tongue which surprises me. A nice roasted malt finish.
At the time of this review, this is one of the best-made German beers I've had in Germany. However, for me, personally, this beer was much too sweet for my tastes, but was finely crafted and deserves high marks.
1,246 characters
3.32
/5
rDev
-12.4%
look: 4 | smell: 2 | taste: 3.5 | feel: 4 | overall: 4
A - Dark amber but still clear. Quickly disappearing head.
S - Purina Dog Chow, mostly. Some cherry.
T - Maple syrup and molasses. Sweet, lingering finish.
M - Sticky.
D - Surprisingly drinkable considering the gravity. The first liter went down easily.
253 characters
3.81
/5
rDev
+0.5%
look: 2.5 | smell: 4 | taste: 4 | feel: 4 | overall: 3.5
The aroma has mild brown sugar, dark fruit, vanilla, and just a generally massive sweet malt profile. The body is brown with some orange highlights and no head at all. The mouthfeel is syrupy thick. Lots of sweet syrup soaked dark bread notes, pumpernickel, prunes, molasses and maybe a suggestion of caramel. Decent.
317 characters
3.79
/5
rDev 0%
look: 3 | smell: 4 | taste: 4 | feel: 3.5 | overall: 3.5
This as many would say, is a bit confusing on the sales gimmick of this beer. It boasts to be the strongest beer in the world by gravity. I'm not sure what that means, but this is surely not the strongest beer in the world now. They do say this was listed in the Guinness World book of Records in 1994, so it may have been the highest ABV back then.
This brew came out to me with a slight ring around of dark foam around the glass as far as head presentation goes. The body is very dark and is nearly black, but slightly reddish.
The aromas were biscuity and spicy. There is a good amount of hop fragrance. Pretty good for a German beer.
This brew is smooth and very flavorful. I detect cherry and merlot wine like flavors here. It's definitely a unique alt beer.
The price was a bit steep for a German beer, but not off the charts. I'd suggest this beer as a good dessert beer.
883 characters
4.23
/5
rDev
+11.6%
look: 4.5 | smell: 4 | taste: 4.5 | feel: 4 | overall: 4
Brown glass bottle with a ceramic pop-top from the brewery. Beautiful slightly hazy dark red body with only a slight film of off-white body. Looks very thick/syrupy as it pours. Smells roasty and nutty with just a hint of alcohol. Tastes nutty with hints of caramel. Alcohol flavor is almost non-existent, though alcohol warming is definitely present at the back of the throat as it goes down. Mouthfeel is slightly syrupy, but surprisingly drinkable despite this. Not a lot of carbonation. Wow. This beer is fantastic. Similar to Samichlaus Bier in some ways, but I find this one to be more drinkable, and it tastes better IMO. I'd get this again in a heartbeat if it was sold here.
683 characters

4.55
/5
rDev
+20.1%
look: 4 | smell: 4 | taste: 5 | feel: 4.5 | overall: 4.5
It's not an Altbier... more like a really, REALLY, strong doppelbock. Maybe a quad bock? German Barley wine? Or maybe a bock wine?
When they first brewed this in 1994, it was entered into the Guiness book of world records as the world's strongest beer!
This finished off my lunch at the brewpub; 0.2 L for 3.30 Euro.
A: Ruby black; off-white head, no retention or lace... though it did leave a little leg on the glass (more like a wine).
S: Dark fruit, lots of raisin (like a port-wine), a little spice. Definitely closer to a wine than a beer.
T: Plenty of dark fruit, raisin, chocolate, cherry, floral hops. Wonderful bitter/sweet balance & and remarkably subdued... the alcohol presence is known, but its true strength is concealed. Awesome.
M: Very full body, syrupy; light carbonation.
D: Awesome, especially considering the strength.
The bottle of the EKU 28 I had later in the afternoon paled in comparison. The EKU is supposedly 11%... so I suspect this '33' is closer to 12%. You wouldn't know it though... it's remarkebly balanced/well-rounded. The EKU just tasted like bitter alcohol after this one!
It may not be a world record anymore, but it's definitely world class!
Highly, highly recommend it.
1,240 characters
3.18
/5
rDev
-16.1%
look: 4.5 | smell: 4 | taste: 2.5 | feel: 4.5 | overall: 2.5
This beer was absolutely insane.
A little bit of background...
They started brewing this beer for sale in '94. The 33 in the name denotes degrees Plato, not alcohol (jeez if it did I dont know if I would have lived to tell about it). While I do not know what the alcohol percentage is my taste buds, belly, and head told me it was pushing over 10 percent, but thats a 'guessitimate'. I guess this would be an 'experimental dark ale' if I had to term it. Regardless, it is a really unique beer that if ever given the opportunity one must try.
The body was murky black with dull copper hues. The head was sticky, long lasting, and of an off brown color. Mouthfeel was extremely heavy and thick. So luxurious. Carbonation was small and slow bubbles in huge supply. Aroma and flavor was of sweet figs, molasses, brown sugar, and a whole slew of other flavors. This beer is very sweet and has few bitter properties. Therefore, even if it was thinner and had less alcohol, I could not drink more than one. This would be a great after dinner beer and might go great with a side of vanilla ice cream.
A very odd and unique beer. Somewhat surprising considering how tradition-minded many German brewers are.
1,210 characters
Vetter's 33° from Vetter Alt Heidelberger Brauhaus Neuenheim
3.79
out of
5
based on
27
ratings.