Hops Grillhouse & Brewery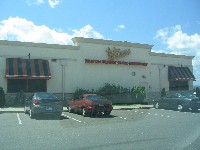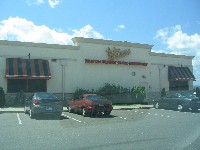 Brewery, Bar, Eatery
110 Buckland Hills Dr
Manchester
,
Connecticut
, 06042-8700
United States
// CLOSED //
Notes:
Recent ratings and reviews.
Ratings by packetknife:
Reviewed by packetknife from Idaho
3.8
/5
rDev
+18.4%
vibe: 4 | quality: 4 | service: 4 | selection: 3 | food: 4.5
Hops is an above average American brewstaurant chain with two locations in central CT (Berlin Tpk. too). They don't have too much variety in their beers but the brew is consistent and flavorful enough. I like their Clearwater Light and various Reds (I think I've had three different ones now). The food is very good for the price and the steak values during the Brewmaster specials are great.

The service is above average and I never had a dry mug, shortage of food, or shortage of smiles.

The local brew specials have been stouts each time I've managed to reach them in time, marginal stout but good change-up.
Jun 06, 2005
More User Ratings:
Reviewed by Ralelen from Connecticut
2
/5
rDev
-37.7%
vibe: 2 | quality: 2 | service: 3 | selection: 1 | food: 2
It is a chain, thats about it. The beers are not well brewed and inconsistent. I was there about a year ago and had some good pints, but not that the beer is in frozen mugs, I cant taste shit. I had the Gold and it had such a buttery flavor that I could not drink it. The had more bottled beers then they did house beers.

A bartender tole me that their old brewer had quit about a year ago, and the new guy doesn't really care about the beer being made. She said that he doesn't even drink! Who has heard of a brewer that doesn't drink?
Feb 12, 2007

Reviewed by NEhophead from Massachusetts
3.18
/5
rDev
-0.9%
vibe: 3.5 | quality: 3 | service: 3.5 | selection: 3 | food: 3
Located right in the middle of the Buckland Hills shopping district in Manchester. Quite a convenient location, and never really that crowded. Five of their own brews on tap in addition to your standard macros (and guinness). The two brews I tried were nothing special; their white and porter, but not undrinkable. The three other brews looked pretty bland and marketed for the typical mainstream beer drinker in hopes to sway a budweiser fan to give them a try. The food was typical of a pub-chain restaurant: steaks, burgers, some sandwiches, etc. As my girlfriend pointed out, "not the most vegetarian friendly place to eat", with a total of three dishes without meat (including the salads). Service was prompt, but my white did have an orange slice in it. IMO, just barely an average brewpub: exactly what I expected from a chain.
May 20, 2005
Reviewed by slander from New York
3.34
/5
rDev
+4%
vibe: 3.5 | quality: 3 | service: 4 | selection: 3
When did Connecticut become a two chain brewpubs per mall state? Are their shoppers better than ours, more deserving of brewpub choices, two of them a 1/2 mile apart from each other? Is this compensation for Sunday Blue laws and 8 PM beer store closings? Whatever.
I was kind of curious about this place. I had intended to hit the Hops in Newington, CT, this past August, on the way home the day after Kup's Summer party, but what with me being badly hungover in a "slept for a while in a rest stop on the Merritt Parkway" kind of way, that never quite happened.
Hops is a stand alone building at the top of the hill on the outskirts of the Buckland Mall parking lot. An elevated rectangular bar seating 2 dozen sits in the middle of the room. It's brown wood with a yellow stripe, a recessed green well, and sunken cut spaces displaying hop and malt varieties visible through the plexi glass overlay. It's kind of cool, actually. A dozen booths run a "U" around the bar and an open kitchen runs adjacent to the seating on one side. The walls are done in brown lowers and beige uppers with foreign booze prints here and there, and there are TV's in the corners of the room and above the bar.
Beyond the bar is a small brewroom with 4 fermenters and 2 copper vessels. The wonderfully sweet aroma of cooking mash wafted throughout the room. And beyond the brewroom is a large dining room to the rear with brick archways, clean light wood, and about 2 and a half dozen tables and booths in sectioned areas.
6 house taps and Guinness. I did the sampler. As I went through the Clear Water Light, I thought, "It's a light, near tasteless beer. Clear Water Light. Are they marketing a beer that is lighter than water?" Hmmmn. The Gold was nice and crisp, the Red was sadly not too malty, the Ale was supposed to be a Porter or something but was not (??), the Scotch Ale had nothing going on, and the Oatmeal Stout was thinnish but creamy, sweet & oaty.
Service was pleasant enough on this Friday afternoon. Not too bad overall although the beers were just so so.
Feb 15, 2005
Reviewed by sulldaddy from Connecticut
3.78
/5
rDev
+17.8%
vibe: 3.5 | quality: 3.5 | service: 4.5 | selection: 3.5
I visited this spot while in Manchester doing some shopping and some beer drinkin.
The pub is on top of a hill near the main mall area. IT is a little tough to get to with some seperated roads in the area.
The pub has a bar area with several stools and some booths and small tables. There are actually hop flowers, and some graines embedded in the bar. There is also a seperate dining are to the left of the bar that is barely visible from the bar due to an open kitchen and a clear view of the mash tun and fermenters next to the bar. I sat at stool at the bar and was quickly asked what I would liketo drink. The honey wheat was gone so I tried the seasonal Hoptoberfest. It was pretty decent.
No separate beer menu from the food menu which is fine since there were 4 house beers on tap. Overall the place is pretty decent. Not a very pubby feel to it more of a family restaurant which is fine. Next time I will try some of the food as well.
Sep 19, 2004
Reviewed by UnionMade from New York
3.13
/5
rDev
-2.5%
vibe: 2.5 | quality: 3 | service: 3.5 | selection: 3 | food: 3.5
The brewpub is located right next to Buckland Hills mall in Manchester, which is definitely convenient. I almost always need a beer after shopping at the mall. I hate malls....and people.
Walking inside, it looks like your average chain/theme restaurant. Some old beer posters hang in frames on the wall with various other beer items. I'm fairly sure it's mass produced "flash" that all the locations get. The smoking and bar area is to the right, and the kitchen is directly ahead. A host seated us quickly, and a waiter came to get our drinks almost immediately. Service is good here.
The beer is pretty good. Not incredible, but it's brewpub fresh aand hits the spot. They have three or four regular beers, which look to be selected as easy styles that would appeal to your average non beer geek. The seasonal selections are a little better, with a nut brown ale and a single hopped pale ale for our visit. I was here about 3-4 months ago, and they had an excellent oatmeal stout. This time around wasn't as good, but still decent.
The menu is fairly large, with something for everyone. I ordered the american burger, which was cooked just the way I like it, with plenty of mayo, thick cheese, and lots of veggies. Very tasty.
It's worth a stop if you're in the mall area, or driving down I-84 through CT. John Harvards is right down the street, and I prefer them, but Hops is pretty decent and they have a couple exceptional brews, namely the oatmeal stout and the brown ale.
Aug 14, 2003
Hops Grillhouse & Brewery in Manchester, CT
Place rating:
0
out of
5
with
6
ratings