Payback Coffee Porter
| Speakeasy Ales & Lagers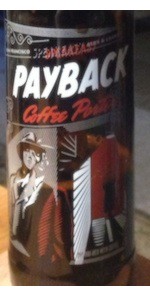 BEER INFO
Brewed by:
Speakeasy Ales & Lagers
California
,
United States
goodbeer.com
Style:
American Porter
Alcohol by volume (ABV):
7.50%
Availability:
Rotating
Notes / Commercial Description:
Brewed with Ritual Coffee Roasters 2013 fall seasonal Sugar Skull Espresso.
Added by spark3148857 on 11-23-2013
Reviews: 12 | Ratings: 45

4.03
/5
rDev
+0.5%
look: 4 | smell: 4 | taste: 4 | feel: 4.25 | overall: 4
On tap at Speakeasy Ales and Lagers
A: Pours pretty much black with a frothy brown head that settles out and laces lightly.
S: Rich coffee, a little roasted malt, and maybe a touch of smoke.
T: Smooth coffee, earthy hops, roasted malt, a hint of vanilla and spice, and a faint touch of smoke.
M: Medium body, moderate carbonation, very smooth and easy to drink.
O: The focus is all on the coffee on this one, especially getting it as fresh as I did. Not overly complex, but very tasty and drinkable.
506 characters

4.2
/5
rDev
+4.7%
Pours two fingers of tan head on a black body.
The aroma is a super blend of fresh chili peppers and coffee.
The taste is chocolate, coffee bitter, roasted malt and milk. Really nice.
The texture is smooth and soft.
Excellent overall.
235 characters
4.1
/5
rDev
+2.2%
look: 4 | smell: 4 | taste: 4.25 | feel: 4 | overall: 4
22 oz bottle into a pint glass.
A: Pours a nearly black color. The head is a finger high, with a khaki shade. I love the creaminess of the head, and retention is pretty good to boot. A solid, consistent ring of lacing is left on the glass.
S: Yep, this is coffee-laden. Mainly black coffee, and I have no problems with black coffee. Lesser notes of dark chocolate, roast (lots of roast, in fact), and smoke help give a richness redolent of an imperial stout. After a while, some oats come through. This one is right up my alley.
T: Ah yes, immediately I'm enjoying the roasted presence, from both the malts and the coffee. The roasted flavors briefly transition into dark chocolate, and then into an roasty yet oat-laden finish. I'm also getting wisps of smoke (around the middle) and leafy hops (around the back end). It's ridiculous how easy-going this beer drinks without being insubstantial. I'd even suggest it's slightly complex.
M: It starts off with a medium body, but it finishes semi-dry - just the way I like it. The oats help give it an initial creaminess and a long, lingering aftertaste, without exposing too much alcohol. Maybe it's a little thin, but that's just nitpicking. Could definitely drink this all day if I was so inclined.
O: Speakeasy pretty much nailed this one. The coffee presence is solid for this drinker of straight black coffee, with the chocolate/oat notes giving it a perfectly balanced sweetness. Drinking this beer all of a sudden made me stop missing FBS temporarily, it's that damn delicious.
No...wait...I still miss FBS. I miss that beer a lot. But this one can easily be mentioned in the same breath.
1,650 characters
4.03
/5
rDev
+0.5%
look: 4.5 | smell: 4 | taste: 4 | feel: 4 | overall: 4
Really dark pour, like coffee. A mostly tan head of creamy bubbles. Decent retention and when the carbonation finally dies, you have a beautiful dark beer with a creamy circle of foam, just like a cup of coffee. Thin, spotty lacing.
I don't drink coffee, never have developed a taste for it, but I love it in beer. If I didn't know this was a beer, the only giveaway is a slight hint of alcohol because it's mostly smoky and roasty malts. A big, long whiff gives a bready scent.
Again, very coffee-like, moreso that other coffee beers. The expresso really shines and mixes well with the dark malts and bittersweet chocolate. Not sure what else makes up this beer, but it's got an oatmeal cookie taste to it. I realize oats are in there, but I think maybe some cinnamon as well.
It's creamy and at the same time it's grainy. Very roasty. A lingering, bittering smoke feels lasts til the next sip. Little carbonation. Medium bodied with a wet finish.
Overally it's a very coffee forward beer. More like coffee with some beer added as opposed to beer with some coffee added. Easy to drink if smoke or coffee is your thing. The alcohol is very gentle.
1,151 characters
4
/5
rDev
-0.2%
look: 3.5 | smell: 4.75 | taste: 3.75 | feel: 4 | overall: 3.75
Pours an opaque black with a foamy dark khaki head that settles to a partial film on top of the beer. Foamy streaks of lace slowly drip into the remaining beer on the drink down. Smell is of dark roasted malt, chocolate syrup, coffee, and alcohol aromas. Taste is much the same with cocoa and slightly subdued coffee flavors on the finish. There is a mild amount of roast bitterness on the palate with each sip. This beer has a good level of carbonation with a crisp mouthfeel. Overall, this is a pretty good beer with a great coffee aroma, but unfortunately the taste just doesn't match up.
591 characters
4.08
/5
rDev
+1.7%
look: 4.25 | smell: 4.25 | taste: 4 | feel: 4 | overall: 4
Looks like I'm one of the first to try this. 22 oz bottle shipped from CA into Guinness porter glass.
A) Dark brownish black. Aggressive pour leads to 3-4 finger foamy head with decent retention that leaves plenty of nice lacing.
S) Strong coffee, like espresso.
T) Roasted malts, strong coffee, some chocolate, maybe some dark stone fruits like plums & cherries. Very nice.
M) Medium-bodied, very mild carbonation (maybe could have used a bit more). No alcohol taste at all. Finish is all roasted coffee beans.
O) Very nice coffee porter. Your opinion likely will be entirely based on whether or not you like coffee. Hope to see more of this in the East.
661 characters
4.02
/5
rDev
+0.2%
look: 4.25 | smell: 4 | taste: 4 | feel: 4 | overall: 4
Poured in a 12.5oz tulip @ the Toronado, thanks Justin.
S. lots of cocoa and that wonderful smell of a fresh espresso shot.
T. Big espresso aftertaste, almost overwhelming, Im impressed Speakeasy really pushed
The limit here. Second taste I get more if the traditional roasty/cocoa taste and still taste that espresso!!
M. The carbonation wasn't an issue, I prefer the minimal carbonation pushed through this beer.
I tasted this from a fresh keg in early December then had a bottle Dec.22nd with friends. Everyone got a rush out of the espresso aroma from the bottle pour. Good job Speakeasy, Payback porter was great and this version was a nice holiday treat for me.
671 characters

3.99
/5
rDev
-0.5%
look: 4.25 | smell: 4 | taste: 4 | feel: 3.75 | overall: 4
A: Poured from a 22 ounce bottle. Deep, dark brown with a solid 1-inch + mocha head which fades slowly and leaves sheet, streaks and spots of lace.
N: Delicate roasted espresso coffee, faint spices, dark chocolate, cream, earthy wood.
T: Mildly roasted malts, dark chocolate, clean coffee, well balanced.
M: Moderate body and semi-full carbonation. Rich, creamy and smoothness from the rolled oats. Slightly bitter dark chocolate and roasted coffee finish.
O: Enjoyed and would seek again.
501 characters

3.82
/5
rDev
-4.7%
look: 4 | smell: 3.75 | taste: 3.75 | feel: 3.75 | overall: 4
A: black ale body under a massive head of foam in my pint; strands of lace cling to the glasses interior
S: roasted malts are woven seamlessly with the cold espresso coffee aromas; some char, some wood
T: straightforward coffee action; espresso and chocolate; dark and roasty malts mixed with dry oatmeal, some herbal suggestions and earthy notes as well
M: light-feeling, smooth; well-balanced between dry and wet; thin body
O: a serviceable porter, delivers potent coffee flavor as advertised; well-made for the style, but nothing exceptional or noteworthy if you are not a fan of the style
596 characters

3.98
/5
rDev
-0.7%
look: 4 | smell: 4 | taste: 4 | feel: 3.75 | overall: 4
Thanks to bstyle for the opportunity to try this one. Served in a shaker pint. Pours the color of cola with dense, four-finger, khaki-colored head. Head eventually settles into a frothy, consistent 1/8th inch cap with a textured arc of lacing across one side of the glass. Nose expresses roasted coffee grounds and a hint of something sweet/acidic towards the back. Taste follows nose - coffee is a bit less robust, but character is still quite pleasant without being vegetal. Malt profile is light and toasty. Overall effect is somewhat reminiscent of coffee milk or café au lait. Mouthfeel is light-medium in body with an easy, even carbonation. Body is a bit on the thin side, but doesn't overly detract. Overall, I have to say that this is a pretty tasty coffee porter. If the body was a bit fuller, this would approach a 4.25 for me.
839 characters

4.01
/5
rDev 0%
look: 4 | smell: 4.25 | taste: 4 | feel: 3.5 | overall: 4
Poured into a Reuben's Brew snifter. Pours a nearly opaque dark brown, appearing black in the glass. Fine medium brown head with good retention and lots of lacing. Aroma of chocolate and roast coffee, got a mocha here. Sweet toasted dark malt. Flavor of dark toasted malt, quality coffee and chocolate. Starts with dark malt, coffee develops and just as it is about to dominate, finishes with sweet dark malt, chocolate and mild coffee. Medium bodied with hints of creaminess. I really like the balance in this porter; the competing flavors complement each other and the finish is quite satisfying. Nicely done.
611 characters

4.04
/5
rDev
+0.7%
look: 4.25 | smell: 4 | taste: 4 | feel: 4.25 | overall: 4
Pours a very dark brown verging on black, though there is a little light making it through on the edges. Finger and a half khaki brown head that sticks around for awhile. The nose is first of roasted malt, then coffee notes. Finishes with dark fruits and some chocolate. Cherries and plums. Front of the palate is roast with slight chocolate notes before the coffee takes over and lingers. Coffee flavor is well balanced and not too bitter or acidic. Mouthfeel is medium to medium light but velvety smooth. A great example of a coffee porter.
542 characters
Payback Coffee Porter from Speakeasy Ales & Lagers
4.01
out of
5
based on
45
ratings.