Payback Smoked Porter
| Speakeasy Ales & Lagers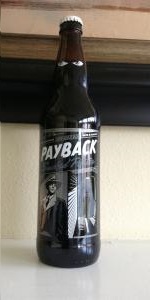 BEER INFO
Brewed by:
Speakeasy Ales & Lagers
California
,
United States
goodbeer.com
Style:
Smoked Beer
Alcohol by volume (ABV):
7.50%
Availability:
Limited (brewed once)
Notes / Commercial Description:
No notes at this time.
Added by elNopalero on 02-27-2013
This beer is retired; no longer brewed.
Reviews: 12 | Ratings: 42

3.03
/5
rDev
-21.9%
look: 3 | smell: 3 | taste: 3 | feel: 2.75 | overall: 3.25
Vintage:2013
Appearance: Pitch Black; Thin Cola/gold ring around the perimeter; Zero head; zero lace
Smell: campfire smoke; smoked meat; chocolate;
Taste: Smoked meat; chocolate; lingering bbq smoke
Mouth-feel: Medium carbonation; balanced malt/hop; dry finish
Overall: Solid Smoked porter; I would like fewer meat notes and additional coffee notes, and a little more head and body.
383 characters

3.68
/5
rDev
-5.2%
look: 4 | smell: 3.5 | taste: 3.75 | feel: 3.5 | overall: 3.75
Very dark, near black in the tall tulip. Beige head lasts well. A little aroma of the campfire. Spritzy on the tongue.
The smoke is distinct, but not overwhelming. Burnt malt and roasted grain flavors along with a whiff of the barbeque. Some moderate sweetness with the malty component. Hops are low-key, but provide some fruity and spicy notes with a little more bitterness. The aftertaste has an undertone of sweet barbecue sauce along with the dark grainy taste.
Quite drinkable with a robust flavor and some scratch in the back of the throat. From the 22 oz bottle bought at Olive Tree Market in San Diego.
613 characters

3.71
/5
rDev
-4.4%
look: 3.5 | smell: 4.25 | taste: 3.5 | feel: 3.25 | overall: 3.75
Bought a bomber from Little's Wine and Liquor in Denver, CO.
Recommended to me & I do like the label.
A&S: huge fizzy brown head that pours around two fingers but fades rather quickly. Little globs of lacing. Jet black colored beer. Aroma consists of predominantly smokey tones(but not as much as you would expect out of a smoked beer) and it is not like an ashtray smokey. Other smells include rich chocolate and hints of wood & dark fruits.
T&M: Again the smokiness is the biggest component of the taste, however more so than in the aroma. Pretty simplistic as far as taste goes, the only other thing I'm clearly picking up is some sweetness upfront and dark chocolate in the finish. On the bitter side in the finish. On the lighter side of medium bodied, low in carbonation.
Overall: Pretty inexpensive going under $6 even after taxes. Labeled a porter, but even for smoked beer is would expect more body, and a little more on the favor. Enjoyable and super drinkable, but not super impressive.
1,001 characters

3.77
/5
rDev
-2.8%
look: 4 | smell: 3.75 | taste: 3.75 | feel: 3.75 | overall: 3.75
A: black bodied beer in a stout flute glass produced a couple of fingers of head; left no lacing to speak of
S: no surprises here: that roasty espresso aroma common to such beers, but with a bold smoky aroma of burnt wood
T: fairly straightforward and predictable (based on the aroma): cold, dry, bitter espresso-ish malts and ample amounts of smoky char
M: medium-to-light bodied, modest carbonation, slick, some coating, bittering
O: a smoky porter, exactly as advertised - probably worthy of higher ratings if you're a big fan of smoked porters and the like; but for me, it seemed rather simple (as opposed to complex) and not particularly compelling. This is probably a matter of personal taste preferences. I have only enjoyed a couple of smoked beers (the Bruery's Smoking Wood Rye and Vlad the Inhaler spring to mind), but in its purest form, it may not be a favorite style of mine, so take my review with a grain of salt (or should I say a breath of smoke?)
969 characters

3.89
/5
rDev
+0.3%
look: 4.25 | smell: 4 | taste: 3.75 | feel: 3.75 | overall: 4
Pours a dark chestnut grown color that appears pitch black and opaque in the glass with mahogany edges and a two finger, pillowy beige head that slowly settles into a thick, lasting ting. The glass is left coated with streaks of soapy lacing.
Smokey and robust dark malt aroma with a really nice balance of smoke, roast and sweeter malt notes. Very nice smoke/Rauchbier character with hints of charcoal, liquid smoke, butane and barbecued bacon. This is complimented by deeply roasted dark malt notes of burnt toast, gourmet espresso bean, bitter dark chocolate and oatmeal. The smoke and roasted malt notes are countered by subtle lighter malt sweetness. I'm picking up sweeter silky chocolate, caramel, toffee and roasted nut. The nose of this beer has nice complexity and great balance. Enough smoke for fans of the style but not overpowering to the point where it smells like liquid campfire.
I'm a huge fan of smoked beers and regular Payback Porter so thankfully this beer doesn't disappoint. I would have preferred a little more smoke but otherwise this is a very solid variation of the regular version. Very well balanced with strong smokiness up front giving off hints of smoked meat, campfire, ash and charcoal but it's not harsh, acrid or overpowering, letting the roasted malts and sweeter notes of regular payback porter come through. The smoke is complimented by robust, deeply roasted malt flavors. Decent amount of dryness with hints of burnt wood, dark roasted coffee bean, bitter dark chocolate, oatmeal and charred toast which is countered by sweeter, dessert-like lighter malt flavors. Some baker's chocolate, toffee and caramel sweetness rounding out the finish. Slightly dryer than I prefer and again, could use some heavier smoke, but otherwise this was an enjoyable beer that's pretty easy to drink considering the style and complexity.
1,864 characters

3.94
/5
rDev
+1.5%
look: 4.25 | smell: 4 | taste: 3.75 | feel: 4.25 | overall: 4
Poured into an Elysian snifter. Pours a very dark brown, appearing black in the glass with a fine light brown head with great retention and lacing. Nice aroma of toasted malt, chocolate and light smoke. Flavor is mellow toasted, slightly charred malt, light chocolate developing and finishing with a healthy smokiness that is overall pleasant but has a slight burning electrical component . Nice creamy medium to heavy body. A nice smoked porter, but the somewhat laid-back malt body may not be tough enough to support the entire smokiness, exposing the slight off-flavor to the smoke. Still enjoyable and well worth drinking.
626 characters

3.95
/5
rDev
+1.8%
look: 4 | smell: 4 | taste: 4 | feel: 3.5 | overall: 4
Pitch black with a beautiful, mountainous tan head.
Black coffee and bacon mix with dark chocolate and cream sherry.
Same as the nose. Dark malts and burnt coffee combine with wispy smoke and charred wood. Soy sauce and bitter chocolate finish.
Minimal carbonation. A little thin.
Not crazy smokey but enough to let you know it's there.The original payback is fantastic and this is a great addition.
404 characters
4
/5
rDev
+3.1%
look: 4 | smell: 4 | taste: 4 | feel: 4 | overall: 4
Very dark black pour. No light has a shot with the darkness of this beer. Not even some lighter notes on the edges. Less than a finger of dirty white head and it doesn't retain well, however, there is a decent lace.
The scent of smoke is very subtle. More like slightly burnt coffee, with some expresso and bitter chocolate hints.
The smoke is far more prevalent in the taste as it gives the beer a bit more depth. I'm not a coffee drinker but it reminds me of the few sips I've had in the past with some cream in it. No one flavor dominates, the chocolate, coffee and char work well together and seemingly are always present at the same time.
Mouthfeel is slightly thinner than I care for, but the smokiness brings the depth I mentioned in the taste. It provides just enough body and feel, and with the charred woody feel, it hits the spot. Still only medium bodied, but it gives you enough to chew on.
Overall, it's an easy drinking beer that hides its alcohol very well. It's not sweet, but it lacks bitterness making is very drinkable.
1,045 characters

4
/5
rDev
+3.1%
look: 4 | smell: 4 | taste: 4 | feel: 4 | overall: 4
smoked porter.
A: Dark coffee bean brown pour produces a steady, and sturdy lasting 2 inch mocha tinted head that had a mashed potato consistency. Heavy thick stratified ring lacing condenscends down the vessel.
S: Sweet smoky cherry wood is very evident with some dried rose petal highlights. Cherry-chocolate hints, roasty and earthy mineral bitterness with a smoldering campfire like leave. Good awareness level.
T: Flavor was bitter of freshly grounded chocolate coffee beans with some fresh oils, a roasty, smoky appeal and a campfire minerality that was like silt on the tongue. Smoldering smoky aftertaste of smoked malt, with a smooth flow and trasistion of flavor complimented by the cherry wood. Good lingering minerality is left behind, silty, earthy feel on the tongue.
M: creamy, smoky, with a light earthy bitterness level touching the back of the tongue. Good viscose feel.
O: Overall very good drinkability, flavor is big and fresh, yet earthy and roasty, smoky, and basically everything you come to expect per style. Would recommend again and buy without hesitation, outstanding all around.
1,116 characters
4
/5
rDev
+3.1%
look: 4 | smell: 4 | taste: 4 | feel: 4 | overall: 4
Pours an opaque black with a foamy dark khaki head that settles to a film on top of the beer. Foamy rings of lace line the glass on the drink down. Smell is of dark roasted malt, smoked malt, and slight band-aid aromas. Taste is much the same with dark roasted malt and smoke flavors on the finish. There is a mild amount of roasty and smoke bitterness on the palate with each sip. This beer has a good level of carbonation with a crisp mouthfeel. Overall, this is a good beer with a solid, balanced smoke presence that makes this one easy to drink.
549 characters

4.3
/5
rDev
+10.8%
look: 4 | smell: 4.5 | taste: 4.25 | feel: 4.25 | overall: 4.25
Black pour, tan head, finger, no real lacing. Meaty aroma, chocolate, coffee, high roast, smoke, char. Smoky undertones, chocolate, coffee notes and plenty roastiness. Good balance, hearty smoke. Creamy, medium body, great drinkability. Looking very forward to the base porter on this.
285 characters

4.55
/5
rDev
+17.3%
look: 4.5 | smell: 4.5 | taste: 4.5 | feel: 4.5 | overall: 4.75
This pours a dark roasty-black color with light foaming. It has a great assertive smoked aroma on it, big and intense, with a wonderful smokey flavor and finish. Thick, heavy, like liquid BBQ. This is not a beginners smoked beer by any means. Of course I loved it.
264 characters
Payback Smoked Porter from Speakeasy Ales & Lagers
3.88
out of
5
based on
42
ratings.