Dismiss Notice
Extreme Beer Fest:Los Angeles
Join us December 9th in Los Angeles for the ultimate throwdown of craft beer creativity!
Learn more...
Dismiss Notice
The Railway Club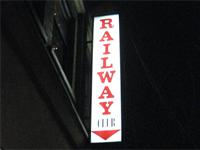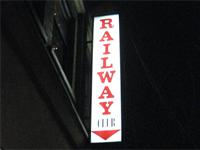 PLACE INFO
Type:
Bar, Eatery
579 Dunsmuir St
Vancouver
,
British Columbia
, V6B 1Y4
Canada
(604) 681-1625
// CLOSED //
Notes:
No notes at this time.
Added by BeerAdvocate
PLACE STATS
Reviews:

12

Ratings:

pDev:

11.91%
HISTOGRAM
Ratings: 15 | Reviews: 12
3
/5
rDev
-25.6%
vibe: 3 | quality: 3.5 | service: 3 | selection: 3 | food: 1.5
This bar is definitely in the seedy, dive bar category, which is not a bad thing when searching for beer. This was the first place I discovered Phillips IPA from Vancouver Island. They tend to always have Phillips, Tree, and Red Truck on tap. If they have the Crannog Backhand of God, thats one of BC's best beers.
Not here to review the food as its bar food. The staff are abrupt but friendly, as you'd expect in any bar.
** Note they do have bands on Saturday nights and charge a $10 cover charge to enter, so even if you want to just drink the beer. So you're better of going earlier than later if you want to sit at the bar and taste some beers.
Bar is right on the corner of Seymour & Dunsmuir. Above the 7/11 as everyone else has stated.
749 characters
3.2
/5
rDev
-20.6%
vibe: 3.5 | quality: 3 | service: 3 | selection: 3.5
The place to go after hours,and a cover fee of $5 on a weeknight, with a DJ and a bunch of craft beer on tap, as I agree with Tigglmtl that BC brewpubs, while frequented and objectively on par with many US cties ,are underappreciated. Nothing special on tap as that can be found in the otherwise unknown Alibi Room nearby.Still friendly but you have to work it as there is a certain mild pretentiousness here and in a number of Vancouver spots.This impressed me as a rather odd club in a city with a lot of odd people.
518 characters

3.4
/5
rDev
-15.6%
vibe: 3.25 | quality: 3.5 | service: 3.5 | selection: 3.25
It has been a few years since I have been there but back in the day it was on route to the now defunked Marine Club, an old Service Mans club where old Frank tinckled the Hammon Organ whilst we drank low end beers.
The Railway is a VCR landmark not so much for the beer selection but more for the history and great mix of patrons.
Go! Have a pint of whatever is on tap and enjoy. You may luck out and see a great local band!
426 characters
3.56
/5
rDev
-11.7%
vibe: 4 | quality: 3.5 | service: 3 | selection: 4
Based on other reviews, this seemed like a good stop while traveling in Vancouver.
Atmosphere: Unique somewhat U-shaped bar above a 7/11 with decent tap selection. Mostly Canadian beers I have never heard of. Not many American Micros at all. The best beer was a Bitter ESB on Nitro that I could have easily drank all day.
Place is easy to find (look for 7-11) and within easy walking distance being only a couple of blocks from Gas town and our hotel. They have bands 7 days a week. Kd Lang and Sarah McLaughlin got their start there. They also had Radiohead play there.
Vibe: They did have one strange policy that we are not accustomed to. We sat at the bar and waited for the bartender to serve us. She noticed us and came over to talk but she did not ask us what we wanted. She left and went to the cash register and then I noticed that people would go up to the cash register to pre-pay for their beer. She then would get the beer and bring it back to them at the bar. Maybe some kind of unique Canadian custom I don't know about? Kinda strange and just a little creepy.
1,079 characters

3.7
/5
rDev
-8.2%
vibe: 4 | quality: 3.5 | service: 4 | selection: 3.5
This is another one of those places that I have been meaning to get to, just to check it out.
Located above a 7-11, I walked past the entrance a couple times before I figured it out.
Mid afternoon, so it was fairly quiet, and no cover charge. Wandered around a bit, then took a seat at the bar.As mentioned previously, no real wait staff, just order yourself. I asked for something local and was offered a Russell Lager - good, but nothing spectacular. Lots of beer, but no real 'Wow" factor.
Seems like a very local, casual, crowd where everyone (staff and customers) know each other.
Would be a good place to come with friends to watch a live band.
650 characters

3.86
/5
rDev
-4.2%
vibe: 4 | quality: 4 | service: 3.5 | selection: 4
Went there with Malto for a pint and realize that as a Vancouverite I should go here more often. The relaxed atmosphere coupled with the warm old wood decor put one in the mood for a good pint. They have a nice selection of B.C. micros on tap including HopHead by Tree and Crannog. Any pub that has these two on tap gets high marks in my book as most Vancouver establishments only serve Ok Springs/G.I /Big Rock. They also have the mighty Merridale Cider in bottles which is rare for any bar. We didn't have food but I will be back to try their grub.
550 characters
4.05
/5
rDev
+0.5%
vibe: 4.5 | quality: 4 | service: 4 | selection: 4 | food: 4
This is a great pub, and probably the best pub above a 7/11. It has a nice dark wood warm feel to it. There is some outside space, tables in front of the stage, a long bar, and more tables at the back away from the stage for those more interested in conversation than tunes. As for the tunes, they focus upon acoustic music. We saw a great local Bluegrass band and a visually and lyrically comical band that was a cross between old country, Queen, Meatloaf, and punk.
The bartenders are friendly, as are the locals who represent a broad spectrum of 20, 30, and 40 somethings.
The food is basic and limited in options, but uses fresh, quality ingredients.
The beer selection is the best I saw in Vancouver. They have Hophead on tap which is the best beer I encountered in my 4 days there.
They also had Hop Goblin, Big Kettle, Unibroue Blanche, Raven Cream, and several other locals and imports. Note that there are a couple of taps that differ between the front and back bars.
Vancouver is no beer Mecca, and my beer ratings for Railway are relative mostly to other places in Vancouver rather than to other cities.
But the combo of good beer, atmosphere, and good local bands every night make the Railway a place I would love to have in my town and a great place to get a taste of Vancouver.
1,306 characters
4.28
/5
rDev
+6.2%
vibe: 4 | quality: 4 | service: 4.5 | selection: 4.5
This tourist found a place two blocks from hotel that serves 20oz imperial pints, so he was sold. The bartenders were friendly and sympathetic to my cause, a soul looking for Canada's and BC's best. Was provided with Tree IPA, Lighthouse Keepers Stout, Unibroue Blanche de Chambly, and basically tried every micro til I got to the larger establishments -- Raven Cream Ale and so forth. A show started up around 10 and the bar was crowded all of a sudden. I still got plenty of attention from the bartenders.
Crowd was mixed but seemed to be mostly 20-30 somethings. I have no idea what this demographic is like in Vancouver but I'd compare them to NYC hipster/boheme. Got to chat with a variety of people (apparently I don't seem like someone from the NYC area, whatever that means) and learned a bit about the local culture.
I didnt notice at first, but the establishment is fairly large. The bar spans a narrow area between the stage/performance seating and the back room, and a model train track hangs from the ceiling. I didn't get to see the train in motion but I could imagine it. There's an outdoor area, as well. The whole place sits on the second floor but the stairs are wide and easy to navigate even when bombed.
Not much to compare it against other local establishments, but this tourist was more than satisfied with the selection my stomach could handle. The bartenders were nice enough to point me to other places -- notably, Yaletown Brewing (?), though unfortunately, on the last night of my visit. A good experience, and good vibes all around. The memory comes back with me to the East Coast.
1,619 characters
4.38
/5
rDev
+8.7%
vibe: 4 | quality: 4.5 | service: 4 | selection: 4.5 | food: 5
Once again took the advice of malto and headed to the Railway Club. This is a very quant not bar feel but almost clubby. The atmosphere at first site looked dull and full of an older crowd. When we sat down an english speaking man welcomed us and was quite pleasant to talk to. We chatted about Europe as I have been there a couple of times backpacking and we had a great time. The service was great. They had a wide variety of canadian micros, I stuck with the granville island brew, very impressive and crisp. The selection of beer I thought was great because it was beers you would never see on tap back home. The food here was excellent. My wife had fajitas that were spectacular. I went with the burger and it was huge. The Railway Club is so eccentric, I absolutely loved it, I will drive 2 hours from Seattle exclusively to come to this bar. Got to love Canada. They have some very unique bars.
901 characters
4.45
/5
rDev
+10.4%
vibe: 4.5 | quality: 4.5 | service: 4.5 | selection: 4.5 | food: 4
This place is truly a Vancouver legend. It's got such a refreshing, old-fashioned, no-hassle atmosphere that is a massive break from most of the egotistically charged places in this city.
They really do have a good beer selection and I also like how their is no table service - no pressure, just head there if you're looking to have a good time and listen to some good music. The last time I was there, I went to watch my girlfriend's stepbrother play - it was very chill and I had a great time.
What makes this place a diamond in the rough is also the fact that it is located in a pretty seedy area. Nevertheless, I love this place and I try to go there as much as I can.
674 characters

4.5
/5
rDev
+11.7%
vibe: 4.5 | quality: 4.5 | service: 4.5 | selection: 4.5
This is a nice place that is located on the second floor of a nice building on Dunsmuir street. The atmosphere is great. Cozy with a nice bar and many dark wooden tables, booths, and the like. There is also a toy train that runs throughout the entire upstairs bar area. a nice touch. The quality of the beers here is great. Personally I really liked the hopgoblin IPA and had no incentive to switch it up to something else. The pints are big 20 ouncers and come in traditional dimpled, heavy glass English mugs. another nice touch! Service was fast and friendly, and I got into some great chats about many different topics with some locals and the bartender on duty. Good times. Selection is good as well, this may not consider itself a "beer bar" but the selection is the best, or one of the best in the area, with at least 20 micro draughts on tap with plenty from Granville Island, Spring, Raven, Tree, and more! The pints are on the pricier side, but hey the atmosphere and the service more than make it worth it! They also serve 20 ouncers too, so the prices arent really bad at all when you take this into consideration. They have live music here most nights, and charge a cover after a certain time of night. But if you are lucky like me you will get some free admission tickets :-) Cheers, the more I write about this place, the more I realize how cool it is! Definately one of the best in Vancouver, or anywhere!
1,421 characters
4.65
/5
rDev
+15.4%
vibe: 4.5 | quality: 5 | service: 4.5 | selection: 4.5 | food: 4.5
After dragging my bandmates on a three hour wild goose chase across Vancouver (having just landed in the fine city for a gig), we finally located this place (I was just getting them adjusted to the new time zone). This place was like heaven, we were tired, hungry and (of course) very, very thirsty. The atomosphere was rustic and the damp oceanic mountain air was blowing in from the patio and windows, it really felt at home. No table service (which I really like), so I bought the first round. I walked up to the bar and exclaimed:
"We have come all the way from Toronto because we heard you have hoppy beers out here!" The bartender happily recommended several. I brought over three dimple mug pints of Tree Hophead (and a pint of Blanche de Chambly for our keyboard player). I swear it was the best pint I have ever had. I then sampled many local beers, including an incredible ESB and fairly good stout. The food (also with no table service) was equally great and reasonably priced. It might have just been the ridiculously long anticipation for this place, but I doubt it, this is one gem of a pub!
1,108 characters
The Railway Club in Vancouver, BC, Canada
Place rating:
4.03
out of
5
with
15
ratings