Hibernian Restaurant And Pub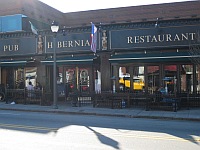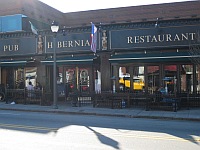 Bar, Eatery
311 Glenwood Avenue
Raleigh
,
North Carolina
, 27603
United States
(919) 833-2258 |
map
hibernianpub.com
Notes:
Recent ratings and reviews.
| Log in to view more ratings + sorting options.
Ratings by MuddyFeet:
Reviewed by MuddyFeet from North Carolina
2.48
/5
rDev
-27.9%
vibe: 3 | quality: 2.5 | service: 3 | selection: 1.5 | food: 3
Not sure why this place is in Beerfly because it hardly qualifies, but I will review it and begin by saying that it is by no means a place to visit if you are looking for beer. All they have are the stereotypical Guinness, Harp, Carleberg, Bass Pale Ale and one or tow other non-attention grabbing tap offerings. Bottles included just American macro swill.

Atmosphere is alright and tries to stay true to an irish-style pub but it feels like everything was pulled right out of a couple of crates. All the tiems look like antiques but after closer inspection they begin to look more like they are laundered remade authentic items made to look old. Neat Irish style bar though, but other than that to call this a true Irish pub is a stretch. Too much of a forced feel.

Service is hit or miss in my experience. We sat outside once and our waitress was awesome. Another time we sat inside and hardly saw her. We gave up on her and went to the bar to get our own drinks eventually. Food is decent enough with all the typical pub grub offerings.

I will only revisit this place if everyone else wants to visit but otherwise I have no real desire to visit again as a beer bar.
Mar 20, 2007
More User Ratings:
Reviewed by garyh
3.24
/5
rDev
-5.8%
vibe: 5 | quality: 2.25 | service: 5 | selection: 2.75 | food: 1.25
Very nice people working there. Beer selection limited. Had the Traditional Irish Breakfast. Eggs not cooked to order, raw and gooey. Though it was supposed to have black and white pudding, only came with one. They included baked beans which, most places that I have had the breakfast, fortunately do not. Leave the baked beans out. The Irish Sausage are NOT Irish sausage - they are instead a horrible concoction that tastes like American sausage. I would advise you go to a real Irish neighborhood for a truly legitimate Irish breakfast.
The pub seemed to be full of fake-antiquity, non-wood "carvings" that seemed more like styrofoam made to look wood-ish. Didn't seem like a real Irish bar, and I've been to many, both in the States and in Ireland.
Feb 28, 2022
Reviewed by brewman63 from Pennsylvania
2.88
/5
rDev
-16.3%
vibe: 3 | quality: 3 | service: 2.5 | selection: 3 | food: 3
Stopped in for a few pints one everning while in the area for work back in April. It's your typical Irish-bar look-alike you see popping up everywhere. The beer selection is pretty decent.

The food selection is okay and the quanlity is okay also. The service could be better.

At times I felt I was imposing on the bartender to have him get me another drink. It is a fairly decent sized place with the "ambiance" of an Irish pub.

I wouldn't avoid this place but I wouldn't run back either.
Jun 09, 2010
Reviewed by SaCkErZ9 from South Carolina
3.33
/5
rDev
-3.2%
vibe: 3.5 | quality: 4 | service: 4 | selection: 1.5 | food: 4
I was in the downtown area enjoying a beautiful day outdoors and stumbled upon this place. I was just killing time and had no idea it was here. I have been to the Cary location and was happy with the food so I darted in here for lunch.

Atmosphere was pretty nice. I sat in the bar area but they had all of the doors and windows open because of the picture perfect weather. I was the only one here so I was not disturbed.

Service was friendly and prompt. The selection,m however, is horrid. As metioned, all they had was macro imports: Stella, Guinness, Strongbow, Harp, Bass, Fat Tire, Boddingtons. Nothing at all selection wise.

The food was damn tasty as usual. I have never been let down. Today I had a lunch special which was a turkey, bacon, cheese, pico de gallo wrap with poblano pepper and chicken soup. Delicious.

A nice atmosphere and good food, but the beer leaves much much much to be desired.
May 20, 2009
Reviewed by PatrickJR from North Carolina
3.4
/5
rDev
-1.2%
vibe: 4 | quality: 4 | service: 4 | selection: 2 | food: 3
First of all, this is hardly a beer bar. I went here the other night to catch a friend playing some music and was a little less than thrilled with the beer selection after seeing this listed on BeerFly. That said...

Great atmosphere. Dark, old, and cozy are the best words I can come up with. A very nice look to it, and as more people showed up it got a bit crowded but I did like the coziness.

The quality was good, I tried almost all of the draught offerings they had and all were quite fresh and most benefited highly from the nitro taps.

Our service was also great, much better than most bars with live music. The waitress was very attentive and neither my wife or I had to sit around with an empty glass.

Selection...what selection? Standard import stuff on tap such as Guinness, Carlsberg, Harp, Smithwick's, Boddington's, Bass, Stella Artois, and even a Shock Top thrown in. Bottles weren't much better, mostly BMC products. Really no "craft beer" at all here.

My wife got a big-ish salad that she wasn't too fond of but I enjoyed picking at for a bit. Nothing outstanding but certainly not bad.

Prices seemed reasonable, and they served 20 oz servings of beer.

Would I go back for a night out or another show? Sure! But there is absolutely no reason to visit the Hibernian for their beer.
Mar 27, 2009
Reviewed by Neehan from North Carolina
3.8
/5
rDev
+10.5%
vibe: 4.5 | quality: 4 | service: 4 | selection: 3 | food: 4
A very nice pub with a friendly atmosphere and service. It was an enjoyable stop in Raleigh after catching a concert. Good music here too especially for the size of the pub. I had a reuben here that I really enjoyed and my friend said that the fish and chips was outstanding. The beer selection here is pretty average in my opinion, not too many choices that you wouldn't find in most bars, and I would go here for the atmosphere over the beer anyhow. I would definitely go back here if I were in the area again, and would probably go frequently if I lived in the Raleigh area. Again, if going here solely for the beer you may be disappointed but if going to have a good time you certainly will not be.
Oct 22, 2006
Reviewed by tommy78 from North Carolina
3.88
/5
rDev
+12.8%
vibe: 4 | quality: 4 | service: 4.5 | selection: 3 | food: 4
Located in downtown Raleigh, this Irish pub has a good following. The bartenders, mainly Irish and English, know how to pour good pints, especially Guinness. Stand fare when it comes to beer selection: Bass, Guinness, Harp, Carlsberg, etc. The waitresses, some of which are attractive ;), bring good vibes and prompt service. The menu is standard Irish pub grub. Thumbs-up to the Bogman's Burger and the Shepards' Pie. The place is hopping, especially on Friday and Saturday nights. However, be sure to leave before midnight. For some odd reason, after 12:30am, the Hibernian becomes Fight Night at the Apollo. However, this shouldn't stop you from going. Enjoy it...I know I do.
Nov 06, 2005
Reviewed by yosh from North Carolina
4.38
/5
rDev
+27.3%
vibe: 5 | quality: 4.5 | service: 4.5 | selection: 4 | food: 4
The Hibernian is a traditional Irish Pub located in downtown Raleigh, NC. The atmosphere is warm, friendly and dark and is inviting to anyone that may be passing by. The beer selection is good and they offer the traditional Irish Beers (Guinness, Bass, Harp, etc).

There is a lot of seating inside as well as minimal seating outside. The wait staff is extremely helpful and pleasant to deal with. They have great food and offer a late night menu of snacks and appetizers.

Monday nights is Trivia night hosted by the owner where the winning team each week gets $100 credit at the bar. Also free beers, shots, clothing and even trips to Ireland can be won from week to week.

Also they have live music from time to time.
Aug 04, 2003
Hibernian Restaurant And Pub in Raleigh, NC
Place rating:
3.44
out of
5
with
12
ratings