Wild River Brewery & Pizza Company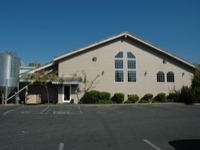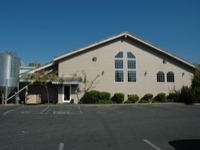 Brewery, Eatery
595 NE E Street
Grants Pass
,
Oregon
, 97526
United States
(541) 471-7487 |
map
wildriverbrewing.com
Notes:
Reviews by BarrelAgedForrest:
More User Reviews:
DOCRW from Washington
4.1
/5
rDev
+7.6%
vibe: 4.25 | quality: 4.25 | service: 4 | selection: 4 | food: 4
Feb 04, 2015

stouts4me from Illinois
3.75
/5
rDev
-1.6%
Definetly good pizza and brews are not bad either, guest taps, so plenty of choices, will go again if in area.
Aug 24, 2014

chinchill from South Carolina
3.63
/5
rDev
-4.7%
vibe: 3.75 | quality: 3.75 | service: 3.75 | selection: 3.25 | food: 3.75
Seven beers on tap provide good variety, including very light (Kolsch) to very dark (stout) to very hoppy (IPA). Enough flat screen TVs to satisfy sports fans. Above average pub food. Plenty of free parking. Limited bar seating, but plenty of tables plus a large 'bar' that seats/stnds about 20 people.
Jul 13, 2014


PapaGoose03 from Michigan
4.1
/5
rDev
+7.6%
vibe: 3.5 | quality: 4 | service: 4.5 | selection: 4 | food: 4.25
This was my second visit to this brewpub, and both times I ordered a sampler flight so that I could experience each of the beers. I typically don't enjoy the light-flavored beers (Kolsch, Honey-Wheat and Pilsener) but I did drink enough of them to determine that they are brewed right to style. The other beers (IPA, ESB, Nut Brown, Imperial Stout) were also right on style, and were tasty.
The food that I had at each visit has been very good, and the menu has enough selections beyond the pizza choices so that anyone coming here would be satisfied to find something to their liking.
A nice bonus that I discovered when leaving was that they had a barleywine in bottles for sale to go. (There was no barleywine offering on the pub's beer menu.) I don't know if it is the Cave Bear Barleywine that is listed on their website (8.1% abv) or something else because this one had a sticker with 11% abv on the bottle. This is a delicious barleywine (I'd call it English-style because the malt was very prominent when compared to the flavor from the hops), so if it is ever on the pub's beer menu it is a must-try beer.
I was just visiting this area from Michigan, but when I travel this way again I'll stop here for food and drink.
May 10, 2013
mjurney from Texas
4.05
/5
rDev
+6.3%
vibe: 4 | quality: 4 | service: 4 | selection: 4 | food: 4.5
Grants Pass, Oregon.
It's big place for resturant and small tap room, but gets very crowded during weekend night. It's a great place for all ages. I really like how they design the place, mini brewery next to the tap room, I really like the upstair view, boat hang on the ceiling looks awesome.
Has a nice beer selection from ESB, IPA, Pilsner, Hefe, Stout, etc. Also their seasonal beer Maibock (spring), Porter (summer), Oktoberfest (fall) and Barlywine (winter). Also they made their homemade rootbeer for all ages.
My favorite beer is their IPA.
Food is excellent, especially their pizza. Their sandwich is great too.
Service is friendly.
The Pricing is reasonable.
Jul 18, 2010
rayjay from Hawaii
3.75
/5
rDev
-1.6%
vibe: 4 | quality: 4 | service: 3 | selection: 4 | food: 4
Came in off the 5 for some dinner and a beer or two.
Huge place! Good for families. No bar, though. Reminds me of a restaurant on a college campus. Lots of young people working, who aren't particularly beer savy.
I got a few 4 oz samples and like what I had: pils, kolsh, IPA, and imperial stout. I especially liked the stout; not world-class but very enjoyable. IPA was very good too.
Food was pretty tasty. Good house dressing, pizza was okay, pasta was good, raspberry cheescake was top notch. Pretty good match for beer.
Service was average. We had a very forgetful waiter who ignored us for long periods of time, but he made up for it with some freebies. He busted my balls a little for what we ordered, but all in good fun I suppose.
I'd go here again. A good stop right off I-5 if you're on a long drive.
Sep 11, 2006
MLegendre from Oregon
4.05
/5
rDev
+6.3%
vibe: 3.5 | quality: 4 | service: 4 | selection: 4 | food: 5
I've been coming to Wild River ever since I was a little kid, and now that I've recently have become a BA, I've been coming here more often. Since I'm so familiar with this place I figured it was time to review it. It is a very, very big restauraunt. Three storys. A ground level, an upstairs dining area and also a lower dining area as well as some seats outside. My favorite place to sit is upstairs. Most of the tables up there are by big windows which allow you to look out at all the big beautiful hills of Grants Pass. Depending on when you come it can be either very quiet and chill, or very busy and noisy... either way, it's very enjoyable and with so many tables never too crowded. Now to be honest, the beer they brew is pretty mediocre. They have a pretty decent IPA, a weak, but tasty Imperial Stout, and if you're there in late summer a very good Blackberry Porter, as well as many other seasonal and brewed year-round beers. They definitely have a better beer selection than any other restaurants or bars in Grants Pass. Though the beers are mediocre, the food here is absolutly amazing. First off they aren't lying about the pizza, it is some of the best pizza I've ever had, but if you're not in the mood for pizza, they have some killer burgers, sandwiches, pasta, salads, and lots of other things. My current favorites are The Dockside, a shimp and avocado Sandwich and the Imperial Stout Burger. The staff is very friendly, though the waitresses do lack information about the beer. But fear not because they head brewer is always there and more than willing to talk beer or give a tour of the brewery. Anyone in the area I highly recommend stopping by and enjoying some killer pizza and some tasty beer.
Aug 09, 2006
Troyone from California
3.88
/5
rDev
+1.8%
vibe: 4.5 | quality: 4 | service: 4 | selection: 3.5 | food: 3.5
Located in the beautiful valley area of Grant's Pass, this is a nice establishment to appreciate the area. Spacious windows for viewing the area in the upstairs dining area and the seating area near the counter bar(?). There is another dining area downstairs, I do not remember if there is any view from there.
All stainless steel tap nozzles and did not see the kitchen. The counter area near the taps and cask engine had four stools and there were at least three stools around the corner of the L- shaped counter.
Very friendly and knowledgeable (they're trying) staff.
Same options as the one in Cave Junction only there is a cask option here. Same possible notables as the one in Cave Junction with the added Honey Wheat on cask as a definite notable. They have refridgerated glasses here as well but not for the cask. Ironically the glasses stored near the counter for the cask were right side up.
The food was alright with some healthy options.
reasonable
Jun 12, 2005
beercollector from Oregon
4
/5
rDev
+5%
vibe: 4 | quality: 4 | service: 4 | selection: 4 | food: 4
So do you like boats hanging from the ceiling?? This is a neat place. Big open space with upper level and bar area and lower level. I like the bar or the upper level. They also have a small game area if you have kids along.
The german style beers are done very well the Hefe and the kolsh are nice. I generally have there pizza from the wood fired oven. They also have salads and other main dishes to round out the food.
Since this beer is not widely distributed I generally buy a case to take home. The prices are good and the beer is really good.
Mar 27, 2005
RedDiamond from Oregon
4.25
/5
rDev
+11.5%
vibe: 4 | quality: 4 | service: 4.5 | selection: 4.5 | food: 4
Wild River brews most of their beer and serves wood fired pizza at their main restaurant in Grants Pass. The restaurant is fairly large, with a distinctive robin's-egg blue exterior and a pleasing architectural design that allows for open, spacious dining on three levels. Midway between the lower and upper levels, a full sized motorboat hangs suspended from the wall with a stuffed teddy driver. Your kids will think this is pretty cool. They'll stare at it in delight, jump up and down eagerly, and want to climb up and play around on it. But as the restaurant manager told me, "Hey, what the hell are you doing? Get off there before I call the cops!"
Actually, the management and staff were very cordial. They told me I was the only patron who'd ever requested that my beer not be served in a chilled glass. They were also very quick to smile warmly and answer my zymurgenic inquiries. They feature 12 house taps covering seven regular beers, five rotating seasonals, and periodic special offerings. They also make their own root beer.
Although this is the best place to find a Wild River beer, there is no actual bar here. There's no booze, no bottles (except house beers to go), and no guest taps. If you wish to sit at a bar you'll need to walk a half block down the street to the Wild River Pub and Publick House. The restaurant has large potted trees (not plants mind you, but actual potted trees) and enough ambient light to keep them happy. They serve pasta and calzone but are most well known for pizzas cooked to order in wood fired ovens. Check out their "Baitbucket" pizza if you're an anchovies fan. Wild River also serves some fabulously tempting desserts.
The brewery resides behind glass in the northwest corner of the room and features a substantial bottling line. Though Wild River brews a number of award winning beers – notably their zesty IPA and their clean, traditional ESB – I've had bad luck with their bottles. To avoid an old brew, check with the management as to when their beers were most recently bottled.
Wild River also brews beer in Cave Junction and operates a pizza restaurant in Brookings. And if you need a CO2 dispensing unit for your homebrewing system, they sell them at the Grants Pass restaurant.
Dec 21, 2004
Wild River Brewery & Pizza Company in Grants Pass, OR
Brewery rating:
3.6
out of
5
with
73
ratings