Michigan Brewing Hamtramck Beer
| Michigan Brewing Company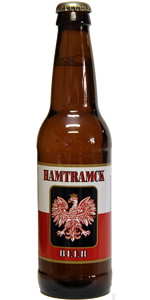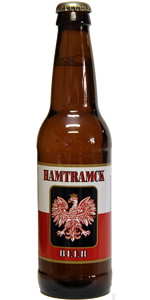 BEER INFO
Brewed by:
Michigan Brewing Company
Michigan
,
United States
michiganbrewing.com
Style:
American Adjunct Lager
Alcohol by volume (ABV):
not listed
Availability:
Year-round
Notes / Commercial Description:
No notes at this time.
Added by BeerAdvocate on 05-21-2002
This beer is retired; no longer brewed.
HISTOGRAM
Ratings: 13 | Reviews: 13
None found.
More User Reviews:
2.93
/5
rDev
-1.7%
look: 3 | smell: 2.5 | taste: 3 | feel: 2.5 | overall: 3.5
Poured from a 12 oz. bottle into a pint glass.
A: Pale yellow gold in color with about a finger's worth of white soapy foam head, quickly dissipating to a very thin white ring of bubbles. Good lacing early on.
S: Pale malt, honestly with a slight sort of stale smell (yeast?). There is some slight hop aroma on the nose as well.
T: Pale malts mix with some hops that have an earthy sort of character to them. Light bittering mixes with that earthiness leaving the final taste a little rough. Finish has a sharp flash of bitterness with a sweeter malt before lingering to that typical American Macro taste.
M&D: Lighter mouthfeel at first that heads to waterness as it rolls over the tongue. Abundant carbonation persists. Not a bad beer overall but not one of the better ones either.
787 characters
2.86
/5
rDev
-4%
look: 3.5 | smell: 2.5 | taste: 3 | feel: 2.5 | overall: 3
A beer named after my old hometown...had to try this one.
It is cloudy yellow color with a little head. Smells earth-y and sweet of malt, some hints of alcohol noticed as well. It tasted like malts and hints of the alcohol. The carbonation gives way to the tingling in your mouth. Not a bad beer, but nothing impressing. Okay for a macro lager.
345 characters

2.35
/5
rDev
-21.1%
look: 2 | smell: 2 | taste: 2 | feel: 3.5 | overall: 3
A very pale beer that at first I though it was an albino. Medium head retention that only pop ups to finally ran away from me face before the end of the race.
her smell is very cerealic, adjunct like. very shy notes of hops and malt. A very breadish taste is present. Maybe too smooth for my taste, quite light
313 characters
2.33
/5
rDev
-21.8%
look: 3 | smell: 2.5 | taste: 2 | feel: 2.5 | overall: 2.5
Part three of "Clean out the drawer of my beer fridge". Pours a very light gold in color. Very cloudy and no head. Smell is very vegetal and corn like. Very off. Taste is very much the same. It's not very often that a craft beer makes me want a Bud, but this is severly lacking. Not good.
288 characters
2.75
/5
rDev
-7.7%
look: 2.5 | smell: 2.5 | taste: 3 | feel: 2 | overall: 3
Acquired via trade from plaztikjezuz, so a big "Thank you" goes out to him. Poured from a 12oz bottle into a US tumbler pint glass.
A: The beer is a light gold color, with a thin white head that fades quickly and leaves very little lace on the glass.
S: The aroma is of light malts, grain and a little hops.
T: The taste is bready with a little sweetness. There's a little bit of hops in there as well. It's pretty straight-forward and plain. The after-taste is slightly sweet.
M: Smooth and crisp, light-to-medium body, medium-to-high carbonation, kind of fizzy, finish is clean.
D: A little tasty, goes down easily, not too filling, I'd rather drink this than your regular macros but if I'm going to drink a macro-style beer from a micro-brewery, I might as well drink something more substantial from that micro-brewery.
839 characters
2.74
/5
rDev
-8.1%
look: 2.5 | smell: 3.5 | taste: 2.5 | feel: 2.5 | overall: 2.5
Semi cloudy golden color with a medium white head that rises and falls in the matter of seconds. Aroma is stronger than expected. Canned corn and grassy earthiness dominate. Something in there also reminds me a bit of Hawaiian sweet rolls. Decent overall. Taste is definitely malt dominate. Not watery at all either. More of a corny flavor dominates but its like cereal type corn. Honey bunches of oats anyone? Really lacking in hops and other flavors to counter the sweetness. A touch metallic toward the finish. A bit too sweet and really a touch thicker than I'd expect a lager to be. Not recommended.
604 characters
3.79
/5
rDev
+27.2%
look: 3 | smell: 4 | taste: 3.5 | feel: 3.5 | overall: 4.5
Sampled on 6-23-08
Bottled on 3-27-08
Pours a slightly cloudy pale yellow, with no real head and chunks of lacing.
Smell is sweet, and even a little malty. Fruity near the end, with a hint of hops.
Taste is unoffensive and light, slightly bready but with a noticeable hop sweetness in the finish.
Mouthfeel is right for the style, bubbly yet substantial.
Drinkability is very good, nice and refreshing.
Overall, a macro lager. But, quite a good one.
455 characters

3.48
/5
rDev
+16.8%
look: 3.5 | smell: 3 | taste: 3.5 | feel: 3.5 | overall: 4
A typical macro lager. Poured out to a golden color with a touch of brown, with a short lived foamy head. Aromas of malt and some hops. Taste was quaffable, but boring. Typical hops, malt and grain flavors did well together, but were far from special. Mouthfeel was good, heartier than the day to day lager that you'll find in most stores. A good level of drinkability. If this brew was available, and I wanted a macro style lager, this would likely be a choice. Worth a try.
475 characters
3.15
/5
rDev
+5.7%
look: 3.5 | smell: 3.5 | taste: 3 | feel: 3 | overall: 3
Undated 12oz poured into a pilsner.
Pale gold with lots of carbonation supporting two fingers of white that shows good retention and leaves wispy lace.
Smells grassy with some grains. Has an aroma of Czech malts and some slightly spicey hops come through in the end.
The taste is less interesting than the nose. Starts off with some smooth malts, then there's this blank spot in the middle that is watery followed by drying hops. Awkward. The mouthfeel is light and watery, drinkable but boring.
504 characters
3.45
/5
rDev
+15.8%
look: 3 | smell: 3 | taste: 3.5 | feel: 3.5 | overall: 4
Pours a clear golden, lightly carbonated, and thin. It smells pretty weak too--I can perhaps pick up some very light caramel malts. However, the taste is what keeps me from classifying this as a plain macro clone. The malt is much more discernible with the malt aftertaste also being more apparent compared with a macro lager. I tend to go for the heavier brews, but as far as "pale lagers" go, I'd much rather drink this guy. It's got a much more satisfying flavor than the macros do.
485 characters

3
/5
rDev
+0.7%
look: 3 | smell: 3 | taste: 3 | feel: 3 | overall: 3
A pretty decent offering from the Michigan Brewing Company. Very similar to Polander or Zywiec's offering. Nice use of the Lublin hops to give this a nice, lightly bitter taste on the finish. Hamtramck is a small city next to Detroit that is famous for its Polish inhabitants. This beer supposedly sells quite well there and is making its way into stores througout Michigan. Interestingly, the Michigan Brew Co. is putting this out in 4-packs of plastic bottles. The beer tasted fine from the bottle. A nice, light offering.
524 characters
3.42
/5
rDev
+14.8%
look: 3 | smell: 3.5 | taste: 3.5 | feel: 3 | overall: 3.5
I had no idea what to expect from this beer. After all, the name is hardly a good discriptor. I found it to be similar to your typical American Light Lager, but with a little more flavor. Like if you had taken a bud and intensified the flavors one or two notches.
So while I found it to be more satisfying than a typlical American Lager, and very drinkable, I prefer a beer with more flavor.
I probably won't be buying a six pack of this any time soon, unless it's for a Polish friend. (The marketing is worth something here.)
528 characters
2.5
/5
rDev
-16.1%
look: 2.5 | smell: 2.5 | taste: 2.5 | feel: 2.5 | overall: 2.5
Pretty plain beer. Pale gold with a white head. Too similar to macrobrews. It's a shame. I love drinking at the New Dodge Lounge on Packzi day with all the other drunken firemen from around metro Detroit. I love Golubkis, Perogies, Kielbasa, and pretty young Polish girls. But this beer is mediocre. It's kind of an insult to Polish culture.
341 characters
Michigan Brewing Hamtramck Beer from Michigan Brewing Company
Beer rating:
2.98
out of
5
with
13
ratings