Michigan Brewing Superior Stout
| Michigan Brewing Company
BA SCORE
80
good
59
Reviews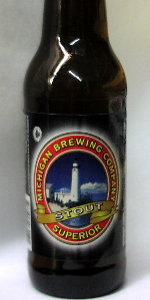 BEER INFO
Brewed by:
Michigan Brewing Company
Michigan
,
United States
michiganbrewing.com
Style:
American Stout
Alcohol by volume (ABV):
5.50%
Availability:
Year-round
Notes / Commercial Description:
No notes at this time.
Added by BeerAdvocate on 06-17-2002
This beer is retired; no longer brewed.
Reviews: 59 | Ratings: 64

3.87
/5
rDev
+10.9%
look: 3.5 | smell: 4 | taste: 4 | feel: 4 | overall: 3.5
at the 122 pub, had a hudge head, i dont think the bartender knew how to pour a beer. it was jet black and the head was off-white.
the aroma malty, little burned, and coffee.
the flavor is malty, coffee, dark malts, minerally, some fruitiness.
the mouthfeel was a little slippery.
beer is very drinkable year round.
side note: this was a fresh batch, usually it takes a fews weeks for the flavors to get propper, the coffee becomes more pronounced.
463 characters
3.97
/5
rDev
+13.8%
look: 3.5 | smell: 4 | taste: 4 | feel: 4 | overall: 4
Another winner from MBC. They are consistent.
Poured as a stout should, but the head didn't last. It did leave little ringlets of lacing along the glass as I went along. All in all though, there are better *looking* stouts.
Smelled of roasted coffee mixed with either dark chocolate or bakers chocolate; either one is bitter, but still chocolate. Juuust like a good stout should be.
I tasted the roasted coffee up front that mellowed to a buttery taste. I really like that about this beer - the buttery taste at the end. The kciker for me was that the buttery flavor didn't become apparent until about a third of the way through the bottle. Before that, it was just coffee and chocolate. Floral hops throughout, but not overpowering.
All in all another great offering. Great session beer that is exactly what a "good" stout should taste like.
854 characters

3.77
/5
rDev
+8%
look: 3.5 | smell: 4 | taste: 3.5 | feel: 4 | overall: 4
Pitch black beer with a nice opaque and beige head.
Smell of espresso, roasted coffee and black chocolate haunt that beer. Her taste is bitter that greatly rolls with the aromas of coffee and black chocolate but a finish of hops comes ends that beer. Some smoked flavours were also present, but were hard to difference between roasted and smoked.
350 characters
3.97
/5
rDev
+13.8%
look: 3.5 | smell: 4 | taste: 4 | feel: 4 | overall: 4
Undated 12oz poured into a pint.
Black. Small head that is light tan and falls to a veiled ring in a moment. I've noticed a lot of MBC beers leave rings of lace that mark each swallow and look like the high water marks on an old bridge. This is one of those brews.
Smells very roasty with cocoa and baker's chocolate. Dry, floral hops come through in the end. Yep, how a stout should smell.
Again, the roasted malt flavors come through upfront. Nutty with a few drops of heavy cream. Just enough bite from the hops, but the roasty flavors carry through the finish. The mouth full, but finishes clean with a tingle from the carbonation. A solid stout that deserves better distribution.
693 characters

3.26
/5
rDev
-6.6%
look: 2.5 | smell: 4 | taste: 3 | feel: 3.5 | overall: 3
Superior Stout from Michigan Brewing poured black in the glass. The cream color head was short, very short. Aroma was mostly chocolate and coffee, with a little fruit mixed in. Flavors contained cocoa and had a roasted finish. Carbonation was modest. The body was full.
This wasn't bad, though the head was disappointing. It just wasn't assertive enough flavor wise.
369 characters
4.03
/5
rDev
+15.5%
look: 4.5 | smell: 4 | taste: 4 | feel: 4 | overall: 4
Purchased from the brewery itself and consumed that same evening in December, 2004. Poured moderately thick with a 2 finger light brown head. This beer is too dark to see through. There was no sediment in the bottle. Smells of orast coffee and almost equally of chocolate. Cool and sweet. With much searching, I also pick up a metallic edge. Tastes first of coffee roast followed by chocolate and ending with more roast plus a mild cherry sour. Mild carbonation and a medium-thick body. The first sips were a bit too sweet, but the later sips are now a bit too dry roasty. I'm a bit surprised at the strength of the chocolate in this stout, but it plays quite well with the roasted grain flavors. This is an enjoyable stout that I'm happy to recommend.
752 characters
3.78
/5
rDev
+8.3%
look: 4 | smell: 3.5 | taste: 4 | feel: 3 | overall: 4
Dark brown, almost black in color with a creamy tan head that sticks around and leaves some lace. Roasted aroma with coffee and a hint of dark chocolate. Flavor follows the aroma, roasted grain, dark chocolate, and some malt sweetness. Not much from the hops, roasted grain gives the bitterness. Finishes up a dry with a lingering roasty bitterness. Thinner then I expected, light-medium in body, and smooth. Good drinkability.
427 characters

3.28
/5
rDev
-6%
look: 4 | smell: 3.5 | taste: 3 | feel: 3 | overall: 3.5
Pours a deep brown/black with little head and no lace. Aroma is farily light but chocolate and coffee arise. Taste is pleasant upfront but the backside is somewhat light and watery. Not an unpleasant beer just doesn't have enough body to make it really good.
258 characters
3.94
/5
rDev
+12.9%
look: 5 | smell: 3.5 | taste: 4 | feel: 4 | overall: 4
Yet another sampler at MBC taproom. Has a burnt coffee smell, but in a nice way. This seems to be even darker than a Guinness. This seems to focus on producing a dark roast coffee smell and taste, and that's there for certain. I certainly like it a lot, but it may not be for others.
283 characters
Michigan Brewing Superior Stout from Michigan Brewing Company
3.49
out of
5
based on
64
ratings.