Golden Ale
| Orchard Street Brewery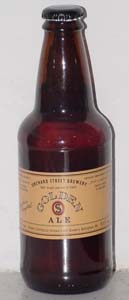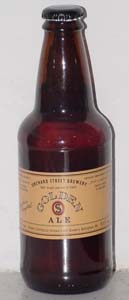 BEER INFO
Brewed by:
Orchard Street Brewery
Washington
,
United States
Style:
American Blonde Ale
Alcohol by volume (ABV):
not listed
Availability:
Year-round
Notes / Commercial Description:
None provided.
This beer is retired; no longer brewed.
HISTOGRAM
Ratings: 10 | Reviews: 9
Reviews by NeroFiddled:
3.75
/5
rDev
+11.3%
look: 3.5 | smell: 3.5 | taste: 4 | feel: 4 | overall: 3.5
Carefully poured off of the yeast sediment it's fairly clear; but it also takes a bit of a rough pour to bring the head up! The creamy bright-white head holds fairly well and leaves some spotty lace. The aroma is distinctly malty, entwined with some floral hops. The hops don't really come through as they're cloaked by the malt, nor is the malt enhanced by the hops... instead, the nose is a rather dull combination. Quite odd, although I don't find any defects. The flavor, however, is a different story with a bold hop bitterness and some clear grassy & floral hop flavor taking the leading role. Some fruitiness appears as it crosses that palate, clarifying that it's an ale (although it's also very much like a pilsner). The malt lingers somewhat flabbily in the dry finish. Fortunately, the medium/light body combines with a very fine and brisk carbonation (from bottle conditioning) to give it a nice crispness in the mouth that's nicely refreshing. Unusual.
965 characters
More User Reviews:
2.38
/5
rDev
-29.4%
look: 2.5 | smell: 2 | taste: 2.5 | feel: 3.5 | overall: 2
12 oz brown stubby bottle with no freshness date.
Appearance: Big time foaming head, lots of bubbles and chunky yeast in the cloudy golden colour.
Smell: Extreme doughy aroma of yeast and malt, lemon hop in the back is nearly hidden.
Taste & Mouthfeel: Highly carbonated with a dry smoothness and light to moderate body. Soft yeast throughout and floury breadiness from the malt. The spicy hop bitterness make an impression with lemon flavours on the side. Ends on a yeasty note with a lingering lemon peel and dry grain huskiness.
Drinkability & Notes: Not my bag baby, I'm into clean golden ales … a little yeast goes a long way but a lot of yeast is just in the way. Not horrible but not good either, I had trouble finishing the beer.
761 characters

4.1
/5
rDev
+21.7%
look: 4 | smell: 4 | taste: 4 | feel: 4 | overall: 4.5
Very light straw hue. It's crystal clear (if you don't pour out the sediment)... looks like a pilsner. This brew smells like wort! Aroma consists of malty sweetness, with some Hallertauer derivative in the nose, but it's difficult to place the exact hop. The taste-- very well balanced hop and malt character. Since it's light in body, but high in flavor this is the ultimate "lawnmower" beer. I could drink a lot of this and be satisified.
446 characters

3.08
/5
rDev
-8.6%
look: 3.5 | smell: 3 | taste: 3 | feel: 3.5 | overall: 3
A golden colored ale, good carbonation, serious head that stays. A kind of fizzy, bitter, complex hop/malt taste.
114 characters
3.44
/5
rDev
+2.1%
look: 4 | smell: 2.5 | taste: 3.5 | feel: 4 | overall: 4
Golden amber color, large head. Lightly hopped, light malts, very fruity, nice banana and clove flavor . Mild taste, but with a lot of flavor. Mouthfeel is full and round. Finish is clean and smooth. Aftertaste is slightly sweet, very little bitterness.
253 characters
2.77
/5
rDev
-17.8%
look: 2 | smell: 2.5 | taste: 3 | feel: 2.5 | overall: 3
Pours faintly hazed amber orange with a very small head only because of a vigorous pour in the last half of the process. Unfortunately, it's very weak looking. The smell is slightly sweet light baked bread and a grainy background. The taste consists of light buttered bread, slightly astringent hop bitter tapering into with slight alcohol on the tail. This is a very light bodied beer that finishes almost watery thin.
Notes: I was all around dissatisfied with this beer. It's weak in all areas and started off bad by the thin body that barely produced a head. There's better out there! Cheers!
598 characters
3.48
/5
rDev
+3.3%
look: 4 | smell: 3.5 | taste: 3.5 | feel: 3 | overall: 3.5
Clear gold color with foamy white head that quickly disapates; aroma sweet and malty; taste sugary sweet and smooth; mild body; refreshing beer for mild and summer weather.
172 characters
3.93
/5
rDev
+16.6%
look: 4.5 | smell: 4 | taste: 4 | feel: 3 | overall: 4
Came in a 6-Pack from Trader Joes ($4.99). The 12 fl.oz brown bottle is the short stubby type. All Orchard Street Brewery beers have generic labels; the one for Golden Ale is nice Orange color.
To press I have only had the Orchard Street Pale, which was obviously made from high quality ingredients, but not quite to my taste, a bit too sweet. The Golden Ale is much more to my tastes, and more akin to the style by which it is named.
The beer pours a very clear, although lumps of flocculated yeast were evident in the bottom of the Bottle, which I avoided pouring. Color is of pale yellow fresh straw, with exceptional clarity. The head is white, extremely rocky and very frothy. Looks fantastic, top marks.
Aromas are superb; the freshness of this beer just jumps right out of the Glass and into your Nasal Cavities, no inhaling is required. Nose is comprised of freshly mown grass, hops, spice, hops, pine needles, hops and some malt-sweetness. Marvellous. Initial taste is of a very fruity, hoppy beer that is extremely refreshing and highly quaffable. Mouthfeel is light, as is the Body of the beer. In the middle the malt-sweetness makes an entrance and the beer then exhibits a mildly bitter lingering astringent finish. Well-Balanced, hops and malt are just right, almost perfect I would say for this style. After the disappointment of the Pale Ale, this is highly impressive and more than makes up for it.
I will be back at Trader Joes to stock up on a few more 6 Packs – that's for sure.
Note: What really f**king annoys me though, is that no strength is indicated on any of the Orchard Street Breweries packaging or the bottles labels, and the Website Address listed on the Packaging, http://www.orchardstreetbrewery.com does not work either!!!
1,765 characters

2.77
/5
rDev
-17.8%
look: 3 | smell: 3.5 | taste: 2.5 | feel: 2.5 | overall: 2.5
Ok 12 oz brown stubbie purchased at Trader Joes were i got the same breweries Stock Ale which I hated..but everyone deserves a second chance.
OK bad pour with this beer way too much frothy bubbly head and a was pouring very very carefully..below the half glass head the beer is a darkish honey golden....some yeast in suspension..loads of carbonation strings visiible.
Smell is above average for a Golden ale..very "bready"..and zesty..ok.
Taste though is thin and somewhat medicinal..espcially near the end..there are some good malt profiles early though thin.
Way too carbonated for my palate,,though the dryness of the beer was pretty nice.
I dunno..two beers from this brewery and I am not too impressed..maybe its the handling by the store..but I will avoid this brewery from now on.
793 characters
4
/5
rDev
+18.7%
look: 4 | smell: 4 | taste: 4 | feel: 4 | overall: 4
Appearance – Light, hazy orange in the body with a decent head that frothed up nicely and even left a little lacing.
Smell – Nicely balanced aroma of sweet, orangish malts and a whole bunch of different hops. The pine, which is soft yet distinctive, is my favorite.
Taste – The pine and orange flavors come out right away followed by the malt, a bit of caramel, and floral hopping. This is very complex and substantial.
Mouthfeel – I think this one just barely qualifies for medium-bodied, although I could be mistaken. It is very creamy and smooth.
Drinkability – You can't ask much more out of a Golden Ale than this. This was a wonderful experience, especially after the disappointing the Oatmeal Stout & Pilsner.
734 characters
Golden Ale from Orchard Street Brewery
Beer rating:
3.37
out of
5
with
10
ratings