Appenzeller Hanfblüte
| Brauerei Locher AG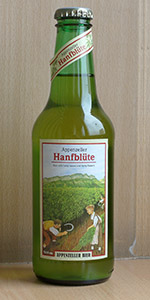 BEER INFO
Brewed by:
Brauerei Locher AG
Switzerland
appenzellerbier.ch
Style:
Herbed / Spiced Beer
Alcohol by volume (ABV):
5.00%
Availability:
Year-round
Notes / Commercial Description:
No notes at this time.
Added by Globetrotter on 08-25-2004
Reviews: 9 | Ratings: 16
1.45
/5
rDev
-56.7%
look: 1.5 | smell: 1.5 | taste: 1.5 | feel: 1 | overall: 1.5
not sure what to say about this brew .... Although I appreciate the effort by the brewer, I cannot approve the result .... but then again this is my very first 'hemp beer', so I don't know if it should actually taste like this .... if this one is typical for the style, then I don't mind missing all the other samples ...
ah, the taste? difficult to describe, dominated by licorice but backed by something like a very nasty pharmaceutical drug ... btw the smell is as awful as the taste ...
★
491 characters
3.14
/5
rDev
-6.3%
look: 3.5 | smell: 4.5 | taste: 2.5 | feel: 2.5 | overall: 3
Brought back by a friend who travelled to Switzerland.
Appearance: Opaque and golden peach, the head was silken and bubbly.
Smell: Ever been to those head shops that sell "tobacco pipes" and overpriced Bob Marley tie-dye t-shirts? The lingering odor in those stores is exactly what you'll experience after one whiff of this Beer. Pungent, resinous hemp aroma, it's spicy and peppery like patchouli incence. To quote the Simpsons: "It smells like Otto's jacket". Finally, a hemp Beer that actually smells like the real McCoy.
Taste: Soft carbonation, taste is very herbal and sticks to your palate long after your first sip, but is a little lacking in body as it goes down, it could really use some malt to balance out the shrubs. Not bad for a novelty Beer, I'm sure most potheads will enjoy but nothing very spectacular.
★
830 characters
3.25
/5
rDev
-3%
look: 3 | smell: 3 | taste: 3.5 | feel: 3.5 | overall: 3
Purchased at the Appenzell store. Swing top 58 cl bottle. Light carbonation, more yellow than gold and a small wisp of a head that faded quickly leaving very small traces of lacing.
Taste up front was nice and smooth due to lack of carbonated sting on the tongue. First taste of unsalted cashew or pine nuts, quite dry and no hint of that slight sweetness of other beers from this brewery. Mouthfeel was warm and mild, yet nutty and fairly interesting. The finish was lightly hopped and pleasant. The label says that hemp was once used to flavor beer. Hemp, is there anything it can not do?
★
591 characters
3.35
/5
rDev 0%
look: 3.25 | smell: 3.25 | taste: 3.25 | feel: 3.75 | overall: 3.5
500ml Bottle from Drinks of the World, Basel (4 CHF):
Strange but interesting, I was expecting a pale lager going in but instead got tonnes of spice, herbs & particularly strong hemp flavours. Unusual & surprising with it growing on me the more I drank, it was unlike anything else I've drank but I'm unlikely to pick it up again.
★
330 characters
3.48
/5
rDev
+3.9%
look: 4 | smell: 3.5 | taste: 3.5 | feel: 3 | overall: 3.5
Found this green 33cl bottle in a Moscow supermarket. The label depicts two men and a women harvesting a huge field of cannabis plants, with hills in the background. I lived in Switzerland for three years, and never saw such a product, so had to try it. Ingredients include extract of hemp flowers and leaves. Best before 10/12/04, I opened it on 8/25/04.
Pours a hazy light gold under a fairly creamy one finger white head that lingers well and leaves some nice lacing. The nose has a definite flowery sweet note, with a touch of lime. The mouth is heavily carbonated and a tad too light. The taste reminds me of a fermented fresca or sprite: definite malt tones, but the dominant impression is lime sweet and very fizzy. There is no hops profile at all, but the aftertaste is almost chewy with the grain and leafiness. This is one of the better hemp brews - quite drinkable.
★
879 characters

3.54
/5
rDev
+5.7%
look: 3 | smell: 4 | taste: 3.5 | feel: 3 | overall: 3.5
A: Slightly hazy yellow color with a foamy white head and good retention.
S: A trace hemp aroma underlying a mild spicy note
T: Taste is slightly herbal at first. There is no hops component but a slight grassy aftertaste.
M: Warm and light with soft carbonation
O: Quite drinkable novelty beer. Great Aroma,
★
313 characters

3.72
/5
rDev
+11%
look: 3.5 | smell: 4 | taste: 3.75 | feel: 3.5 | overall: 3.5
Definitely one of the most unique beers I've tasted (I do not have the beer in front of me sadly, so I'll just have to give a general overview).
Look --> pale, slightly hazy straw/gold color
Nose --> had strong hints of rosemary and other spices (i.e. thyme, rosemary)
Taste --> spice flavors did not overwhelm and quickly dissipated, leaving behind a refreshing malty finish
Definitely will try again...was unusual at first but after about 30cL it definitely grew on me. Not for everyone, but definitely worth a taste!
★
526 characters
3.79
/5
rDev
+13.1%
look: 3.5 | smell: 4.5 | taste: 3.5 | feel: 3 | overall: 4
Pours nice golden with dense white head that fades to dense white layer and full of small carbonation bubbles. Aroma is amazing, the best I have felt in hemp beer, it feels like lingering next to coffee shop entrance in the Netherlands.
Taste is significantly milder hemp malt with herbal bitterness in the finish and light sweetish aftertaste with hints of hemp. Mouthfeel is light-medium with below medium carbonation.
Overall, the flavour was average, but I enjoyed the aroma immensely.
★
491 characters
4.07
/5
rDev
+21.5%
look: 3.5 | smell: 4 | taste: 4 | feel: 4 | overall: 4.5
Thanks to the parents for bringing this one back from Drinks of the World in Luzern. Split between family members at a hotel using less than perfect glassware (or paperware). Still, on to the review!
A - Slightly hazy rich straw colored body topped by a bone white head with great retention.
S - Holy crap, this takes me back to camping, it smells like rope! Scratchy, scratchy, usefull hemp rope! Some nice spicy notes lay underneath the expressive hemp aroma, but almost no malt aroma.
T- Faint lemony flavor appears backed by an even fainter dry malt presence. Curious if this has some wheat malt... The hemp again shows up in the finish, with that nice expressive hemp spiciness, with very little bitterness to get in the way.
M - This beer is lightly carbonated, which works well with the soft flavors of the beer. The Body is also on the ligher side, but again it seems to make sense with the rest of the beer.
D - One could say this beer is a one trick pony, as this could be seen as a light beer with a flavoring gimick. I have to say though I think this was really well thought out. The hemp is not an overpowering spice, and the beer is made to make the most of it. The light tartness of the malt and the lack of hops allow the hemp to highlight the beer, without creatinga mess. Also, this beer seems to scream for seafood, or some nice chicken and thyme. Well crafted.
★
1,386 characters
Appenzeller Hanfblüte from Brauerei Locher AG
3.35
out of
5
based on
16
ratings.