Gusta Dark
| Anadolu Efes Brewery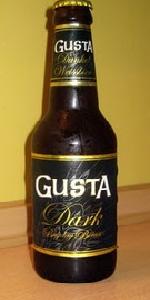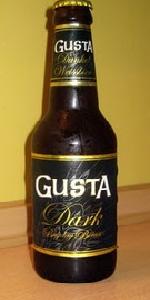 BEER INFO
Brewed by:
Anadolu Efes Brewery
Turkey
efespilsen.com.tr
Style:
Dunkelweizen
Alcohol by volume (ABV):
5.50%
Availability:
Year-round
Notes / Commercial Description:
No notes at this time.
Added by tpd975 on 08-03-2009
HISTOGRAM
Ratings: 12 | Reviews: 5
Reviews by breweryaprntc13:
2.1
/5
rDev
-23.9%
look: 1.5 | smell: 1.5 | taste: 2.5 | feel: 2.5 | overall: 2
"Interesting" brown color, cloudy, dirty white head that leaves little lacing.
Weak aroma, malts, not much too it. slight grainy undertones.
Surprisingly good considering look and aroma, but not anything impressive. roasted malts, hints of coffee, mildly rich, hints of wheat.
Decently rich body with good carbonation and overall light presence.
Considering the rest of the Efes family, its one of the better options in turkey, but would have a place in my fridge back in the states.
487 characters
More User Reviews:

3.23
/5
rDev
+17%
look: 3 | smell: 3 | taste: 3.25 | feel: 3.25 | overall: 3.5

3.33
/5
rDev
+20.7%
look: 4 | smell: 3.5 | taste: 3 | feel: 3.5 | overall: 3.5
Pours a coppery amber colour with lots of dusky haze in the glass. Head is off-white, nice and dense with tightly packed bubbles. Good retention; no visible carbonation and small trail of lace. Looks pretty good.
Smell is quite malty but with a big musty wheat aspect to it. Lots of caramel toffee at the front, but with sour hints of tobacco, mould and dust. When I swirl it, I get more sweetness, but it's slightly lacking in complexity.
Taste is also fairly sour. Fair underlying grainiess that's not overly sweet. Large tomatoey note on the mid, with some sour wheat and floral nectar making a timid appearance. Back is almost funky, with uncooked vegetable notes, tart vinous characters and a very slight cola character. A bit odd, and lacking in areas. I feel it could be better with more sweetness or something more on the back - either bitterness, as it's weakly sour more than anything. More spice would help as well. Just can't enjoy it that much. I need more and I can't help but feel how much better I might have liked it. If it were different.
Fairly good body, a bit of puckering from sourness on the back, but just an iota. Pretty good texture.
Yeah it's a decent enough dunkel, just find it a bit lacking in places.
1,238 characters

3.72
/5
rDev
+34.8%
look: 3.5 | smell: 4 | taste: 3.5 | feel: 3.5 | overall: 4
Pours a muddy and cloudy brown, quite turbid, but light bodied. Head is fine and light, but solid enough, a slightly bale beige, almost with twinges of pink to it. Minimal lacing, minimal carbonation, but it would be hard to see in the cloudy body anyway. Looks pretty decent.
Nose has some subtle banana esters on it, with a slightly ringing acidity. Hint of dark and sweetly malty grain characters, and almost a light herbal aroma. Pretty light on overall, but it has some genuinely pleasant characters.
Taste is light, but it definitely has some pleasantly classic weizen characters - skewed towards the slightly acidic end of the scale. More banana characters, with a deeper brown bread and grain huskiness on the back. Very minimal sweetness on the palate, and it finishes quite dry once the acidity clears up. Light phenols come through to add some final bite. It's actually very tasty. Slight astringency on the palate, and it has a biting suction to it that gives a cleansing character.
It's a very decent dunkelweizen, possibly too acidic and less sweet than the best examples, but it has some genuinely pleasant characteristics.
1,141 characters


2.68
/5
rDev
-2.9%
look: 3 | smell: 2.5 | taste: 2.5 | feel: 3 | overall: 3
I found a new Efes beer, its good news considering that it is all there is in Turkey.
A: Pours a bizarre color of brown. Very cloudy almost like mudd puddle water. Small dirty white head with some okay retention and lace.
S: Simple aromas of wheat and dark bread.
T: Not as good as the regular Gusta. Rater one dimensional and somewhat lacking in taste. Wheat notes are there along with hints of roast. Sort of watery without the wonderful flavors found in other Dunkel Weiss beers.
M: On the lighter side of medium, good carbonation actually.
D: Not soo great. I thought the darker version of this beer may be a bit better than the regular but I was let down. Okay for Turkey, but not very good to be honest.
724 characters
2.82
/5
rDev
+2.2%
look: 2.5 | smell: 3 | taste: 2.5 | feel: 3.5 | overall: 3
Nothing like a regular dunkelweizen, really. It pours a very muddy brown and has a faint smell of malts and dark bread.
The taste is sort of like watery coffee-beer, some roasted malt quality but nothing else. One-dimensional, very little flavor.
That said, I enjoyed drinking it because the mouthfeel is really light and, if style-un-characteristic, I was scared of getting something heavy and loaded down with nasty taste from the appearance. Instead I got something with a somewhat pleasant taste that went down somewhat easy.
531 characters
Gusta Dark from Anadolu Efes Brewery
Beer rating:
2.76
out of
5
with
12
ratings