Bomonti
| Anadolu Efes Brewery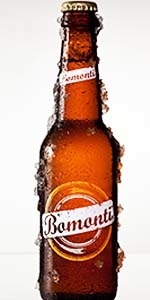 BEER INFO
Brewed by:
Anadolu Efes Brewery
Turkey
efespilsen.com.tr
Style:
Euro Pale Lager
Alcohol by volume (ABV):
4.80%
Availability:
Year-round
Notes / Commercial Description:
No notes at this time.
Added by BlackHaddock on 07-23-2010
Reviews: 9 | Ratings: 50
3
/5
rDev
+11.1%
look: 3 | smell: 3 | taste: 3 | feel: 3 | overall: 3
A - brown bottle with what appears to be painted label. poured into tulip glass provided at restaurant in North Cyprus (Turkish). golden straw color with slight head that settled quickly.
S - Cereal, grain, some malt
T - Much like the smell, some light floral hint, tasted nice enough with very slight sweetness, I believe this is supposed to be Efes premium style.
M - medium body with no offensive aftertaste, refreshing.
O - Based on the beers of Turkey/North Cyprus, it went down nicely. I don't know that I would seek this beer out in any sense, it was simply average across the board as if their only goal was to not offend.
635 characters

2.93
/5
rDev
+8.5%
look: 3.25 | smell: 2.75 | taste: 3 | feel: 2.75 | overall: 3
A gift from my cousin who just holidayed in Turkey. 500ml bottle. Pours a pale golden colour with a clear body & a big foamy white head. Aromas of grains, grass, bread & malt. Tastes of grains, grass, bread, honey & sweet malt. Aftertaste is sweet, grainy & malty.
265 characters
2.65
/5
rDev
-1.9%
look: 3 | smell: 3 | taste: 2.5 | feel: 2.5 | overall: 2.5
Brown 50cl bottle poured into a pint handled glass in my hotel room on a very, very hot day in Ovacik, Turkey.
This is a supermarket beer (I assume) because I didn't see it in any bars while out in Turkey.
Looks and smells like a regular lager/pilsner, golden, bright, clear and more or less odourless.
The flavours were poor and weak, a watered down Efes Pilsner in all aspects. It was boring and had no redeeming features at all.
440 characters
2.65
/5
rDev
-1.9%
look: 2.5 | smell: 2.5 | taste: 3 | feel: 2 | overall: 2.5
Pours a light golden color with a large frothy white head that quickly recedes to leave medium lace clumps and a barely noticeable layer of sporadic head.
Grainy nose, slight antiseptic smell, acidic, hints of sweet malts, overall weak aroma.
Grainy flavor just like the nose, hints of floral hops, some sweet caramel malt undertones.
Smooth bodied, medium carbonation, slight sour finish.
Drinkable but not anything to write home about.
441 characters
2.61
/5
rDev
-3.3%
look: 3.5 | smell: 2.5 | taste: 2.5 | feel: 3 | overall: 2.5
Thanks to JLindros for sharing this bottle.
A - Poured into a Kate the Great tulip a crystal clear piss yellow hue with a one finger white head that leaves thin wisps and a halo.
S - Aromas of strong malts and cereal grains.
T - Taste is similar to the nose with lots of malts and heavy grain. Very one dimensional.
M - Mouthfeel is crisp and clean with nice light carbonation.
O - Overall this isn't a bad euro pale ale fairly average. Glad I got to try!
461 characters
2.58
/5
rDev
-4.4%
look: 3 | smell: 2.5 | taste: 2.5 | feel: 3 | overall: 2.5
Thanks to a coworker/friend for bringing this back from Turkey for me to try.
Light fizzy head fades fairly quickly, little lacing, crystal clear golden chill hazed light pilsner color.
Nose light euro pilsner, light macro lager, some pilsner malt, light hint of saaz like hops, light mineral filled water,
Taste starts with a Euro pilsner, light and slight unhappy lager almost skunk, little bad lager, light sweet adjunct sugar additive, hint of bitterness more from bad lager than from the light hops, hint of lager fruit and pilsner. Finish has more light bad macro lager flavors slight skunk like and light sweet lager but fairly dry.
Mouth is lighter bodied, decent carb.
Overall meh, not a great beer but better than most trash pilsner beers, but not too bad.
771 characters
2.56
/5
rDev
-5.2%
look: 3 | smell: 2 | taste: 2.5 | feel: 3 | overall: 3
Smells like an antiseptic bubble gum, with a grainy flavor with some hints of sweet malt. Inoffensive mouthfeel, but slightly sour with more of that bubble gum in the aftertaste.
I don't see any advantages over Efes--this is just more watered down, and really smells foul.
274 characters
2.43
/5
rDev
-10%
look: 2.25 | smell: 2.25 | taste: 2.5 | feel: 2.5 | overall: 2.5
330ml bottle as a gift from Turkey:
Clear, light golden & topped with a 2cm, bubbly white head that recedes fairly quickly to leave a tiny amount of lacing around the circumference & nothing else.
Light on the nose with some corn, straw & grassy hops. Some sweetness appears but it's quite bland overall with not all that much going on other than some bitterness towards the end.
Sweet with some corn and various hops, mainly grassy ones with some Saaz too. It was light tasting following on from the nose & a few grains come through from the middle on.
Light with moderate carbonation & some grain. It was easy enough to drink & it's inoffensiveness is probably one of it's best part. There's some light fizz on the tongue around the middle as well but for the most part the beer is quite bland.
My memory is a little hazy but this one doesn't seem all that different from Bomonti Filtresiz to me, it's basically the same type of beer with both coming across as typical, mass-produced pale lagers although this one doesn't seem quite as good as it's predecessor if I'm honest. Not one worth looking out for I'm afraid.
1,123 characters
2.08
/5
rDev
-23%
look: 2.5 | smell: 2 | taste: 2 | feel: 2.5 | overall: 2
A clear straw colored beer. A high white head with no lacing and no curtains.
Smelling of boiled vegetables and some non-specific sourness. Very weak.
Tasting sweet sugar, some alka-seltzer and alkaloid.
Medium high carbonation, a fresh texture. A small body with an un-dry finish.
An uninteresting experience, probably easy to drink for an uninterested drinker.
366 characters
Bomonti from Anadolu Efes Brewery
2.7
out of
5
based on
50
ratings.