The Half Door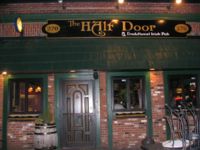 PLACE INFO
Type:
Bar, Eatery
270 Sisson Ave
Hartford
,
Connecticut
, 06105-3136
United States
(860) 232-7827 |
map
thehalfdoorhfd.com
Notes:
No notes at this time.
Added by pbrian
Reviews: 25 | Ratings: 30

4.41
/5
rDev
+7.8%
vibe: 4 | quality: 4 | service: 4.5 | selection: 5
Found this place doing a search on Yelp, after landing at Bradley and having to wait for my luggage. Red Sox were on the TV, bartender was friendly, waitresses were cute and the beer selection was great (if maybe a little too cold on the bottles). I didn't get a chance to eat, but made the effort to stop back a second time after getting my luggage. Customers (mid afternoon/early evening) were very friendly, asl well.
Old school Irish bar in one of those borderline safe neighborhoods of Hartford. But when you are inside, it is as cosey as your favorite neighborhood bar. Easy access from route 84.
603 characters
4.28
/5
rDev
+4.6%
vibe: 4 | quality: 4.5 | service: 4.5 | selection: 4 | food: 4
At dinner there last night and the Shepard's Pie was great. The salad was so-so, but who goes to a pub for the salad?
Their draft selection is ok. A little to heavy on the larger production UK/Europe stuff. But they have DT on tap, so its ok. Their bottle selection is where they shine. Lots of rare and some aged stuff. Can get a little pricy, but they are expensive beers and again some are aged.
Had a Belgian Imperial Stout I had never had and it was great. Almost ordered one of the rare 750s for myself, but I had to drive and I felt a little weird getting a 750 for myself (especially the 12% Biere De Garde that I was eying)
Service at the bar was great. I might go back tonight.
690 characters
4.56
/5
rDev
+11.5%
vibe: 5 | quality: 4.5 | service: 4.5 | selection: 4.5
I go to this place just about every time I visit my girlfriend at home and it is absolutely superb. The times we've gone on the weekends they've had very good bands that seem to play a variety of well-done covers, originals and traditional music, and when there was no band, the music was nice as well. The vibe is very nice with a dark wood bar greeting you when you walk in, booths lining posts in the middle, and raised tall-back booths along one the side. It's a dark, very homey place, but the real appeal for me is the beer. I've never been to a bar with this kind of beer selection. There are the typicals for an "Irish pub"--Guinness, Newcastle and so on--but there are always different, rotating taps of exquisite craft beers that I've never seen or heard of anywhere else. The professionally attired (white shirt with narrow black ties) and friendly bartenders are always more than welcome to offer a sample of any of their beers. I haven't had any food as my girlfriend's father is an incredible cook, but it's always smelled very good. The one thing that keeps the wonderful, rotating selection from being a 5.0 is that it seems that there are few beers on tap that aren't pricey. Sure, the regulars are normally priced, but they're something you can get anywhere, and the expensive beers are certainly always worth the price, but I know that there are quality craft brews that financially allow me to indulge in more than one and it would be nice to see them offer a few of these as well... or at least post their prices so I don't feel like a cheap ass asking the price every time. Still, an exceptional place that is unlike any other place I've been. And right in the Rising Star of Hartford!
1,707 characters
3.56
/5
rDev
-13%
vibe: 4 | quality: 3.5 | service: 3 | selection: 4
Stopped in the other night for the first time in a couple years. Tiny place right off of the Sisson Ave. exit of 84. Parking is kind of a pain in the ass. It's really small as you walk in with the bar on the right and some tables and booths to your left. Traditional Irish pub they serve the usual fare and have live Irish music on stage. Service is a bit slow, you're better off grabbing your beers from the bar. Nice tap lineup of European brews, Guinness, Spaten, Boddington's, Killian's, Chimay, Old Engine Oil, Harpe, Bass, etc etc. Even more extensive bottle list ranging from English brews to Belgian and Japanese beers. A bit pricey $7.99 for a Sam Smith Oatmeal. Anyways a pretty cool place, good atmosphere. Nice crowd, good beer list. I like to stop by once and a while for a change of pace.
802 characters

4.13
/5
rDev
+1%
vibe: 4 | quality: 4 | service: 4.5 | selection: 4 | food: 4
We stopped in here for some brew and nourishment after a disc golf tourney at nearby Wickham park, Irish themed all the way, beer was varied upon 15 or so taps, many Irish selections as well as a few Belgians (God I love Delerium Tremins on tap) You'll find several very BA worthy brews here on tap as well as some interesting vintage bottle selections. The food we had, a few differant types of burgers, fish and chips etc was all pretty good, friendly service, funky neighborhood, all adds up to making this a good place to try in the Hartford area.
551 characters

3.93
/5
rDev
-3.9%
vibe: 4.5 | quality: 4 | service: 4 | selection: 3.5 | food: 4
I went to the Half Door with a friend on Saturday night for some good beer and grub. I had perused the beer list online before going and had picked out those I wanted to sample. Unfortunately, I was a bit disappointed. My friend and I asked for five different beers before we got to one they actually had in stock. This, according to our waitress, was attributed to a "problem with the distributor". Finally asked for Nostradamus, which they did have and I wasn't disappointed!
The atmosphere was warm and cozy. The bar area wasn't very big and the entire restaurant itself wasn't huge. It's sort of nestled in an unsuspecting corner of Farmington and Sisson Aves. in Hartford. We went in for dinner at around 8 pm and it wasn't crowded. We seated ourselves - no wait time. At around 10 pm a Live band started playing. The music was fun and enjoyable, really a fun atmosphere. After the band started playing it got more crowded. There was a cross-section of ages but more 20somethings than anything else.
The food was very good. As I've said in other beerfly reviews, I am a vegetarian. This was an Irish Pub - generally the two don't mix well. However, one of the first things I noticed on the menu was a vegetarian chili. Delicious! I also partook in the spinach and artichoke dip and the veggie burger (which was a little pricey at $9 considering all you got with it was fries). Also, while the food was excellent, the french fries left something to be desired - I thought an Irish pub would take pride in any potato products but these fries were frozen out of a bag.
The beer was served in the bottle with a glass to pour yourself. Several of the beers we ordered which cost around $7 were brought in the whole pint bottle so you got more than one serving from each. I thought that was a good deal for the price.
Given that there isn't much to pick from in Hartford, I am likely to head back to the Half Door. Given the beers they DID have in stock, I couldn't complain. I might suggest more of a "rotating" beer menu that they can adjust accordingly (the beer menu was more permanent, included in the food menu) so as not to disappoint but once we found something they had, we were happy.
It's a good pick if you're in Hartford. (Despite the lack of parking.)
2,279 characters

4.45
/5
rDev
+8.8%
vibe: 3 | quality: 5 | service: 4 | selection: 5 | food: 4
went to the Half Door for the Great Guinness Toast, had a blast. great bottle selection as you can see below. only negative (what affect the atmosphere score) is that it is little. especially during an event like the toast. food is great. i had a 3pack of mini manwiches, also comes in a six pack. great little place, right off the highway, which is good, i hate driving in Hartford. oh, and they have a Guinness Breakfast, can't wait to try that
The Stouts
Guinness
Dorthy B. Goodbody
Samuel Smith Oatmeal
Youngs Double Chocolate
Mackensons Triple
Beamish
A.le Coq Imperial
De Dolle Xtra
Hitachino Milk
The Vintage
Carnegie 1997
Sinebrychoff 2003
Old Engine Oil Reserve 2003
Aventinus 2001
Gales 2003
The Porters
Samuel Smith Taddy
St. Peters
Entire Butt Porter
Old Engine Oil Old Ale
The Ales
Mc Chouffe
Dorthy B. Goodbody (Butty Bach)
John Courage
Bass
Chimay White
Boddingtons Cream
Old Speckled Hen
McEwans IPA
Newcastle
Samuel Smith Nut Brown
Dorthy B. Goodbody (Our Glass)
Corsendonk Pale or Brown
Nostradamus
Chimay Premiere
Youngs Ram Rod
Youngs Dirty Dicks
Youngs Waggledance
Old Peculier
Spaten Optimator
Unibroue La Finn Du Monde & Maudite
Val Dieu Brown
Duvel
Green King IPA
Burton IPA
Abbot Ale
Blacksheep Riggwelter
Blue Bird Bitter
Belhaven Wee Heavy
Delirium Tremens
Delirium Nocturnum
St. Bernurdus Apt 8
Uerige Original
Hitachino Original
Klosterbeur Dunkel
Adnams Bitterl The Lagers
Carlsberg
Harp
Amstel Light
Orval
Killians Red
Heineken
The Weis Beers
Harviestoun Bitter & Twisted
Hoegaarden
Tsmisje
Konigs Haven Quad
LaChouffe Golden
Schneider Edel Weisse
Aventinus
Schneider Hefe Weizen
Fraziskaner
DeDolle (Mad Bitch)
Burgerbrau (Rye)
Aecht Schlendera Rauchhbier
The Others
Strongbow Cider
Lindemans Peach Lambic
Aventinus Iseboc
Pilsner Urquel
Lindemans Rasberry Lambic
Wostyntje (Mustard Seed)
Liefmans Kriek
Hitachino Red Rice
Miller Lite
Coors Light
Bud
Bud Light
2,019 characters
3.5
/5
rDev
-14.4%
vibe: 2.5 | quality: 3.5 | service: 3.5 | selection: 4.5 | food: 2
The Half Door benefits from being the only decent in-pub bottle selection in town and the taps are better beers (although limited variety) than you'll get most other places in the area. I was introduced to this place by BA and have loved it ever since. Old Engine Oil was my first and still best beer experience there.
It's a bit crammed and on music nights a bit louder and mustier than I'd like (old age I guess). I'd skip any foods there unless you come for lunch I suspect, I always manage to get there quite late.
Parking is a pain in the arse but otherwise it's pretty accessible. Reasonably priced for the offerings and location.
642 characters
3.93
/5
rDev
-3.9%
vibe: 3 | quality: 4.5 | service: 3.5 | selection: 4 | food: 4
half door. jammin on weekends, chill other times.
let me judge this place based on what i had last time.. when i was ready to throw a few bucks down... 33cl bottle of rose de gambrinus, aventinus eisbock, chimay cinq cents draft, la trappe quad draft, and and old engine oil.. not in this order mind you. when i said 'rose de gambrinus,' i didn't even have to repeat myself.
the best bottle selection in connecticut.
love the big knot at the end of the bar, kind of like a mini-table attached to it, perfect for small groups.
only negatives are bands that play too loud, ridiculous weekend crowds, and cover charge.
food is great, especially the cheddar soup and the french dip. the irish nachos or whatever they are are no joke either. good eclectic selection, nice dark pub atmosphere. and this is my neighborhood bar! lucky me.
846 characters
3.85
/5
rDev
-5.9%
vibe: 4 | quality: 3.5 | service: 4 | selection: 4 | food: 4
Very nice little place. I liked the atmosphere and so did the wife. Comfortable and not to shiney. Friendly staff willing to answer questions. It seemed that everyone working took a turn at waiting our table. I overheard that they were short 2 waitresses the night we were there. Very extensive beer list that only suffered from one main weakness....no american craft brews, but also I did not see Bud-slop on the menu Coors and Miller were represented. I had a great Sniender Wiess on draft and the wife really enjoyed her Ephemere Draft. The food was great. I tryed the Cheddar Ale soup as had been suggested by a BA. It was great, deffinitely a hearty pub soup. The only other thing that was a problem is in their present location parking is next to nonexistant. Lastly something the waiter said about thier cask line botherd me " no cask in the warm months because it goes bad and the distributer won't carry any because of the spoilage.
941 characters
3.55
/5
rDev
-13.2%
vibe: 4 | quality: 3.5 | service: 3 | selection: 4 | food: 3.5
On nights with Irish music this place is packed. They have some pretty good bands usually on Wednesday, Friday, and Saturday and sometimes on other days. The list them on the website.
The food is decent. They have a nice beer list. It's also on their website.
I've found the waitstaff to be a little unattentive, probably because of how busy the place is. It's tough to get a seat on music nights and Irish beer night (I think $3 Irish pints).
If you like live Irish music to accompany your beer, then you've found your spot. I actually prefer The Half Door when it isn't so busy.
It's also a good lunch spot if you work in Hartford.
647 characters

4.28
/5
rDev
+4.6%
vibe: 4 | quality: 4 | service: 5 | selection: 4
The Half Door is probably my favorite bar in the Hartford area. The beer is mainly what keeps me coming back, but everything else is pretty solid too. Nice atmosphere. A good amount of seating. Great staff that clears tap lines and gives free samples. They usually have something on cask. Last time it was Adnams Special Bitter.
My only problem, ironically, is the tap selection. I think they could use a few more taps or a slightly altered lineup of regulars. I know it's an Irish pub, but it would be nice to see a few more domestics like Rogue or Victory available. I guess that would go against what they're trying to do though.
635 characters
4.5
/5
rDev
+10%
vibe: 4.5 | quality: 4.5 | service: 4.5 | selection: 4.5 | food: 4.5
I live directly behind the Half Door, and there's not a better place in Hartford in which to have a pint. On tap is a rotating selection of UK and Irish beers, with a few varying, and usually interesting, selections on the west end of the bar. In all seasons except summer there's something available on cask. I've had some really good and rare beers this way, and they seem to do a good job keeping things fresh. I've only once had an "off" beer from the Half Door (Wychwood Hobgoblin), and I go quite often.
Tuesday night is glass night, where you pay more for your first beer but get to keep the glass and subsequently get cheaper refills. Wednesday night all Irish draughts are $2/pint, which usually consists of Guinness, Harp, and Magner's Cider. The place can get pretty busy Wednesdays, so go early to get a table.
Bottle selection is limited to imports, but they have, as PBrian noted, the best Belgian collection in the local area. Pretty decent prices, too. The only domestics available are ones from the big three (which you will always see floating around the bar, even on $2 pint night).
There's a small outdoor seating area for the warmer months, which is nice as the inside can turn into an ashtray at times (Connecticut has passed a smoking ban for such establishments that will go into effect in the spring of 2004). The bands are often too loud for conversation inside, and generally are pretty mediocre cover bands that play the same four or five standard Irish drinking songs, but that's about the only drawback of the place. If they'd cut the volume on the bands to a reasonable level, I'd be hard pressed to find a fault with the bar.
Friendly bouncers, excellent bartenders, and hospitable waitstaff. Really, this is a gem in a town sorely lacking in fine establishments. If you're ever in the area, send me a beermail and we'll have a pint on me.
1,875 characters

4.35
/5
rDev
+6.4%
vibe: 4.5 | quality: 4.5 | service: 4.5 | selection: 4.5 | food: 3
Great place in an area that needs it. Awesome tap list and bottle list. Great Irish and UK selections and they know how to serve them. Old Engine Oil on tap? How cool is that? Atmosphere reminded me of a real Irish pub. In fact, some Irish tourists came in and were standing near us at the bar and said "This place is great, it feels just like home." The food was average to disappointing, but if you come for the beer, you will not be disappointed.
449 characters
4.33
/5
rDev
+5.9%
vibe: 4.5 | quality: 4.5 | service: 4.5 | selection: 4 | food: 4
The Half Door is an upscale "authentic" Irish Pub that manages to stay away from a theme park feel. During the day and early evenings, it has a nice relaxing neighborhood bar atmosphere. There's live music a couple nights a week and it's a pretty small place and a lot of people go there, so it gets loud and crowded during these times. The menu is a combination of apps/salads/sandwiches/entrees that are all done very well and fairly reasonably priced.
The beer: Someone please correct me if I'm wrong, but the Half Door is the only place in Hartford where Belgian beer other than Stella or Chimay is available. And some good ones too: Vervifontain, Quintine Amber, Hercule Stout, La Chouffe... There's also a large emphasis on bottled conditioned English Ales. And some good rotating taps as well. Last time I was there I had a Harviestoun Old Engine Oil draft served in the right glass at the right temperature. In Hartford, I swear. Take a look at their beer list. It's good. http://www.thehalfdoor.com/beer.htm
All-in-all, it's the best place in Hartford to enjoy good beer. Go there.
1,096 characters
The Half Door in Hartford, CT
4.09
out of
5
based on
30
ratings.