Dos Equis Dos-A-Rita
| Cervecería Cuauhtémoc Moctezuma, S.A. de C.V.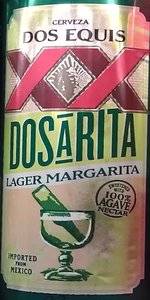 BEER INFO
Brewed by:
Cervecería Cuauhtémoc Moctezuma, S.A. de C.V.
Mexico
cuamoc.com
Style:
Fruit / Vegetable Beer
Alcohol by volume (ABV):
7.20%
Availability:
Year-round
Notes / Commercial Description:
No notes at this time.
Added by iTunesUpdates on 05-26-2014
Reviews: 2 | Ratings: 13
3.79
/5
rDev
+49.8%
look: 3.25 | smell: 3.5 | taste: 4 | feel: 4 | overall: 3.75
One of the few "margarita" beverages that doesn't taste sickeningly sweet. If you think this is sweet, you haven't tried the Bud Light line of products. Tastes more like a lager-hybrid as the label says than a malt beverage.
224 characters

2.52
/5
rDev
-0.4%
look: 3 | smell: 3.5 | taste: 2 | feel: 2.5 | overall: 2.25
The creator of The CANQuest (tm) was in Chicago for the umpteenth time at the end of SY 2014-'15 and people scoffed at him since the plan was to return for today's GTMW, but I struck while the iron was hot. It was a good thing that I did as work precluded me from going again this year.
From the CAN: "The Original Dos-A-Rita"; Sweetened with 100% Agave nectar"; "Imported from Mexico"; "Introducing The Original Dos-A-Rita"; "Handcrafted in Mexico, the Dos-A-Rita combines two traditional Mexi[CAN] favorites: the Margarita and Dos Equis Lager. Sweetened with 100% Agave Nectar, this great tasting blend of authentic margarita flavors and lager makes a perfectly balanced and satisfying [CAN]bination. Served cold over ice, it is the perfect [CAN]pliment to a summer day or an interesting night."
I Crack!ed open this monster of a 24-fl. oz. CAN, but I could not initiate an inverted Glug due to its size. My aggro pour netted a fizzy finger of eggshell-white head with limited retention. Color was Golden-Amber (SRM = > 5, < 7) with NE-quality clarity. Nose smelled like the little bottle of ReaLime that my maternal grandmother kept in her reefer when I was a kid. She was a hardcore teetotaler so I am sure that she used it for cooking. Mouthfeel was medium, but sticky. The taste was very lime-like, but it was also as sweet as it could possibly get. Jesus! I felt diabetic shock with every sip.The finish was semi-dry, thanks to the lime juice, but it left me with a sticky, CANdy-like feeling in my mouth. Final tally = no bueno!
1,541 characters
Dos Equis Dos-A-Rita from Cervecería Cuauhtémoc Moctezuma, S.A. de C.V.
2.53
out of
5
based on
13
ratings.