Bohemia Chocolate Stout
| Cervecería Cuauhtémoc Moctezuma, S.A. de C.V.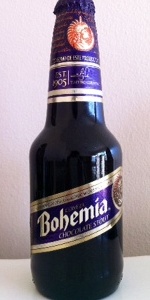 BEER INFO
Brewed by:
Cervecería Cuauhtémoc Moctezuma, S.A. de C.V.
Mexico
cuamoc.com
Style:
American Stout
Alcohol by volume (ABV):
5.70%
Availability:
Limited (brewed once)
Notes / Commercial Description:
No notes at this time.
Added by BretSikkink on 11-11-2011
This beer is retired; no longer brewed.
Reviews: 9 | Ratings: 27

3.18
/5
rDev
-7.3%
look: 3 | smell: 3 | taste: 3 | feel: 3.75 | overall: 3.5
This beer is not retired its back in stock but only for winter and in mexico. This actually doesn't taste like a stout, it taste a lot like the original bohemia but with coffee notes. Actually taste more like an dark lager. Smooth beer. Not as dark but very good beer to drink. I like the flavor. :D
300 characters
4.03
/5
rDev
+17.5%
look: 4.5 | smell: 4 | taste: 4 | feel: 4 | overall: 4
Most of the previous reviews of this beer are from those that I guess we're expecting a true handcrafted microbrew taste. You understand what you are drinking and gauge your expectations accordingly...I would not expect an outstanding stout produced by Budweiser...and the current reviews of this beer seem to be expecting something comparable to BCBS of the better founders' stouts. Come one now....this is a solid beer from a major commercial brewer...nothing more, nothing less....don't expect the best stout you ever had.
Now for the review....
I thought this was a very nice, very drinkable stout. While much lighter in color, flavor, and overall taste than a big American stout, it was good. Pours lighter than a big stout, not black, but a deep dark amber. Nice smooth roasted notes and malts in the very very drinkable taste, mouthfeel is smooth...almost a stout that you are able to drink on one of those hot summer days....it is refreshing...nice.
Overall, very very nice job on this beer. I was expecting less from this beer and it was actually so much more.
1,071 characters

3.98
/5
rDev
+16%
look: 4 | smell: 3.5 | taste: 4 | feel: 4 | overall: 4.5
I discovered this one on my last day in Playa Del Carmen, and I knew I had to try it, but unfortunately they were sold only on a package of six. So I did the obvious, bought them and brought them all the way to Europe.
Very dark brown colour, a tone or two lighter from being totally black. Two finger head of brown colour that left a thick lace on the surface and around the glass, once disolved.
Aroma is light, of dark chocolate, with some traces of coffee.
Very bitter taste with its bitterness persisting and staying for quite long in your mouth. The taste of chocolate is also there, albeit light.
Very thick on the body, sort of oily too, with light carbonation.
Happy I took those with me after all.
709 characters
3.23
/5
rDev
-5.8%
look: 3.5 | smell: 3 | taste: 3.5 | feel: 3 | overall: 3
A: Dark brown color, almost not translucent, a medium head is formed with small creamy bubbles, carbonation look also medium but forms a permanent layer on top of the beer, body look not too thin.
S: Aroma is simple, not to elaborated, toasted malts and very little chocolate can be sensed.
T: Flavor is good but very faint, this one is too simple for the style, some toasted malts, some coffee and chocolate notes but not sweet and also some hops.
M: Refreshing sensation and this is not something for the style, body is to thin almost like a lager and it should be more robust, bitterness is balanced with the sweetness of the toasted malts so that part is good but the ending is somehow poor or too short.
711 characters

2.67
/5
rDev
-22.2%
look: 3 | smell: 3.5 | taste: 2.5 | feel: 2.5 | overall: 2
A chocolate stout from a big Mexican brewery? Couldn't pass up this surprise when I saw it in a local convenience store. Box says packaged 5 November 2011.
Pours a deep reddish brown. Rather thin for a stout, and light behind it reveals it to be quite clear. Half-finger of cream-colored head, fades fast, leaving little lacing.
The smell is really interesting, though I wouldn't say there's much stout to it. A light milk-chocolatey smell (which seems slightly artificial) rides on top of a strong dry toasted malt base. The toasted aroma is quite prominent, and rather odd for this style (at least the style they label it as). It's cracker-y, and I think it belongs more in a marzen than a stout. A bit of nut, a hint of toffee. There's a tiny bit of roast behind it, but it's barely detectable. Pretty good, but weird.
Taste is dominated more by the chocolate, which again has an odd artificial element to it. It tastes like they added chocolate syrup, rather than actual cacao or cocoa. Finishes lightly bitter, and gradually fades away.
Mouthfeel is light, with medium-low carbonation. Needs more body. Far far far to the light, watery end of stouts.
This beer is weird. It's more like a chocolate-flavored ale than a chocolate stout. Where's the stout? And why does the chocolate have that strange fake sense about it. Can't compete with any of the stouts from back home.
1,382 characters
3.12
/5
rDev
-9%
look: 2 | smell: 2.5 | taste: 3.5 | feel: 3 | overall: 3.5
Poured in a mug. Bought this to see how the little experiment of Cuauhtemoc-Moctezuma came out, and because I didn't want to miss the chance to taste a "Limited Edition" chocolate stout.
A - Creates about a finger of head that slowly dissipates to a thin lace. Caramel brown color head over a reddish brown beer. Clearer than most stouts, appearance let me down feeling disappointed; normally you can't see through a stout, but this beer lets you see some clear tones of red, like a dark lager.
S - Roasted malts and burnt bread along with alcohol. Dark fruits, perhaps? I can't really notice any chocolate or coffee notes on this one.
T - Like tasting a more robust version of their dark lager, only with some coffee and roasted malts that you can't miss. Also chocolate, it is definitely there, but it's not as tasty as its American or European counterparts. Alcohol at the end and burnt bread, or more like my dad said: "burnt tortilla".
M - Crisp and carbonated in just the right way. Not smooth like other stouts (but not watery, though), so don't let your hopes up. You could drink a whole six pack of these, like with any other Mexican beer.
Overall, like another person said before me, it's a stout for a Mexican winter. It's quite a good try for the first stout Cuauhtemoc-Moctezuma makes, but they're still a long way down the road. This brewery is used to make commercial lagers, and I think for a commercial stout it's worth the chance. Didn't love it, but didn't hate it either, I'm going to enjoy the rest of this six pack with no hurries at all and maybe buy another one after they stop producing it. I recommend it for Mexican stout lovers that don't want to miss the chance to taste a limited edition from such a renown brewery and have their doubts. Fear not, you won't regret it (maybe). And for any other foreigner that comes across this special brew: Remember it's from Cuauhtemoc-Moctezuma!
1,917 characters
2.18
/5
rDev
-36.4%
look: 2.5 | smell: 2 | taste: 2 | feel: 2.5 | overall: 2.5
Dark reddish brown color. Very foamy, tan head that quickly dissipates and leaves only a thin layer behind. Apparent high, fine carbonation.
Aroma is chocolatey, herbal and a little grassy. The taste is that of milk chocolate, very bland, artificial and almost "forced". The finish is bitter. Mouthfeel is light and a little watery.
Overall, a good try for a commercial beer, but falls short to what it's supposed to be. This huge, industrial brewery cannot compare to other microbreweries that deliver great results.
519 characters
3.9
/5
rDev
+13.7%
look: 3.5 | smell: 3.5 | taste: 4 | feel: 4.5 | overall: 4
Pours out a dark brown with a foamy, tan head that soon disipates and becomes a thin layer of bubbles of varying sizes. Expected a darker body from a chocolate stout, really. Not a very strong smell. Chocolate and toasty/roasty notes are found. Pleasantly doesn't beat you over the head with burnt grain aromas. Flavor is reminiscent of their Oscura. Caramel, chocolate, raisins and light coffee with a tinge of graininess. Mouthfeel is creamy with velvety carbonation. Not too heavy. This beer was pretty much crafted perfectly for a Mexican fall/winter in which the days are hot and the nights are chilly. It's neither overbearing nor completely lacking character.
I'm a huge fan of the Bohemia lineup (especially the Clara and Oscura and, to a lesser extent, the "at-least-it's-better-than-Blue-Moon" Weizen). I'm going to judge this for what it is. Once again Cuauhtémoc Moctezuma shows it is the more adventurous of Mexico's big 2.
938 characters

3.85
/5
rDev
+12.2%
look: 3.5 | smell: 3.5 | taste: 4 | feel: 4 | overall: 4
Dark brown with reddish highlights toward the bottom of the glass. Head is initially fairly tight and foamy, the color of caffe americano foam. Good not great look.
The aroma is...as the promotional literature in Spanish puts it, "subtle". Faint, mildly chocolately, with a chalky aspirin note. Nothing off, but could be stronger.
The flavor does bring the chocolate, which is strong and roasted. Mildly dark chocolate, beyond bittersweet but not up to "70% cacao". Coffee finish. A little watery but good enough. Flavor is quite bold for a Mexican beer, and a Cuauhtemoc in particular. Much better than usual from the makers of Sol.
Overall probably sub-average for an American stout, closer to average for the chocolate subcategory, and just above average for roasted Mexican stouts (Calavera, Jack, Cucapa make decent to good alternatives).
855 characters
Bohemia Chocolate Stout from Cervecería Cuauhtémoc Moctezuma, S.A. de C.V.
3.43
out of
5
based on
27
ratings.