Airbräu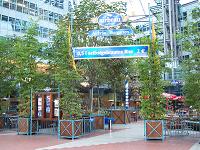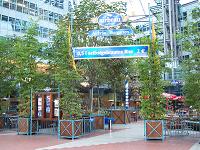 Brewery, Bar, Eatery
Terminalstraße Mitte 18
München
, 85356
Germany
+49 89 9759 3111 |
map
munich-airport.de
Notes:
Recent ratings and reviews.
| Log in to view more ratings + sorting options.
Ratings by Bierman9:
Reviewed by Bierman9 from New Hampshire
3.88
/5
rDev
+6.9%
vibe: 4 | quality: 4 | service: 4 | selection: 3.5 | food: 4
Caitlin and I stopped by here on 28SEP10, just hours before boarding our flight back to Boston. Had the great pleasure of meeting again with old friend (and BA) jamesw (Iain) and his colleague Russ.

There is an entrance here from the inside shopping area, but we arrived from the outside through the biergarten near the S-Bahn exit. The large biergarten is covered from way above with an awning, for all-weather enjoyment. Inside, well... tables to the left, tables to the right, tables straight ahead.... lots of 'em!!! High-ceilinged, this place has lots of bright, light wood and plenty of brickwork. Very comfy, and quite raucous. They are obviously accustomed to travellers on the go with loads of luggage. No probs! We stowed our backpacks at a large, round table near the entrance and chilled!! They have a somewhat secluded side room just to the right upon entering, but don't expect a library there either. Should you swing around the back, past the service bar and kitchen-pickup, you'll see some brew-kettles and chitloads more seats. Somewhat of a drawback is only 3 biers available, a Helles, Hefeweizen, and Oktoberfest. Regardless, they hit the spot, with Caitlin enjoying her HW, and me my Fest!!! Food was reasonably priced and quite abundant! My Käsespätzle was sooo filling!!!. Service was typically efficient, with a smidgen of friendliness thrown in. Had passed this place many times upon arriving early in the morn in München; but always looked to get into town. Well, if I have the time, I'll surely stop here for a bier or 3 in the future! Iain joked that this was the best airport brewpub in the world. HA!!! From what we know, it's the ONLY airport brewpub in the world!!! ;-) Anyhow...

Prosit!!

3.88
vibe: 4 | quality: 4 | service: 4 | selection: 3.5 | food: 4 - $$

208
Oct 01, 2010
More User Ratings:

Reviewed by The_Kriek_Freak from Pennsylvania
3.7
/5
rDev
+1.9%
vibe: 3.75 | quality: 4 | service: 4 | selection: 3 | food: 3.75
Great place with a bunch of German beers with names relating to aviation or the sky. Relatively limited food selection but with a couple of items that are not German.
May 01, 2017
Reviewed by TurdFurgison from Ohio
4.08
/5
rDev
+12.4%
vibe: 3.75 | quality: 4.25 | service: 4 | selection: 4 | food: 4.25
Considering this is an airport, this place is actually outstanding. The beer is fresh, delicious, and CHEAP. The food menu included everything you'd want to see based on the beer halls throughout Munich proper. This has become my standard choice for the final night in Munich during business trips.
Jun 30, 2016
Reviewed by Ruds from England
3.53
/5
rDev
-2.8%
vibe: 3.5 | quality: 4 | service: 3 | selection: 3.5
The cheapest beer in Munich ! We stopped before catching our flight home in July '11 and paid E2.50 a half litre (typically E3.90-4.20 in the city)

It's never going to raise the roof in terms of atmosphere as it's a modern building in a modern airport, that said we were sat in the beer garden and you could almost forget you were in an airport !

I had the Kumulus on my brief stop a very good Hefeweizen

Service was a bit patchy despite there being a lot of waiters and it wasn't that busy. I'd reccomend asking for the bill when you order your last round of drinks, just in case you need to make a quick move for your flight.

In all - highly recommended - any other airport bar you would pay a 50% mark up on city centre prices, here it's the other way round!!!
Oct 22, 2011
Reviewed by crossovert from Illinois
3.98
/5
rDev
+9.6%
vibe: 4.5 | quality: 4 | service: 4 | selection: 3.5 | food: 4.5
Stopped here with a friend on the way out of Munich after staying for the past 4 months. The biergarten was still closed as it was the morning, but we got a table in the restaurant no problem, although they seem to reserve alot of seats at this place.

We enjoyed the traditional weisswurst breakfast with a hefeweizen. Just a pleasant experience with good company. The beer is okay, but the weisswurst was typical echt bayerisch quality. And the waitstaff is prompt and friendly.

Overall it is a must-go-to place if you are connecting or leaving, or getting into munich. highly recommended.
Aug 03, 2011

Reviewed by JanM from Sweden
2.74
/5
rDev
-24.5%
vibe: 2 | quality: 3 | service: 3 | selection: 2.5
Apart from the fact that they actually brew good beer in the airport, Airbräu is nothing special. It's a generic airport taverna with a rustique brick interior perhaps mimicking a traditional Bavarian style interior? The staff is helpful enough but doesn't seem to know much about the beer. But you can make a tour of the place for a few Euros (including samples). At the time of my visit Airbräu was offering a pilsner, a lager and a wheat beer. I went for the pilsner (Jetstream) which was unfiltered and pretty damn good! When in transit don't miss this opportunity.
Jun 29, 2011
Reviewed by JohnW from England
3.88
/5
rDev
+6.9%
vibe: 4 | quality: 4 | service: 3.5 | selection: 4 | food: 4
This could be the cheapest and best value beer at any Airport in Europe or America!!
The Airbrau Beer Garden and Restaurant is situated in the open air concourse (but under a very high glass canopy) in the section between Terminal One and Terminal Two, on the floor immediately above the S-Bahn platforms. So, if you see the escaltors down to the S-Bahn stations, look for the signs to Terminal One or Two and you should find it easily. Seating in the beer garden for about 350 people under trees (and the high glass canopy) and then more seating inside and an additional area for functions and entertainment evenings.

There are three beers available on tap, a light unfiltered Hell beer called "Fliegerquelle" at 5.2%. A cloudy wheat beer "Kumulus" at 5.4% and a seasonal beer, which at time of my two visits in April 2007 was dark rich dunkel beer at 8%!

Service was fairly good both times we were there, though the staff are pushed to keep up with all the visitors.

The Hell beer is unfiltered, so slighty cloudy, very tasty with fair hop presence in the finish. The wheat beer is excellent with all the characteristics you would expect to find in a typical German weiss beer, very freshing, clean and tasty. The Season beer (saisonbeer) at time of visit was a very dark Aventinus style beer, dark, heavy fruity and sweet, with lots of character, hints of dried fruit, spices, caramel and roasted grains, and obviously strong at 8%!

And the price of these three beers --- €2.10 for 0.5l glass!!!!

No wonder the place is always busy, for many people using it are only there for the beer, and not travelling anywhere using the Airport!!

Food menu is fairly good, with reasonable variety of simple snacks right up to main courses and sweets. Prices are good value for an airport restaurant, and what we had was good both times we visited.

It would be possible to arrive at Munich Airport and never leave for the town after finding this place! Definately worth a visit when at the Airport, and make time to spend an hour or so here just to sample the excellent beers before getting the S-Bahn into Munich, or before getting your departing flight! S1 is the fasted route into the main Station in Munich, taking about 40-45 minutes, and run at 20 minute intervals.

The Airbrau also has a function room where live entertainment is performed several times a month, see the web pages for more details.

We visited here again in May 2009, and still enjoy this place, prices for the beer had risen slightly, €2.30 for half a litre! They now also have a second but much smaller bar in Terminal 2, near the Departures Gates H20 just a small restaurant and a few tables outside.

When in Munich Airport, this is a 'must visit' as you arrive, or before you leave!

JohnW
B'ham UK April 2007
Apr 15, 2007
Airbräu in München, Germany
Brewery rating:
3.93
out of
5
with
23
ratings