Wunderful Hefe-Weizen
| Ankerbräu Nördlingen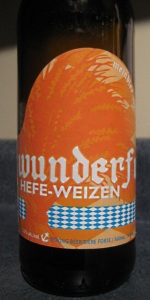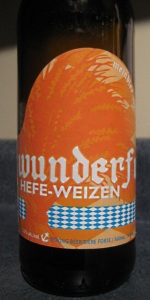 BEER INFO
Brewed by:
Ankerbräu Nördlingen
Germany
noerdlinger.de
Style:
Hefeweizen
Alcohol by volume (ABV):
5.20%
Availability:
Rotating
Notes / Commercial Description:
No notes at this time.
Added by biboergosum on 04-28-2013
HISTOGRAM
Ratings: 10 | Reviews: 5
3.56
/5
rDev
-4.3%
look: 3.5 | smell: 3.75 | taste: 3.5 | feel: 3.5 | overall: 3.5
3.61
/5
rDev
-3%
look: 3.5 | smell: 3 | taste: 3.75 | feel: 4.25 | overall: 3.75
3.7
/5
rDev
-0.5%
look: 3.5 | smell: 3.5 | taste: 3.75 | feel: 3.5 | overall: 4
A - Cloudy golden color, nice head, very little lace
S - Nice citrus bouquet, and yes bananas, some nice yeast as well.
T - Nice light beer with Apple taste, and a smooth finish.
M - Slightly carbonated, with a clean, smooth feel.
O - Very surprised by this beer, I am a fan of whites, but I bought this for .25, at a local store, for the hell of it, and was very surprised, would buy again.
395 characters
3.71
/5
rDev
-0.3%
look: 3.75 | smell: 4 | taste: 3.5 | feel: 3.75 | overall: 3.75
Appearance - Pours a cloudy pale straw with four fingers of effervescent and persistent white head.
Smell - Banana, clove, yeast, spicy hops (like a noble hop), citrus fruit (orange), biscuity malts.
Taste - Fruity flavours really stand out initially in this brew (orange, banana), along with the spicy characteristics from the yeast, clove, and hops.
Mouthfeel - Medium bodied with moderate-to-high carbonation. Finishes dry with a lingering fruit/yeast character.
Overall - A hefeweizen that started off with classic characteristics in the aroma, however I feel some of the traditional flavours that come from the yeast and malts was slightly lost due to the large amount of citrus. Some modification could make this a stand out.
737 characters

3.77
/5
rDev
+1.3%
look: 4 | smell: 3.75 | taste: 3.75 | feel: 3.75 | overall: 3.75
Poured into a weizen glass. Pours a medium golden amber with a big, three finger white head with good retention and lacing. Aroma of wheat, lots of banana, light lemon citrus; nice. Flavor is wheat, lemon citrus, light banana, a bit of biscuit in the finish. Flavor drops off a bit at the end. Light to medium bodied. A pleasant hefeweizen with more banana flavors than usual, but supported well by the wheat and citrus. Flavor is a bit attenuated, but on style and refreshing. A few beers from this brewery showed up, probably temporarily in my area; glad to give them a try. This hefe is the best of the lot.
610 characters
3.83
/5
rDev
+3%
look: 3.75 | smell: 3.75 | taste: 3.75 | feel: 4 | overall: 4
500ml bottle. Another release in DeLancey Direct's so-called Signature series. I'm really starting to wonder about duplicate entries, as this hefe has the same ABV as the Rieser variant from this brewery, and the same predilection for hyphenating the style name.
This beer pours a very cloudy golden apricot colour, with a copious amount of puffy, airily foamy silken white head, which settles remarkably quickly, leaving but a few specks of remote isle lace around the glass.
It smells of grainy, beginners' spicy wheat malt, thin banana bread, and musty leafy, earthy hops. The taste is more of the same - gritty, somewhat edgy wheat grain, moderate banana mush, a touch of softly yielding yeast, mild drupe fruitiness, and a soft earthy hoppiness.
The bubbles are fairly understated, with a slight frothiness, the body on the lee side of medium weight, and mostly smooth. It finishes off-dry, slightly, the banana and yeast culture persisting.
A fairly decent hefeweizen, one leaning heavily on the banana esters, but 'tis no big deal. Again, I'm still suspicious of the local agent branding going on here, especially the dumb-ass German-English mangling inherent in the name.
1,183 characters


4.06
/5
rDev
+9.1%
look: 4.25 | smell: 3.75 | taste: 4 | feel: 4.5 | overall: 4.25
I agree with biboergosum on the whole Delancy Direct thing and this beer.... my opinion is that this distributor is one shady character and will do some weird things to make an extra sale...and no I don't know the guy personally....just know how the company runs
A- This beer has a gorgeous creamy off white head that has excellent retention....starting off about two fingers thick and settles gently down to about one finger. The beer itself is a semi hazed golden yellow color and there is a fair bit of carbonation rising to the top. The lacing seems to be quite nice on this one as well as there are plenty of small patches of foam clinging to my glass.
S- Lots of fruity esters happening here, which is a good sign! Banana, both fruit and peel, along with apricot kernels, are the primary aromas I find. There are some spicy notes here too....mild clove that just hits the back of the nasal cavity with a bit of a ting. Yeasty as well, this has a dry leafy finish.
T- The flavors follow the aroma quite closely, with pronounced flavors of ripe banana fruit noticed....quite fruity indeed but very natural. There is a creamy biscuit flavor as well that is quite nice. The spice noted in the aromas is there but it is very subdued, yet it contributes to the finish, which is actually quite soft and has just a tinge of clove that lingers on the palate.
M- This is a solid medium bodied beer, that is quite soft and creamy on the palate. The carbonation, while plentiful, is small enough that it simply allows the flavors to burst in a simple yet cozy manner.
O- This beer is very well constructed overall and has a high drinkability factor. Its refreshing, flavorful and has some substance....a true version of what a German Hefe should be in my opinion! It's too bad that it's not represented very well by the agent in our province...oh well....I'd still buy this again based on product quality...this one is very high in that regard.
1,944 characters
Wunderful Hefe-Weizen from Ankerbräu Nördlingen
Beer rating:
3.72
out of
5
with
10
ratings