Arcobrau Hefe-Weisse Beer
| Arcobräu Gräfliches Brauhaus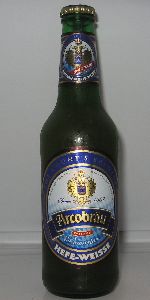 BEER INFO
Brewed by:
Arcobräu Gräfliches Brauhaus
Germany
arcobraeu.de
Style:
Hefeweizen
Alcohol by volume (ABV):
5.30%
Availability:
Year-round
Notes / Commercial Description:
No notes at this time.
Added by cvstrickland on 08-09-2008
Reviews: 7 | Ratings: 16

3.95
/5
rDev
+5.1%
look: 4 | smell: 4 | taste: 4 | feel: 3.5 | overall: 4
S: Smells nice. Oddly no banana though.
A: Looks exactly the same as every other wiessbier to me, if not slightly duller and darker. Creamy slightly off-white head.
T: Woah, immediately different from every other wiessbier I've tried. Banana virtually absent, replaced with a warm honey/caramel flavour and a woody, walnut finish. Very nice beer. Mouthfeel is pretty good. Smooth concentrated carbonation. Lacing better than many other wiessbiers. Even has a touch of whisky maltness to it too.
O: One to rival Weihenstephaner, or at least to act as an interesting alternative to it. Recommended.
599 characters

3.95
/5
rDev
+5.1%
look: 3.5 | smell: 3.5 | taste: 4 | feel: 4 | overall: 4.5
This one came as a bit of a surprise to me last night when I was out on the town. First thing that struck me with the night club I was out at was that aside from the typical selection of average Lagers: Corona, Peroni and Oettinger Pils there were 4 Arcobräu brews on offer. What is Arcobräu? I had never heard of this brewery, but so impressed [spoiler alert] with this Hefeweizen I will no doubt be getting Plonk to track down more so I can pay a reasonable (i.e. non-night club) price for it... Prost!
Poured from a 500ml bottle into an Arcobräu Weizen glass.
A: Hazy golden body with a classic Weizen 1 inch white head that sticks around like a champ. I recall noting to my friends that the head, from the bartenders pour, was missing the head marker - anecdotal evidence has told me that in Germany the bar has to tip it down the drain or give it to you for free if this happens... I do miss Germany. 7/10.
S: Distinct buttery character with caramel notes and a hint of banana, but no clove notes, an intriguing aroma for an experienced Weizen drinker. The slant of the aroma towards malt and Diacetyl, plus the more golden than usual colour had already set me up for something unique. 7/10.
T: Diacetyl is prominent, however it isn't the malevolent drain pour that I ended up with in my homebrew "Accidental Weizen" and within the bounds of acceptability for BJCP's guidelines on Hefeweizens. That buttery, almost toffee note, melds into roasted caramel with a hint of banana. The finish is, as typical of a Weizen, clean of bitterness and slightly dry. 8/10.
M: Medium bodied with a fairly creamy (though it could be a little creamier) carbonation. 8/10.
D: Again I was startled when I tried this Weizen - it's got something unique with its lack of clove and prominent caramel/butter notes driving the experience. Which is unexpected given how bad my own "Accidental Weizen" went with so much Diacetyl that it began to take on a menthol character. Arcobräu have produced a Hefeweizen that, whilst not a challenger for the Weihenstephaner crown, is indeed an interesting enough take on the style. 9/10.
Food match: Can't go wrong with Schweinshaxe mit bratkartoffeln und sauerkraut.
2,215 characters

3.94
/5
rDev
+4.8%
look: 3 | smell: 4 | taste: 4 | feel: 4 | overall: 4
12oz bottle poured, then swirled, and poured into a pint glass.
A: Hazy golden in color. About a fingers worth of head that dissipates to a nice ring.... no lacing.
S: Very Hef like... citrus, wheaty just a little clove and spice.
T: Again very Hef like sweet yet tangy. I'm getting some clove in the finish.
M: Light to Mid bodied... Crisp and refreshing, yet has a dry finish. Carbonation is right for the style.
D: ABV seems very light to me.... I could drink this all day. Very refreshing and very drinkable.
Very good Hef... Look for this one this summer. Great summer brew.
587 characters

3.75
/5
rDev
-0.3%
look: 4 | smell: 4 | taste: 3.5 | feel: 3.5 | overall: 4
Grabbed a few of these at the Durham Beerfest for the road. I'm a huge hefe fan, but this just missed a bit. Great pour, fluffy head, deep orange chunky body, smell was the clovey-banana that one would expect, but I was lost on the taste. I got a tang from the get go, a metalic tang that carried to the end. Good beer, loved the way it looked, but the tang got to me.
368 characters
3.73
/5
rDev
-0.8%
look: 4 | smell: 3.5 | taste: 4 | feel: 3.5 | overall: 3.5
Appearance - Light to mid carbonation, golden color and high clarity for a weisse beer. Lots of fine to medium lacing as the glass is consumed, white to light grey head; almost champagne-like bubbles.
Smell - Very light hints of banana in the nose, has a creamy scent to it.
Taste - Unlike the smell, no banana, but lots of warm, honey like flavors.
Mouth feel - Very pleasant to drink, but it leaves you with a distinct coating on the tongue (not unpleasant); almost like the honey is there in the beer. The up front is a bit watery.
Overall - This is a great find in the Lufthansa Lounge in Athens, Greece. Pair this with the other foods, and this is something I am looking forward to next connection.
708 characters

3.6
/5
rDev
-4.3%
look: 4 | smell: 4 | taste: 3.5 | feel: 3 | overall: 3.5
With a clinical name that almost sounds like a laxative for pensioners this little Aldi find doesn't do too badly.
Light sweet bottle nose, and in the glass, in time this does bring a slight sulphury quality to the nostrils.
Light fading very hazy yellow there is some banana in there along with some rough earth and a slightly carbonic quality which ends with some fiery acidity which isn't all that pleasing.
I've had better, I've had worse.
443 characters
3.51
/5
rDev
-6.6%
look: 4.5 | smell: 3.5 | taste: 3.5 | feel: 3 | overall: 3.5
12-ounce bottle aggressively poured, swirled, and poured into a 22-ounce weizen glass yields a hazy orangeade body crowned with three huge fingers of fine, soft white foam that retains at a thick finger and leaves fat swatches of lacing on the glass.
The smell of the drink is tangy and wheaty with a touch of spice and citrus. Very wit-like.
The drink is tangy and sweetly wheaty with a subdued bit of banana and crisp peaches.
This hefe is light and crisp, but not close to the fluffy softness of the top-notch brews of its kin. Thin, juicy feel. Pervasive dryness in the aftertaste.
594 characters
Arcobrau Hefe-Weisse Beer from Arcobräu Gräfliches Brauhaus
3.76
out of
5
based on
16
ratings.