Castlemaine XXXX Draught Lager
| Castlemaine Perkins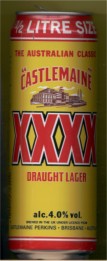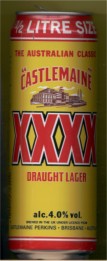 BEER INFO
Brewed by:
Castlemaine Perkins
Australia
xxxx.com.au
Style:
American Adjunct Lager
Alcohol by volume (ABV):
4.00%
Availability:
Year-round
Notes / Commercial Description:
No notes at this time.
Added by jdhilt on 08-31-2003
This beer is retired; no longer brewed.
HISTOGRAM
Ratings: 13 | Reviews: 8
Reviews by cypressbob:
2.9
/5
rDev
+18.4%
look: 2.5 | smell: 2.5 | taste: 3 | feel: 2.5 | overall: 3.5
On tap
Pours with a dark yellow body, fairly creamy head, fairly good retention and some lacing
Smell, malty wih a slight alcohol aroma
Taste, dry and crisp, slight corn profile with a slight hop bitterness, but its pretty much standard lager territory here
Not bad, crisp and clean, but sooo dull
309 characters
More User Reviews:

2.51
/5
rDev
+2.4%
look: 3.5 | smell: 2.5 | taste: 2 | feel: 3 | overall: 3
Poured a medium to dark straw hue with a three finger foamy white head. There was good retention and sticky lacing.
The smell featured a light husky grain and a smattering of flowery hop.
The taste consisted of a grainy malt with some balancing hop. A substantial green apple flavor.
The mouthfeel was on the light side, but consistant with the style.
Overall an average experience for the style. Easy enough to drink, but not all that interesting.
460 characters
2.88
/5
rDev
+17.6%
look: 3 | smell: 2.5 | taste: 3.5 | feel: 3 | overall: 2
Hmm, I had been in the UK about an hour or so, but only at the hotel about 5 minutes. I sauntered down to the bar to see what became the "usual lineup" at the grand majority of bars outside Manchester and London. One of the usuals was this beer. I saw the XXXX designation, which I incorrectly took to mean it was some new tasty hoppy ale. It was anything but. I asked the eastern European waitress what it was and she told me a nice easy ale. She later told some other out of towner that Boddingtons was their bitter.
Pours like a fresh budweisel, with a glowing yellow color fluffy tight head and limited lacing.
Aroma of sulfur and chalky malts
I rated the taste a bit higher due to the thicker than usual mouthfeel. This is your usual macro lager. If you are in the land of pleasant casks, pass this one over quickly. Very unfortunate for me that my first brew during this UK trip was a non-finisher...
912 characters
3.03
/5
rDev
+23.7%
look: 3.5 | smell: 3 | taste: 2.5 | feel: 3 | overall: 4
A very clear beer from a can, with 4 X's on it.For some reason I had to buy this beer, although I knew this is going to be a very regular lager beer. It is brewed in England for this Australian brewery, with imported Pride of Ringwood hops.
Smell was clean, typical pilsner, with some adjunct notes, probably corn and some cooked vegetables in the back.
Taste was normal lager beer, mildly bitter, malty and grainy corn, and a dry finish. Not very tasty though.
I know Australians drink their beers ice cold and this one is probably ment to be drank that way too, as there is very little taste, not bad and highly drinkable and that's what a lager is all about.
667 characters

2.37
/5
rDev
-3.3%
look: 3 | smell: 1 | taste: 3 | feel: 2.5 | overall: 2.5
Pours with a mediocre white head that does leave some lace. Clear golden color. Skunky nose. Brewed in England under license from Castlemaine Perkins and distributed by Interbrew UK LTD. Carbonation is wimpy. Light bodied. Starts hoppy with a hint of sweetness, finish leaves an aftertaste of hops. Green 275ml bottle.
318 characters

2.2
/5
rDev
-10.2%
look: 2 | smell: 2 | taste: 2.5 | feel: 2 | overall: 2
Pours a bland yellow color with a small head. The smell is standard: a little malty but mostly hops that seem uninspired and a hint of alcohol. The taste is also bland. Its pretty crisp when served cold, but there isnt much that separates this from any other lager. The hops have a presence but most of it is washed away by the water that dominates the finish.
360 characters

2.77
/5
rDev
+13.1%
look: 2.5 | smell: 3 | taste: 2.5 | feel: 3 | overall: 3
Pours a fairly lacklustre head with a minimum of lace. The aroma blends malty sweetness with a metallic edge (this sample is from a bottle) and a hint of soap. The taste is weak, inoffensive and dry with a bitter finish.
Castlemaine XXXX Draught Lager will do in a pinch, I suppose.
286 characters

2.42
/5
rDev
-1.2%
look: 2 | smell: 2.5 | taste: 2.5 | feel: 2 | overall: 2.5
Another can I picked up at the local off license while on vacation Ireland. I wasn't expecting much but as I had never drank the beer before I figured it was worth a try. Pours very foamy, color is pale yellow. Not much past a little malt aroma. Drinks down very easy as there is little body or flavor. A perfect lawnmower beer if you can keep it cold.
352 characters
Castlemaine XXXX Draught Lager from Castlemaine Perkins
Beer rating:
2.45
out of
5
with
13
ratings