XXXX Gold
| Castlemaine Perkins
BA SCORE
64
poor
28
Reviews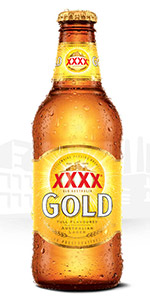 BEER INFO
Brewed by:
Castlemaine Perkins
Australia
lion-nathan.co.nz
Style:
American Adjunct Lager
Alcohol by volume (ABV):
3.50%
Availability:
Year-round
Notes / Commercial Description:
No notes at this time.
Added by brewdlyhooked13 on 09-16-2002
Reviews: 28 | Ratings: 83
2.95
/5
rDev
+23.4%
look: 2.5 | smell: 2.5 | taste: 3 | feel: 3 | overall: 3.5
I drank a few…or more than a few on my Queensland trip to Cairns, the Great Barrier Reef and Palm Cove, but never got a chance to do a review. I meet XXXX again at the Red Gum Hotel on the corner of Victoria and Peel in Melbourne.
It pours a dark straw (not quite golden) color with a thin white head that settles down to not much more than a cap in short order. The smell is fairly sweet and malty with little hop presence. The taste is better than your average CUB product in my opinion. The taste is light, a bit sweet. Not hoppy, but still fairly crisp. What separates this brew from Carlton, Crown and VB is the lack of the horrible metallic aftertaste. That's a relief.
It's by no means a great beer, but it's not horrible and would be great to consume in quantities on a hot day…sort of the same way as iced tea or Gatorade.
Addendum: My wife and I recently took a NT trip to Kakadu National Park. It's a beautiful park and there's heaps of fantastic hikes to do that all end in waterfalls and rock pool swims. Anyways, we stopped at the 'last-chance-for-beer-before-the-park' stop where our choices were VB or XXXX. We chose XXXX because I do everything I can not to give CUB my money.
It really isn't a bad drink on a hot day. It's really closer to Sprite or Iced Tea than it is beer, in my opinion. I had like 6 of these on a hot afternoon/eve and never caught a buzz. I don't know if it's possible to get drunk on XXXX. In a way, that's good. It's a refreshing drink that doesn't taste horrible and won't leave you with a hangover.
★
1,557 characters
1.79
/5
rDev
-25.1%
look: 3 | smell: 1.5 | taste: 1.5 | feel: 2.5 | overall: 2
The look of this beer is unusual It is the brightest clearest yellow/gold with a pure white head and the most bubbles I have ever seen.It all looks to a computer generated image of an enticing beer Wierd stuff.
The smell is off putting chemically water
The taste is stock standard bitter water with the vaguest of malt backgrounds.The more of the glass you had the less flavour there was to back up the bitterness.
It is not awful nor has it any merits to recommend it beyond being thirst quenching on a very hot day.But as there are many beers that do this AND add flavour it is hard to recommend it
★
604 characters
1.1
/5
rDev
-54%
look: 1 | smell: 1 | taste: 1 | feel: 1 | overall: 1.5
even worse than the regular XXXX, this is a midstrenghth brew (3.5% ABV), and it sure as hell tastes like it, very weak, chemically and watery, most beers are better than this, too light for me.
★
194 characters
XXXX Gold from Castlemaine Perkins
2.39
out of
5
based on
83
ratings.