XXXX Summer Bright Lager
| Castlemaine Perkins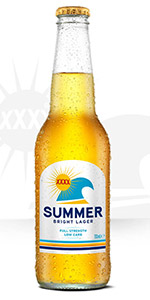 BEER INFO
Brewed by:
Castlemaine Perkins
Australia
lion-nathan.co.nz
Style:
American Adjunct Lager
Alcohol by volume (ABV):
4.20%
Availability:
Year-round
Notes / Commercial Description:
No notes at this time.
Added by vancurly on 08-29-2010
Reviews: 6 | Ratings: 18

3.03
/5
rDev
+11.8%
look: 3.5 | smell: 3 | taste: 3 | feel: 3 | overall: 3
Pours a clear golden with a small head. Has the slightest aroma of stale grain. The flavour features a touch of sweet corn, with a hint of bitterness. Has a light body and medium carbonation.
191 characters
2.58
/5
rDev
-4.8%
look: 3 | smell: 2.5 | taste: 2.5 | feel: 2.5 | overall: 2.75
Straw-coloured yellowish hue, light on taste, smell and feel. They're going after Corona's market and best of luck to them, but I will probably avoid this beer in future. I have had this with/without lemon/lime wedges, and this aids with ingestion due to the novelty factor. That's about all it's got going for it I think.
330 characters

2.7
/5
rDev
-0.4%
look: 3 | smell: 3 | taste: 2.5 | feel: 3 | overall: 2.5
From iPhone notes
Ok having enough of these lighter tasting lagers now.
All ok in the clear bottle straw as usual.
Some malts, some sweetness, a little corn but bland overall,
Mouthfeel is ok all in all and its refreshing, but really this is a very mainstream beer in a very crowded market and doesn't make it's mark.
321 characters
2.67
/5
rDev
-1.5%
look: 3.5 | smell: 1.5 | taste: 3 | feel: 3 | overall: 3
Very clear golden colour, with a filmy but relatively lively head of white foam. Lacing is actually pretty impressive, leaving feathery and intricate patterns down the glass. Fine-bubbled carbonation... You know, overall it looks pretty decent.
Nose is an unpleasant melange of all the worst adjunct characters: rice cloying, corn sweetness, DMS, but altogether extremely weak and bland. Really, it has very minimal characteristics at all, even given the very faint and rather unpleasant characters it does have. Meh.
Taste is light and smooth, and quite inoffensive, in fact. Slight vanilla character coming through, and a bounces off the lively carbonation to create something that, in all fairness, is a decent drinking summer lager. Certainly nothing terribly exciting, but certainly extremely inoffensive. It comes off as an Australian Cerveza - light, inoffensive, but ultimately pretty drinkable. And nepotism aside, I think this ends up quite a bit better than the ilk of Corona or Sol.
No, this is not a great beer, but it is a genuinely inoffensive one, and one that's suitably brewed for the Australian summer. Sure, personally, I'd prefer a crisp Pale Ale, or a deliciously hoppy IPA, but if it was this up against the likes of VB and Tooheys New, this is what I'd reach for.
1,290 characters

2.91
/5
rDev
+7.4%
look: 3 | smell: 2 | taste: 3 | feel: 2.5 | overall: 4
A - Typical golden, macro, summer, larger, colour. If they are a macro beer they dont range to far from the typical straw yellow. Reasonable carbonation visible with little head.
S - Slightly skunky, light grain malts basic hop aroma. Unmistakable macro tang.
T - Light on malt light on hops but not at all offensive. Very clean and light on flavour. Its got little to speak of in the way of flavour but Its not totaly horrible. A corona made for the aussie market is pretty spot on here. A mexican style with a little more punch.
M - Very light and spritzy, slight macro tang.
D - Easy to drink on a summers day, beats a corona and thats all its trying to aim at so what more do you expect.
695 characters
2.88
/5
rDev
+6.3%
look: 2.5 | smell: 2 | taste: 3 | feel: 2.5 | overall: 4
Disclaimer: I received this beer as a gratuity from the brewer's marketing team.
Pours a pale straw yellow, not much bubbling. White rocky head that doesn't last long.
Innocuous aromas, macro sulfur. Some grain. Goes skunky in the glass pretty quickly. Therefore drink it from the bottle, not the glass.
Flavour is light and innoffensive. Neutral grain flavour that I find common across Asian lagers, Mexican beers, and Aussie "dry" styles. Slight green apple note. Doesn't have that cardboard character I tend to observer in other dry-style beers, so good for its class.
As expected, a very light mouthfeel, crisp finish. Almost like softdrink.
This beer will appeal to the wanna-be-seen crowd. Those who prefer more assertive flavours and mouthfeel should look elsewhere.
788 characters
XXXX Summer Bright Lager from Castlemaine Perkins
2.71
out of
5
based on
18
ratings.