Hahn Super Dry 3.5
| Hahn Brewing Co. Pty. Ltd.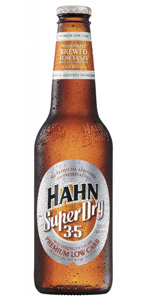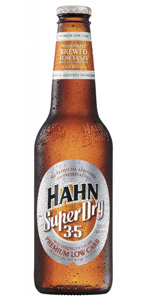 BEER INFO
Brewed by:
Hahn Brewing Co. Pty. Ltd.
Australia
lion-nathan.co.nz
Style:
Light Lager
Alcohol by volume (ABV):
3.50%
Availability:
Year-round
Notes / Commercial Description:
No notes at this time.
Added by dgilks on 01-31-2010
HISTOGRAM
Ratings: 9 | Reviews: 5
Reviews by SmashPants:

3.08
/5
rDev
+38.1%
look: 2.5 | smell: 2.5 | taste: 3.5 | feel: 3.25 | overall: 3
Can: standard macro can stuff - not much happening. But it's cheap, so that's to be expected.
Appearance: pale straw in colour with a big fluffing head that dissipates quickly. Big carbonation.
Aroma: not much here, really. A touch of grains and something artificial - not the best aroma I've come across, even on a macro light lager.
Taste: a bit sweeter than your standard lager. Perhaps a hint of citrus, but mainly just a sweet grain. Not brilliant, but definitely drinkable.
Aftertaste: doesn't linger too long, but that's fine since it's meant to be a refreshing light lager.
Mouth feel: again fine - pretty much exactly average, which I think was the idea. Just good enough for the cheap light lager market.
Overall: an unbrilliant beer, but it never set out to be anything more than it is. Just a middle-order light lager. I getthe impression that I am glad that I bought this in the can - the other reviews that were in the bottle speak another story all-together. All told, a reasonable light lager - you get what you pay for.
1,042 characters
More User Reviews:

1.03
/5
rDev
-53.8%
look: 1.5 | smell: 1 | taste: 1 | feel: 1 | overall: 1
Pours a pale gold with odd pink-tinge. Head is mediocre when poured, sinks to a bland saliva-esque film on the top. Strong, steady carbonation through the clear body, with not much else to report. Bland, even bad.
Smell is... Hang on, I'll let you know how this smells, once I smell something. No? I guess it isn't arriving then. Well let's comment on what's here. Light, very very faint sweet grain with a slight sickly vanilla tinge to it. The end. Seriously that's it. I defy you to find anything else in this piffle.
Taste... Taste? Hmmm, I guess taste and smell were on the same bus that broke down. Yeah, there's a slight grainy flavour with a touch of rice, then a very feathery touch of bland carbonation bitterness at the back, but it's just about as bitter as, say, tap water. And... good luck finding anything else. Waste of my fucking time, how can I even review this as beer? Nothing resembling beer in this glass at all.
Slight carbonation sizzle. No body at all. Fuck.
This is the pits. I've just crashed headfirst at the rock bottom of beer. Not only is this absolutely, insultingly flavourless, but it stands as an obnoxious mockery of the wonderful beverage that beer is. What is the point of what is in this bottle? It's so people can say to other people "look at me, I'm drinking beer", but why? It's cooler to drink Mount Franklin and you sure as hell get more flavour from that.
The point is, you CAN GET flavour from a light beer. But they haven't tried, here. I don't even know WHAT they were trying to do here, and unless it was to create a black comedy satire that doesn't make you laugh, it just makes you depressed and sad at the unfortunate state of affairs, they've failed definitively.
1,721 characters

1.68
/5
rDev
-24.7%
look: 2 | smell: 1.5 | taste: 1.5 | feel: 2 | overall: 2
Pours with a rocky small head, dissipates fast due to heavy artificial carbonation.
Little to no hop aroma, some malts come through but im trying very hard.
Its hard to review a beer for taste when their is little of it. Low on everything flavor wise. Tinny and soft drink like with hits of pale malts and Pride of ringwood hops.
Basicly a watered down Super Dry Heavy and that wasn't to flash to start with.
411 characters


2.94
/5
rDev
+31.8%
look: 3 | smell: 2.75 | taste: 3 | feel: 3 | overall: 3
Poured yellow amber with short-lived white head that left chunky remnants. Mostly an odd musty aroma with tiny bit of tropical fruit. Taste is like water with a slight amount of wet cardboard.
192 characters
2.1
/5
rDev
-5.8%
look: 2.75 | smell: 2 | taste: 2 | feel: 2.5 | overall: 2
2.24
/5
rDev
+0.4%
look: 3 | smell: 1.5 | taste: 1.5 | feel: 3 | overall: 4
Pale straw colour with a small, foamy, short-lasting, white head. Clear.
Light malt and a hint of hops. Smells like "beer". A touch of grain and green apple too.
Grainy flavour with a hint of sweetness. Very crisp with a dry sting. A touch of carbonic acid comes through. Very little bitterness.
Light body with very high carbonation. Crisp. Not really watery.
It's a light lager. It is pretty hard to mess it up and at the end of the day, it is what it is supposed to be. I have scored it low because it doesn't stand up to what a beer should be but for what it is it isn't awful.
585 characters
Hahn Super Dry 3.5 from Hahn Brewing Co. Pty. Ltd.
Beer rating:
2.23
out of
5
with
9
ratings