Dinkel Bock
| Apostelbräu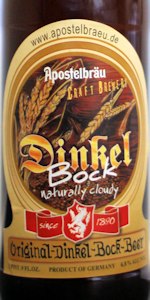 BEER INFO
Brewed by:
Apostelbräu
Germany
apostelbraeu.de
Style:
Bock
Alcohol by volume (ABV):
6.80%
Availability:
Year-round
Notes / Commercial Description:
No notes at this time.
Added by beergoot on 09-16-2012
Reviews: 8 | Ratings: 27
3.93
/5
rDev
+15.2%
look: 3.75 | smell: 3.75 | taste: 4 | feel: 4 | overall: 4
The bottle opens as a gusher. Poured into a glass mug. The beer pours dull hazy amber with a thick, soapy white head. There are some visible tiny bubbles rising in the glass. The aroma is earthy and has some nice caramel notes. I also get some mild citrus and apple like aromas. The flavor is nice and bready with those caramel and toffee notes adding some sweetness to the beer. The breadiness is no surprise here due to the fact that dinkel is more often used for bread making than brewing. I get some earthiness in the back end. Some of those fruity flavors from the aroma are also present in the flavor. The body is medium to full with moderate carbonation. The finish is slightly dry and the drinkability is high. This is a very good beer. It's nothing that'll knock your socks off, but it certainly delivers.
★
814 characters

3.91
/5
rDev
+14.7%
look: 3.75 | smell: 4 | taste: 4 | feel: 3.75 | overall: 3.75
Undated 16.0 oz bottle at 40 degrees into imperial pint glass
Aroma of malt with a hint of citrus
Head average (4 cm), light tan, frothy, slowly diminishing to creamy 3 mm ring and layer
Lacing fair, broken rings of tiny bubbles
Body light brown, cloudy
Flavor lightly malty with lemony aftertaste. No alcohol, no diacetyl.
Palate light to medium, slightly creamy, lively carbonation
Appearance 3.75, Aroma 4, Flavor 4, Palate 3.75, Overall 3.75
This is less malty than the typical bock and the lemony taste was totally unexpected. This is unfiltered.
★
554 characters
3.76
/5
rDev
+10.3%
look: 3.75 | smell: 3.25 | taste: 3.75 | feel: 4 | overall: 4.25
So this is an odd bock. Not really to standard definition, but not a bad beer.
A light golden, slightly hazy pour. Nice fluffy white head, some sticky lacing. Settles to a thin cap. Looks good, but a bit light in color.
The aroma is where the oddities start. A bit zesty and spicy, like a hefe. Citrus and zest, but a strong malt profile. This beer uses Spelt malt, Opal, Saaz and Saphir hops so the spice isn't a surprise when considering these.
Flavor is a bit spicy, too. Zingy up front, malt in the middle. Banana on the finish. Really different for a bock and I kinda like it. The sweetness and fullness are there. The lager-ish-ness is wiped away by the hops. It's growing on me.
★
689 characters
3.61
/5
rDev
+5.9%
look: 4.25 | smell: 3.75 | taste: 3.5 | feel: 3.5 | overall: 3.5
A: The beer is slightly hazy amber yellow in color and has a moderate amount of visible carbonation. It poured with a two finger high off white head that has good retention properties and consistently left a finger high head covering the surface.
S: Light to moderate aromas of toasted malts are present in the nose. Slight hints of orange zest are also noticeable.
T: The taste starts out with flavors of toasted malts and toasted malts and has notes of grassy and herbal hops.
M: It feels medium-bodied on the palate and has a moderate amount of carbonation.
O: This beer doesn't seem as malty compared to other bocks and has some interesting hop aromas and flavors. The citrus in the smell and taste is interesting.
★
722 characters

3.29
/5
rDev
-3.5%
look: 2.5 | smell: 3.5 | taste: 3.5 | feel: 3 | overall: 3
A - An extreme gusher, about half a second after I popped the top off, half the bottle foamed out onto top the floor. What's left has a small head of off white foam on top of a hazy, golden brown body.
S - Toffee, caramel, light herbal hops, and a touch of anise.
T - Bready malt with some toffee up front. Anise and toasted grain in the middle. The beer finishes with some herbal hops and lightly sour malt.
M - Medium body, moderately low carbonation, and a slightly sweet finish.
D - Not bad, but kind of dull and flabby and it is hard to like it when most of it ends up on the floor as soon as you open the bottle.
★
622 characters
3.02
/5
rDev
-11.4%
look: 4.5 | smell: 2.5 | taste: 3 | feel: 3.5 | overall: 3
Popped the bottle open and lost about a 1/3 of it to foaming. Availability is a guess as there is nothing on the brewery web site about its schedule. The bottle also states it is 'naturally cloudy'...
Pours a slightly hazy, golden (apricot yellow) body with a chunky, white head -- lots of sticky lacing on the glass. Bright, tart smell, kind of like green apples; a bit of bread-like aroma. Light malt flavor (somewhat biscuit-like) with a dominating bitterness throughout; a little spicy (cinnamon-like, perhaps a characteristic of the hops used). Medium bodied, fairly clean mouthfeel.
A strange yet not a totally unappealing bock from Bavaria. It was apparently brewed with spelt and barley malts (per the bottle), but the hop bitterness does overwhelm the malt flavors, and the green apple aroma certainly seemed out of place for a bock. Still, it has a certain appeal to me, but surely wouldn't be one of my first choices for a bock-styled beer.
★
953 characters

2.74
/5
rDev
-19.6%
look: 3.75 | smell: 2.75 | taste: 2.5 | feel: 3 | overall: 2.75
Pours a very cloudy and very dark golden orange color with golden straw/banana yellow edges and a three finger, frothy white head that very slowly settles into a lasting cap.  Retention is crazy, almost too good, taking forever to settle.  Streaks of soapy lacing left behind.  
Spicy, slightly grainy aroma with peppery clove and earthy hops along with a weird spelt charater and some sweet malt.  Pepper, cinnamon and clove along with hints of apricot, orange and tangerine.  Carmel malt sweetness with toffee and biscuit.  Really odd combination of aromas.  Slightly herbal and medicinal with a metallic cough syrup presence.  Really hard to put my finger on what's going on in the nose.  
On the fuller end of medium body with tight carbonation and a slight creamy texture.  Surprisingly hop forward with a dry, resinous bitterness that compliments the spice and lingers throughout.  Peppery spice flavors, especially cinnamon and  clove followed by bready yeast, citrus peel, banana, sweet malt and light fruit.  Some tangerine and orange peel along with hints of apricot and apple.  Caramel malt backbone with some toffee and bread in there as well.  Just a bit too much going on wih all kinds of different style influences and different flavors competing with each other.   Also, the astringent, medicinal qulaity is a bit too strong overpowering the other flavors.   In addition, the hop profile is a bit strong for this style of beer and the malts become muted after a while.  
★
1,506 characters
2.44
/5
rDev
-28.4%
look: 4 | smell: 2.5 | taste: 2.5 | feel: 2 | overall: 2
From: Binny's, Glen Ellyn, IL
Date: None, in stores in 2012
Glass: Ayinger willi glass
Gusher alert.
Of the two beers I've had from Apostelbrau, this is probably the more easily drinkable, but neither of the two have been particularly enjoyable. Similar to the "Bavarian Pale Ale", there's a cache of strange flavors and aromas in this "bock" beer, most likely caused by the use of inappropriate yeast (is this a Belgian strain here?) for the style. In all, glad I did not ever pay the full retail price ($7?!?) of this beer, but picked it up on closeout at half price (still would not pay that for this beer again). Maybe this could be considered Germany's first saison-bock, I'm not sure, but it's not something I'd return to unless I was looking for that type of flavor profile.
Pours a 2-3cm tall head of slightly off-white foam, made up of small to large-sized bubbles for a somewhat soapy-like appearance. Retention is above average, the head lasting several minutes and declining to a 0.5cm tall cap atop the body of the beer for the duration of the session. Lacing is good, with several thick clumps and substantial dots clinging to the walls of the glass. Body is a dark golden orange color, with light bringing out bright golden orange (light copper) hues. Carbonation visible through the hazy body (30-40% opacity), high in number and activity.
Aroma is of light sweetness with mild bubblegum, spicy phenolics, brewer's yeast, a bit of something like orange peel, and mild graininess. Not unpleasant, but not particularly appetizing to what I'd expect to smell when I hear the words "bock," as this is more like an amber Belgian ale (saison or otherwise).
Front of palate tastes light caramel-like malt sweetness (some Vienna or light Munich?) with slight fruit esters and graininess. Mid-palate of light caramel-like sweetness mixed with spicy phenols, dried orange peel, light graininess and fruit esters. Back of palate tastes spicy, peppery phenolics, fruity esters, orange peel, musty yeast, and light malt sweetness. Aftertaste of dry, slightly crackery grain with a bit of sweetness, some still prevalent dried orange peel, a bit of spices (phenolics or otherwise)
Beer is medium-light to medium-heavy in body, with carbonation of high intensity, resulting in a beer that feels fizzy at first, then smooths out to a fully foamy mouthfeel. This is a bit overcarbonated for the style and for the beer, forcing the sips to occur to quickly for a 6.8% ABV beer. Closes dry, with moderate stickiness left on the palate and on the lips.
★
2,554 characters
Dinkel Bock from Apostelbräu
3.41
out of
5
based on
27
ratings.