Bischofshof Dunkelweizen
| Brauerei Bischofshof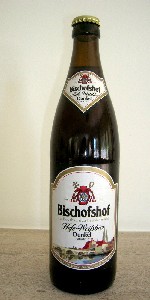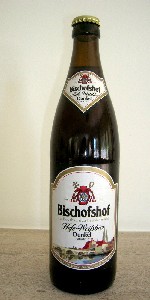 BEER INFO
Brewed by:
Brauerei Bischofshof
Germany
bischofshof.de
Style:
Dunkelweizen
Alcohol by volume (ABV):
5.10%
Availability:
Year-round
Notes / Commercial Description:
No notes at this time.
Added by WesWes on 12-22-2003
HISTOGRAM
Ratings: 14 | Reviews: 7
None found.
More User Reviews:

3.83
/5
rDev
+10.7%
look: 4 | smell: 3.5 | taste: 4 | feel: 4 | overall: 3.75
500ml bottle. Weizen glass. Dark amber color, honey tints to the light. Foggy appearance. Off-white, close & rocky foam. Aroma profile displays banana hues, spiced, toasted & yeasty notes, as well as subtle bread, biscuit, orange & caramel malt aromas. Malty upfront & underliying chocolate. Medium body. Soft carbonation. Dense texture & nice spicy touch. Ripe citric, esters & bread in the middle. Low bitterness just to avoid cloyingness. Sweet finish & spicy aftertaste.
474 characters

3.13
/5
rDev
-9.5%
look: 4.5 | smell: 4 | taste: 2.5 | feel: 3 | overall: 3
It arrives at the table a cloudy brown with a dense, persistent tan head. It leaves nice lacing and makes me thirsty looking at it. It smells of vanilla, caramel, and cinnamon. :) The taste is dry, tart, and peppery with an dassertive roast and an earthy note. The mouthfeel is soft, with mild carbonation. It's drinkable, but too dry to have them all day long. Still, who's complaining?
387 characters

3.8
/5
rDev
+9.8%
look: 4 | smell: 4 | taste: 3.75 | feel: 3.5 | overall: 3.75

3.8
/5
rDev
+9.8%
look: 4 | smell: 4 | taste: 3.5 | feel: 4 | overall: 4
The beer pours a dark cloudy brown color with a nice a off-white head. The aroma is of wheat and crystal malts. It is sweet smelling and yeasty. The taste is of dark wheat flavors with a clean finish; a good dunkel in the German tradition. The mouthfeel is fine. It is medium bodied with adequate carbonation. It is a good drinking beer; a fine German Dunkel from the heart of Germany.
385 characters

2.74
/5
rDev
-20.8%
look: 2.5 | smell: 2.75 | taste: 2.75 | feel: 2.75 | overall: 2.75
From Supercor. In Paulaner glass. Playing Memoria. Very dull beer. It doesnt taste to anything
94 characters
4.19
/5
rDev
+21.1%
look: 4.25 | smell: 4 | taste: 4.25 | feel: 4.25 | overall: 4.25
3.18
/5
rDev
-8.1%
look: 4 | smell: 3.5 | taste: 3 | feel: 3 | overall: 3
500ml bottle poured into a weizen glass, best by 11/12
as I opened the bottle, I noticed a dark brown, yeast-like stain on the inside of the cap, as well as the same residue on the neck of the bottle. licked off the cap, it tasted somewhat bitter, but not unpleasant. we will see if this affects the beer overall:
a: pours a deep brown, almost black, with some reddish notes as well. a huge four finger head, puffy, slowly dissipating, leaving good lacing on the glass.
s: roasted malts, an enjoyable wheatiness as well, definite banana and spice aromas as well, along with a sweetness, caramel or brown sugar like.
t: wheats, dark malts, some clove and banana spices, but a bit watery and thin as well. ends with a pleasant sweetness. a good amount of carbonation as well.
o: enjoyable, though not particularly complex. on sale for .95 centimos in Hipercor, though, makes this a great deal. quite refreshing as well.
922 characters
2.33
/5
rDev
-32.7%
look: 3 | smell: 2.5 | taste: 2 | feel: 2.5 | overall: 2.5
Appearance: hazy, no floating yeast and a light coppery-orange colour. The head is slightly off-white, moussy and quite substantial. Good retention and some lacing.
Aroma: wheat and citrus.
Taste: weak cloves, wheat and little bit of banana flavour.
Mouthfeel: smooth, average carbonation, average to low alcoholic strength (5.1% ABV) and a very light body.
Finish: short grainy aftertaste.
Overall: too watery, almost no flavour at all. Far from what you should expect from a Dunkel Weizen. Probably my last one.
514 characters
4.06
/5
rDev
+17.3%
look: 3 | smell: 4.5 | taste: 4 | feel: 4 | overall: 4
1 Pt .9fl oz poured into weizen glass
A - Cloudy brown with a typical huge weizen head. I was only able to pour half the bottle and had to wait 5 minutes for the head to dissipate to continue pouring. Some sudsy lacing, zero rising bubbles.
S - Very malty, sweet. Crystal malt? Surprising hopless.
T - A somewhat typical dunkel hefe-weizen but more malty than others of its kinds, which I prefer, perhaps some toffee flavors? Virtually no aftertaste, and still hopless. For me, this is a very tasty beer. I don't know any other way to describe it.
M - Very smooth, but more dry than expected. Covers the entire tongue and can be tasted everywhere.
D - I took a chance buying this bottle, and I'm very pleased. I'm surprised it hasn't been reviewed more. This is a very tasty dunkel. I could easily drink this all night long. In fact, this is something I could definitely see myself buying a full case of, and I don't like to buy many cases.
945 characters
3.11
/5
rDev
-10.1%
look: 4 | smell: 3 | taste: 3 | feel: 3.5 | overall: 3
Purchased from the Beers of Europe, coming in a 500ml brown glass bottle. At 5.1%abv., BB 19/11/08, served chilled in a weizen glass.
A: pours a dark reddish amber hue, murky, topped with a super-frothy beige head with brilliant retention; carbonation is normall
S: rather sweet, featuring candyish malts, caramel, a touch of raisins, on top of hefe-weizen's normal aroma of lactose-drink sour-sweet yeastiness, sweet banana, bubblegum, sweet orange, and less pronounced wheat-ish malts. On the balance the aroma comes slightly too sweet for my preference.
T: upfront it tastes like lotus-roots boiled in brown-sugar water plus random sour-sweet fruit-esters (lemon and prunes); then a mildly spicy/clove-ish flavour, light wheat-ish malts and amber malts, and a hefe-weizen's unique salty-sweet shellfish flavour emerge. The finish is semi-neutral in flavour and faintly sour due to the lingering fruitiness, and quite soothing in a sense.
M&D: quite refreshing with a healthy dose of carbonation in each sip, but the overall aroma- and flavour-profile is quite mediocre. This example of "dunkel"-hefeweizen somehow reinforces my stereotype that to invent something like this is not a great idea after all. I await a much much much more pleasant sample of this beer style to really blow me away.
1,297 characters
Bischofshof Dunkelweizen from Brauerei Bischofshof
Beer rating:
3.46
out of
5
with
14
ratings